Innovators: Equine Reproductive Health
Dr. Barry Ball describes what he learned as the University of Kentucky's Clay Endowed Chair in Equine Reproduction and over his 35 cumulative years of research.
In this episode Dr. Barry Ball of the University of Kentucky's Gluck Equine Research Center describes what he and his colleagues have learned about reproductive endocrinology, placental function, feeding broodmares, and equine contraception during his time as the Clay Endowed Chair in Equine Reproduction. Ball, who retires this month, also reflects on 35 years of equine reproduction research.
The ''Equine Innovators' podcast series is brought to you by Zoetis. You can find the Equine Innovators podcast on TheHorse.com, Apple Podcasts, Spotify, Stitcher, Google Podcast, and many other podcast apps. Don't miss a single episode! Sign up now to receive email reminders from The Horse.
Show notes:
About the Researcher:
Barry Ball
Dr. Ball received his DVM degree from the University of Georgia in 1981. He completed a theriogenology residency at the University of Florida and his graduate training at Cornell University. He was a member of the faculty at Cornell University from 1987 to 1996. In 1996 he was appointed as the first Hughes Endowed Chair in Equine Reproduction at the University of California, Davis. In 2010 he was appointed as the first Clay Endowed Chair in Equine Reproduction at the University of Kentucky. Dr. Ball's research has been directed toward reproductive endocrinology and pregnancy loss in mares.
His research is documented in more than 200 refereed research publications. He has served as primary mentor for ten PhD students, six MS candidates, and 17 postdoctoral or visiting scholars. He also mentored 16 clinical residents who are board-certified by the American College of Theriogenologists. Of his trainees, ten serve as current or past faculty members in veterinary medicine in the U.S., Canada, Europe, and South America.
Dr. Ball is a diplomate of the American College of Theriogenologists (ACT). He has received numerous awards, including the SmithKlineBeecham Award for Research Excellence, the Excellence in Equine Research Award from the American Veterinary Medical Association, the Schering-Plough Award for Outstanding Research from the World Equine Veterinary Association, the Norden–Pfizer Distinguished Teacher award from UC Davis, and the Theriogenologist of the Year award. Ball was a Fulbright Distinguished Scholar at the University of Cambridge 2004-2005. He is a past chair of the International Equine Reproduction Symposium Committee, and he is a past president of the ACT.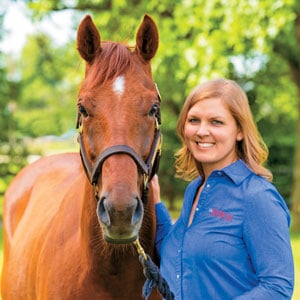 Stephanie L. Church, Editorial Director, grew up riding and caring for her family's horses in Central Virginia and received a B.A. in journalism and equestrian studies from Averett University. She joined The Horse in 1999 and has led the editorial team since 2010. A 4-H and Pony Club graduate, she enjoys dressage, eventing, and trail riding with her former graded-stakes-winning Thoroughbred gelding, It Happened Again ("Happy"). Stephanie and Happy are based in Lexington, Kentucky.
Stay on top of the most recent Horse Health news with
FREE weekly newsletters from TheHorse.com