Equine Innovators: Drug Testing in Racing and Competition
Dr. Scott Stanley of the University of Kentucky describes the challenges conventional drug testing presents and a potential biomarker-based solution.
About the Researcher:
Scott Stanley
Scott Stanley, PhD, is a research scientist with more than 30 years of regulatory drug testing experience. He currently runs a research lab at the University of Kentucky Gluck Equine Research Center, in Lexington, and a service lab, The Equine Analytical Chemistry Lab, also located in Lexington. One of his research focuses is the Equine Biological Passport, which aims to identify specific biomarkers that will detect drug use by monitoring these biomarkers overtime.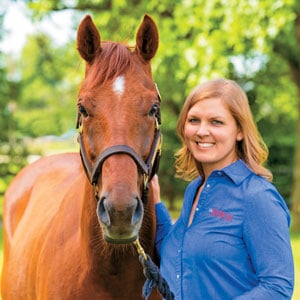 Stephanie L. Church, Editorial Director, grew up riding and caring for her family's horses in Central Virginia and received a B.A. in journalism and equestrian studies from Averett University. She joined The Horse in 1999 and has led the editorial team since 2010. A 4-H and Pony Club graduate, she enjoys dressage, eventing, and trail riding with her former graded-stakes-winning Thoroughbred gelding, It Happened Again ("Happy"). Stephanie and Happy are based in Lexington, Kentucky.
Stay on top of the most recent Horse Health news with
FREE weekly newsletters from TheHorse.com