The Horse is an award-winning monthly magazine devoted to equine health, care, management, and welfare; TheHorse.com is the award-winning website of The Horse magazine that contains all content from the magazine as well as additional news and features on horses and the equine industry. Our mission is to provide education to hands-on participants in the horse industry through print and electronic means.
We pledge that we will serve you and your horses by providing the most accurate and timely information about equine health, care, management, and welfare. Our articles are written for hands-on horse owners, trainers, riders, breeders, veterinarians, vet techs, and managers who want to know more about taking the best care of their horses–regardless of the breed or discipline in which they participate.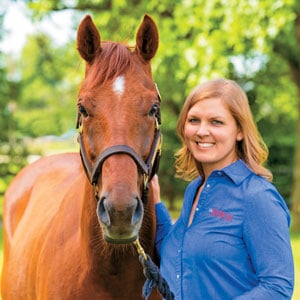 Stephanie L. Church
Editor-in-Chief of The Horse
Stephanie has worked in six roles at The Horse since 1999. During that time she has documented the U.S. emergence of West Nile virus, told the stories of horse owners impacted by Hurricane Katrina, detailed the plight of working donkeys and horses in Africa, and covered just about every horse health topic imaginable.
A U.S. Pony Clubs (USPC) graduate and Academy of Achievement inductee and former 4-H member, Stephanie has been riding since early childhood and enjoys dressage and eventing. She and her current horse, off-track Thoroughbred It Happened Again ("Happy"), dabble in those disciplines and also enjoy trail rides and hunter paces in and around Lexington, Kentucky, where The Horse is based.
Stephanie holds a B.A. in Journalism and Equestrian Studies from Averett University in Danville, Virginia. Besides riding Happy, she enjoys photography, cooking, cycling, swimming, and traveling in her free time.
Check out Stephanie's blog, Horse Sense (and Sensibility).
Alexandra Beckstett
Managing Editor of The Horse: Your Guide To Equine Health Care
Alex holds a B.A. in English from Duke University and served as Assistant Editor of Blood-Horse Publications' book division, Eclipse Press, before joining The Horse staff. A native of Houston, Texas, Alex is a lifelong horse owner who's shown successfully on the national hunter/jumper circuit and dabbled in Warmblood breeding.
Alex writes about sport horse health on The Winning Edge blog.
Haylie Kerstetter
Digital Editor of TheHorse.com
Haylie holds a degree in equine studies with a concentration in communications and a minor in social media marketing. She is a Pennsylvania native and, as a horse owner herself, has a passion for helping owners provide the best care for their horses. When she is not writing or in the barn, she is spending time with her dog, Clementine.
Yvonne Long
Account Executive
Yvonne holds a B.S. in Animal Science and a A.S. Veterinary Technology. She grew up on a farm and worked 14 years at the University of Kentucky Equine Parentage Testing and Research Lab. She enjoys her animals, traveling, cooking, hiking, and biking.
Don't Be Shy. Get In Touch.
If you are interested in working together, send us an inquiry and we will get back to you as soon as we can!