Innovators: What's a 'Horse on a Chip,' and How Will It Change Equine Research?
Dr. Carrie Shaffer of the University of Kentucky describes how in vitro models will help us better understand how we can prevent and fight disease in horses.
As horse owners, we might not think about how research in humans can help horses, and vice versa. Carrie Shaffer, PhD of the University of Kentucky's (UK) Department of Veterinary Sciences and the Gluck Equine Research Center is working at the interface of human and equine medicine, creating tiny models of horses' body systems to better understand how we can prevent and fight equine disease and help body processes such as wound repair and tissue healing.
The "Equine Innovators" podcast series is brought to you by Zoetis. You can find the Equine Innovators podcast on TheHorse.com, Apple Podcasts, Spotify, Stitcher, Google Podcast, and many other podcast apps. Don't miss a single episode! Sign up now to receive email reminders from The Horse.
About the Expert: 
Carrie L. Shaffer
Carrie L. Shaffer, PhD, is an assistant professor in the University of Kentucky's (UK) Department of Veterinary Sciences and the Gluck Equine Research Center. She holds joint faculty appointments in the UK College of Medicine (Department of Microbiology, Immunology, and Molecular Genetics) and the UK College of Pharmacy (Department of Pharmaceutical Sciences). Shaffer is a graduate of the UK College of Agriculture (BSc) and Vanderbilt University (PhD), and she completed National-Institutes-of-Health-funded postdoctoral fellowships at Vanderbilt University Medical Center and the California Institute of Technology. An expert in host-pathogen interactions and microbial pathogenesis, her research interests include understanding mechanisms underlying equine infectious disease using novel in vitro biomimetic models. One major focus of the Shaffer Lab is developing an innovative "horse-on-a-chip" microfluidic platform and diverse equine organoid model systems to enable investigations that address fundamental questions in equine infectious disease, therapeutic and vaccine development, allergic and immune-modulated conditions, tissue remodeling in response to injury, developmental and reproductive biology, and the identification of genetic factors that determine disease outcome in the horse.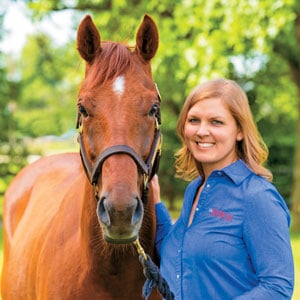 Stephanie L. Church, Editorial Director, grew up riding and caring for her family's horses in Central Virginia and received a B.A. in journalism and equestrian studies from Averett University. She joined The Horse in 1999 and has led the editorial team since 2010. A 4-H and Pony Club graduate, she enjoys dressage, eventing, and trail riding with her former graded-stakes-winning Thoroughbred gelding, It Happened Again ("Happy"). Stephanie and Happy are based in Lexington, Kentucky.
Stay on top of the most recent Horse Health news with
FREE weekly newsletters from TheHorse.com