Horse Classified Scams Run Rampant
Beware of scammers looking to separate you from your hard-earned money.
As people who love horses, we'd all like to believe that someone seeking a wonderful forever home for a horse is doing just that. But scammers aplenty are poised to exploit the generous hearts of horse owners and enthusiasts. Recently we've seen a growing number of scammers listing horses on classified sites, and we urge you to beware of unscrupulous individuals such as these.
If you have a hunch that a horse classified ad might not be legit, here are some key clues that you might be right.
It's a Friesian.
 Many scam ads describe Friesians, though we've also seen ones placed for palominos, Andalusians, Mustangs, Gypsy Vanners, and an occasional Quarter Horse. Why Friesians? Perhaps they are the breed scammers find the most captivating, or maybe these handsome horses simply produce the most inquiries. If it's an ad with the word "Friesian" spelled wrong, it's even more likely that it's a scam.
The photo has been lifted from another classifieds site (and the ads describe two entirely different horses).
How would you detect a dupe like this? If something sounds a little too good to be true and you're into internet sleuthing, right-click and save the photo to your desktop. Then conduct a Google image search. You'll see where else it appears online and can check those other instances; we've found that scammers like to steal photos from legitimate classifieds and build their own. Another clue that something's awry is if the photo shows up in search results but the ad is gone when you click through to the classified site where it used to appear. Sometimes the ads are even marked as removed or flagged and removed by the classified site. We have also seen scam ads using photos of prominent trainers' horses lifted from their business websites.
The photo doesn't match the description.
Let's say you see the horse on multiple classifieds sites, but on one the horse is an upper-level dressage mount, as the photo would suggest—clear and present piaffe—and the other it's described as a companion horse. Further, even if you don't see the photo elsewhere online, if it's described as a mare and you see body parts that would suggest otherwise, it is probably a scam.
The horse sounds a little too appealing for the posted price, or there's odd, unnecessary detail.
As the adage goes, if it sounds too good to be true, it probably is. Also watch for specific details about temperament on the ground; many scam ads describe a free or inexpensive horse as being very calm and affectionate on the ground.
The seller acts shady.
If the contact person on the ad requests payment to ship the horse, that can be a red flag, especially if the horse is free. Get on the phone with the owner for a gut check, or simply steer clear.
The seller has a bunch of animals-for-sale ads all over the internet.
Search the phone number or email address that accompanies the ad on Google (Search it in quotes, like so: "123-456-7890"). Sometimes these individuals target people who love species besides horses—we've seen ads for unique dog breeds and even exotic animals. It's common that scammers use one email address or phone number for a while, then skip to using another.
The ad contains more misspellings than one might expect.
I recall seeing a classified ad many years ago with the title: "½ Linger." Was it a scam? It's more likely that it was an honest mistake and/or a way to save on characters when selling a Haflinger. However, if the horse or pony sounds remarkable for its price, is described in passionate detail with many typos, or the ad describing it sounds like it was written by someone who doesn't know what's important to include in an equine classified ad, then be suspicious.
Online classifieds are a fantastic—and arguably the most popular—way to search for your next horse or find a new home for your current one. Several of us on The Horse team have connected with sellers and buyers via the internet and have had positive experiences. The vast majority of sellers are legitimate, but don't let the actions of a few scammers ruin your horse buying experience.
Here's another article we've run on horse sales fraud warning signs. If you notice any classified ads on TheHorse.com that could be scams, please let us know.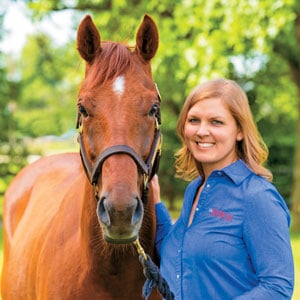 Stephanie L. Church, Editorial Director, grew up riding and caring for her family's horses in Central Virginia and received a B.A. in journalism and equestrian studies from Averett University. She joined The Horse in 1999 and has led the editorial team since 2010. A 4-H and Pony Club graduate, she enjoys dressage, eventing, and trail riding with her former graded-stakes-winning Thoroughbred gelding, It Happened Again ("Happy"). Stephanie and Happy are based in Lexington, Kentucky.
Stay on top of the most recent Horse Health news with
FREE weekly newsletters from TheHorse.com