Equine Innovators: What You Need to Know About EHV-1
Dr. Lutz Goehring weighs in on what researchers have learned about equine herpesvirus-1, how it spreads, and how to prevent infection.
Equine herpesvirus-1 can infect horses and cause mild respiratory disease, abortion in mares, and severe neurologic deficits. Dr. Lutz Goehring, the World Organization of Animal Health's (formerly OIE) Reference Laboratory expert on equine rhinopneumonitis, weighs in on what researchers have learned about EHV-1, how it spreads, and how to prevent infection.
The Equine Innovators podcast series is brought to you by Zoetis. You can find the Equine Innovators podcast on TheHorse.com, Apple Podcasts, Spotify, Stitcher, Google Podcast, and many other podcast apps. Don't miss a single episode! Sign up now to receive email reminders from The Horse.
Show Notes:
About the Expert:
Lutz Goehring
Lutz Goehring, DVM, MS, PhD, Dipl. ACVIM, is the Warren Wright, Sr.-Lucille Wright Markey Endowed Chair in Equine Infectious Diseases at the University of Kentucky's (UK) Gluck Equine Research Center, in Lexington. He is a well-versed equine clinician, boarded in both ACVIM and ECEIM, with an extensive background in equine herpesvirus type 1 (EHV-1) research, scholarly journals, refereed book chapters, advising, mentoring, and service.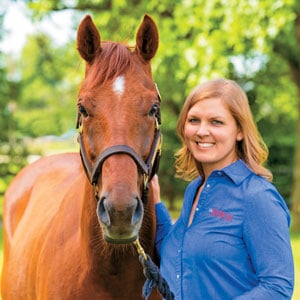 Stephanie L. Church, Editorial Director, grew up riding and caring for her family's horses in Central Virginia and received a B.A. in journalism and equestrian studies from Averett University. She joined The Horse in 1999 and has led the editorial team since 2010. A 4-H and Pony Club graduate, she enjoys dressage, eventing, and trail riding with her former graded-stakes-winning Thoroughbred gelding, It Happened Again ("Happy"). Stephanie and Happy are based in Lexington, Kentucky.
Stay on top of the most recent Horse Health news with
FREE weekly newsletters from TheHorse.com