High-Starch Diets' Effects on Stress Response in Horses
Increased vigilant behavior was correlated with intestinal microbial disturbances induced by a high-starch diet.
Horses and high-starch diets generally don't mix well. Not only has this type of diet been shown to disturb the composition and activity of the gut microbiota, increasing a horse's risk of colic, but it might also affect behavior, according to the results of a recent study.
"Because it is known that intestinal microbiota can interact with the nervous system, modification of the microbiota may directly alter behavior," noted Alexandra Destrez, PhD, Lecturer at AgroSup Dijon (UMR Metafort), in France.
To investigate the extent to which intestinal stress caused by a high-starch diet is associated with behavioral changes, the researchers employed six healthy geldings which had previously been affixed with a fistula (surgically-created passageway to digestive system). The horses were fed two energy-equivalent diets twice daily over three three-week periods (with a five-day transition period between Periods 1 and 2). Diet H was comprised of 100% hay (Periods 1 and 3) and Diet HB included 57% hay and 43% barley (the high-starch diet, Period 2).
To monitor the diets' effects on horses' physiological status, researchers collected blood samples during the second week of each period and cecal and colonic samples during the third week of each period. And, to analyze behavior changes over the course of the study, the team put each horse through two different tests during the second week of each
Create a free account with TheHorse.com to view this content.
TheHorse.com is home to thousands of free articles about horse health care. In order to access some of our exclusive free content, you must be signed into TheHorse.com.
Start your free account today!
Already have an account?
and continue reading.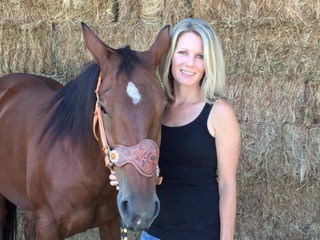 Casie Bazay is a freelance and young adult writer, as well as a certified equine acupressure practitioner. She also hosts a blog, The Naturally Healthy Horse. Once an avid barrel racer, she now enjoys giving back to the horses who have given her so much.
Stay on top of the most recent Horse Health news with
FREE weekly newsletters from TheHorse.com