Sesamoid Fractures: Size, Shape, and Racing Prognosis
Could the size and shape of the sesamoid fracture fragment have an impact on a horse's racing prognosis?
When an equine athlete suffers a sesamoid fracture, the owner will often ask his or her veterinarian that daunting question: "What's his prognosis to return to competition?" A team of researchers recently set out to determine if, in some cases, the size and shape of a bone fragment could help veterinarians give a more accurate prognosis for a sesamoid bone fracture. They found the answer wasn't as straightforward as they'd hoped.
The most common type of fracture in the equine forelimb is that of the proximal sesamoid bones (PSB), a pair of small, nodular bones located at the back of the fetlock. Apical fractures, which affect the upper third of the sesamoid bones, are the most common of these, and they can occur in either the medial (inner) or lateral (outer) region of the PSB. Thoroughbred racehorses are especially prone to this type of fracture due to the rigors of the sport.
In a recent retrospective study, J. Lacy Kamm, DVM, a PhD graduate student at the Colorado State University Orthopaedic Research Center in Fort Collins, and a research team assessed the geometry of apical sesamoid fractures to see if the size or shape of the bone fragment impacted the horse's prognosis for racing. The researchers examined 110 Thoroughbred weanlings and yearlings and 56 Thoroughbreds in training that underwent arthroscopic surgery for removal of an apical PSB fragment at Rood & Riddle Equine Hospital, in Lexington, Ky., between January 1994 and December 2002.
The researchers measured the size/shape of each horse's fracture via radiographs, and then compared the results with the animal's postoperative race record. The average earnings per start and total number of starts after surgery were used in the
Create a free account with TheHorse.com to view this content.
TheHorse.com is home to thousands of free articles about horse health care. In order to access some of our exclusive free content, you must be signed into TheHorse.com.
Start your free account today!
Already have an account?
and continue reading.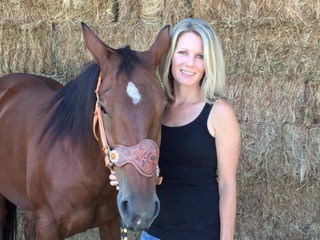 Casie Bazay is a freelance and young adult writer, as well as a certified equine acupressure practitioner. She also hosts a blog, The Naturally Healthy Horse. Once an avid barrel racer, she now enjoys giving back to the horses who have given her so much.
Stay on top of the most recent Horse Health news with
FREE weekly newsletters from TheHorse.com