Horse Camping 101: Vacations at Horse Camps
June is National Camping Month! In the second part of our horse camping series, learn how to vacation at a designated horse camp.
June is National Camping Month! To help get you ready for an adventure of your own, we're rolling out a three-part series on camping with horses. In Part Two, we'll focus on how to vacation at a designated horse camp.
Once you've tried horse camping at a facility with equine and human accommodations (which we discussed in Part One), or if you're just ready to jump into the wilderness, designated horse camps are a great option. Most horse camps are located at the nexus of several trails so you can park your truck and trailer, set up your base camp, ride out each day, and return to your truck and trailer each evening.
If you're new to horse camping, look for a campground with corrals or highlines, potable water and/or stock water, and manure bins. These amenities can simplify your horse-keeping regimen while you're out in the woods. If the campsite you select doesn't offer these features, you'll need to have a way to contain your horse, bring all the water you and your horse will need for the trip, and remove all the waste your horse leaves behind.
Horse Containment
If the horse camp has corrals, your horse-containment headaches are over. If not, you'll need to either bring a portable corral or be prepared to highline your horse. Highlining isn't a difficult skill once you've mastered it, but you'll need to have the right type of rope and know how to tie several types of knots. You can find an excellent how-to-highline video at Create a free account with TheHorse.com to view this content.

TheHorse.com is home to thousands of free articles about horse health care. In order to access some of our exclusive free content, you must be signed into TheHorse.com.
Start your free account today!
Already have an account?
and continue reading.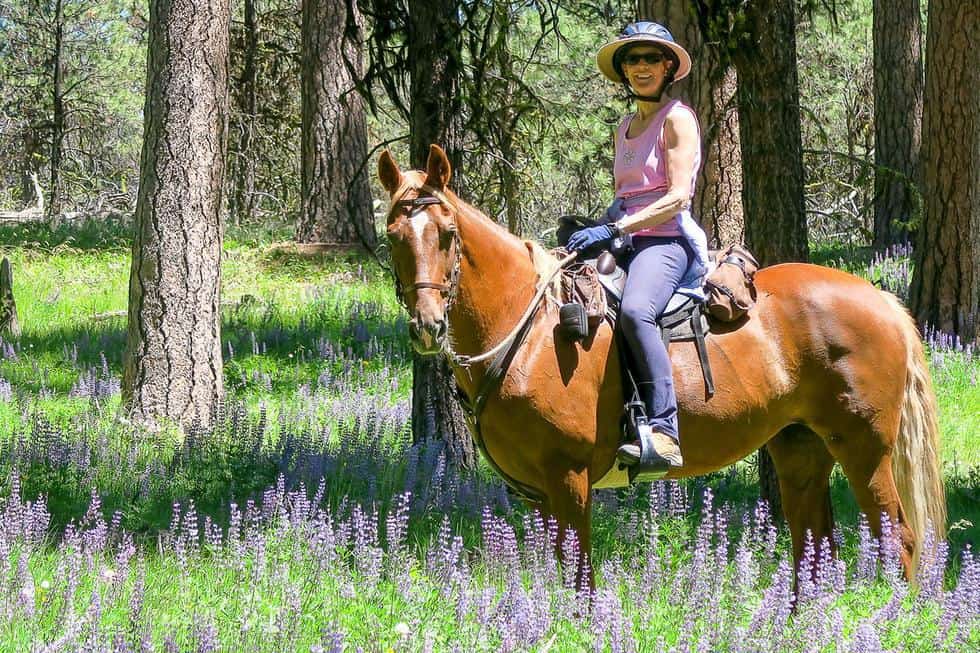 Kim McCarrel is an avid trail rider and author whose guidebooks are "must-haves" for Pacific Northwest trail riders. She's been mapping and writing about trails and horse camps since 2002. Her newest books are revised and updated editions of "Riding Central Oregon Horse Trails" and "Riding Southwest Washington Horse Trails." McCarrel lives in Bend, Oregon, with her husband, Steve, two Portuguese water dogs, and a Tennessee Walking Horse mare named Tex.
Stay on top of the most recent Horse Health news with
FREE weekly newsletters from TheHorse.com