Warming Up Horses When Riding: Why and How
Dr. Hilary Clayton offers advice on the best way to warm up and supple your horse at the beginning of your ride.
Q. I've been told that warming a horse up at the canter is better than several minutes of trot—presumably because the spine is working in a way that is better for warmup, especially in a middle-aged athlete with some accumulated miles. I've also read that with horses with a history of back pain, you might want to avoid canter until the horse's core is quite strong. What are your thoughts on these concepts? What's a good all-around warmup, and what's a good one for a horse with a history of back pain?​
A. Let's start by considering the reasons why we need to do a warmup. Many horses spend most of their time in stalls, where they have little opportunity to move around. When we take them out for an exercise or training session, the first thing they need to do is simply get their body moving. The best way to initiate this is with a period of walking on a long rein while encouraging the horse to go forward with the head and neck stretched forward and downward. As the horse loosens up, his strides should cover more ground, with the legs swinging through a larger range of motion, especially at the hip and shoulder joints. The rider should encourage the horse to use his entire body to reach forward with every stride. There isn't a set time for how long to walk the horse. If he just came in from pasture on a warm day and is a young horse with no musculoskeletal problems, then five minutes might be adequate. On the other hand, an older horse with some signs of arthritis might require 10 to 15 minutes of easy walking before stepping up the pace.
Once the horse is moving freely in a relaxed manner, the next goal of the warmup is to prepare the horse's body physiologically for the work that's to come. This involves elevating the heart rate and respiratory rate and initiating the chain of events that will ensure adequate blood flow and oxygen delivery to the working muscles. This is achieved by working at a moderate speed, either trotting or cantering, and using patterns to encourage bending and speed control. If the horse will perform more intense exercise that involves galloping, jumping, hill work, rapid acceleration and deceleration, or turning maneuvers, then the intensity of exercise
Create a free account with TheHorse.com to view this content.
TheHorse.com is home to thousands of free articles about horse health care. In order to access some of our exclusive free content, you must be signed into TheHorse.com.
Start your free account today!
Already have an account?
and continue reading.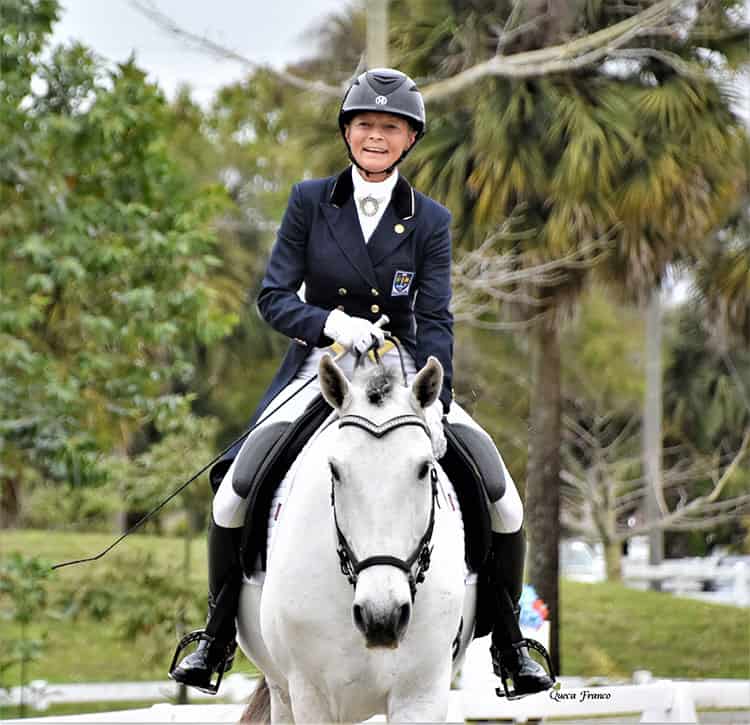 Hilary M. Clayton, BVMS, PhD, Dipl. ACVSMR, FRCVS, is a veterinarian, researcher and horsewoman. For more than 40 years she has performed innovative research in the areas of locomotor biomechanics, lameness, rehabilitation, conditioning programs for equine athletes, and the interaction between rider, tack, and horse. She has published seven books and more than 200 scientific articles on these topics. Clayton served as the Mary Anne McPhail Dressage Chair in Equine Sports Medicine at Michigan State University's College of Veterinary Medicine from 1997 until she retired from academia in 2014. She continues to perform collaborative research with colleagues in universities around the world. Clayton is a charter diplomate and past president of the American College of Veterinary Sports Medicine and Rehabilitation. She is an Honorary Fellow of the International Society for Equitation Science and has been inducted into the International Equine Veterinarians Hall of Fame, the Midwest Dressage Association Hall of Fame, and the Saskatoon Sports Hall of Fame. She is a lifelong rider and has competed in many equestrian sports, most recently focusing on dressage in which she trains through the Grand Prix level and has earned U.S. Dressage Federation bronze, silver, and gold medals.
Stay on top of the most recent Horse Health news with
FREE weekly newsletters from TheHorse.com