Study: Western Performance Horses with PSD Benefit from ACS
Researchers have found success treating some proximal suspensory desmitis cases with autologous conditioned serum (ACS).
Three months off to recover from an injury might not sound like a long time or a big deal, but for the owner of a 3-year-old Western performance horse it can be devastating—it could mean the end of the horse's career and a resulting drop in his worth. This is often what happens with proximal suspensory desmitis (PSD) in these young athletes. An Oklahoma veterinarian has been examining the use of regenerative therapy, specifically autologous conditioned serum (ACS), in these horses and has found some success with certain types of cases.
Lane Easter, DVM, Dipl. ACVS, of Performance Equine Associates, in Thackerville, performed the research and teamed up with Ashlee E. Watts, DVM, PhD, Dipl. ACVS, a Texas A&M University researcher and clinician, to write up the study. Easter presented his results at the 2014 American Association of Equine Practitioners (AAEP) Convention, held Dec. 6-10 in Salt Lake City, Utah.
Easter said that in his practice, PSD—defined as inflammation and tissue damage of the upper part of the suspensory ligament—is the No. 1 cause of forelimb lameness of young Western performance horses that precludes them from competing in major events for which they have trained. Traditional treatment approaches generally involve an extended, expensive period of confinement or inactivity—anywhere from three months to a year—and horses end up missing major career-making futurities. Researchers have shown that many horses with PSD in one or both hind limbs have a guarded prognosis for returning to full athletic function at all.
"We were looking for an alternative approach for managing proximal suspensory desmitis," he said, and decided to try ACS—which is blood from the patient (autologous) that has been incubated overnight (conditioned) with specialized medical-grade glass beads to make growth factors proliferate and then spun down to make serum—with the goal of reducing inflammation and, therefore, lameness. He also wanted to enhance healing to return the ligament to its original form and function, which can be challenging with strong, flexible tissue that the horse uses
Create a free account with TheHorse.com to view this content.
TheHorse.com is home to thousands of free articles about horse health care. In order to access some of our exclusive free content, you must be signed into TheHorse.com.
Start your free account today!
Already have an account?
and continue reading.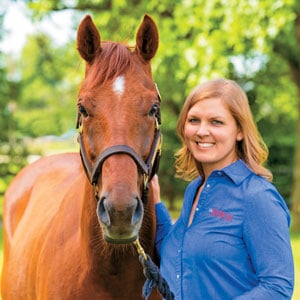 Stephanie L. Church, Editorial Director, grew up riding and caring for her family's horses in Central Virginia and received a B.A. in journalism and equestrian studies from Averett University. She joined The Horse in 1999 and has led the editorial team since 2010. A 4-H and Pony Club graduate, she enjoys dressage, eventing, and trail riding with her former graded-stakes-winning Thoroughbred gelding, It Happened Again ("Happy"). Stephanie and Happy are based in Lexington, Kentucky.
Stay on top of the most recent Horse Health news with
FREE weekly newsletters from TheHorse.com