Examining Synoviocyte Secretome's Potential for Treating Osteoarthritis
This biologic could have a protective role as a disease-modifying product for horses with osteoarthritis.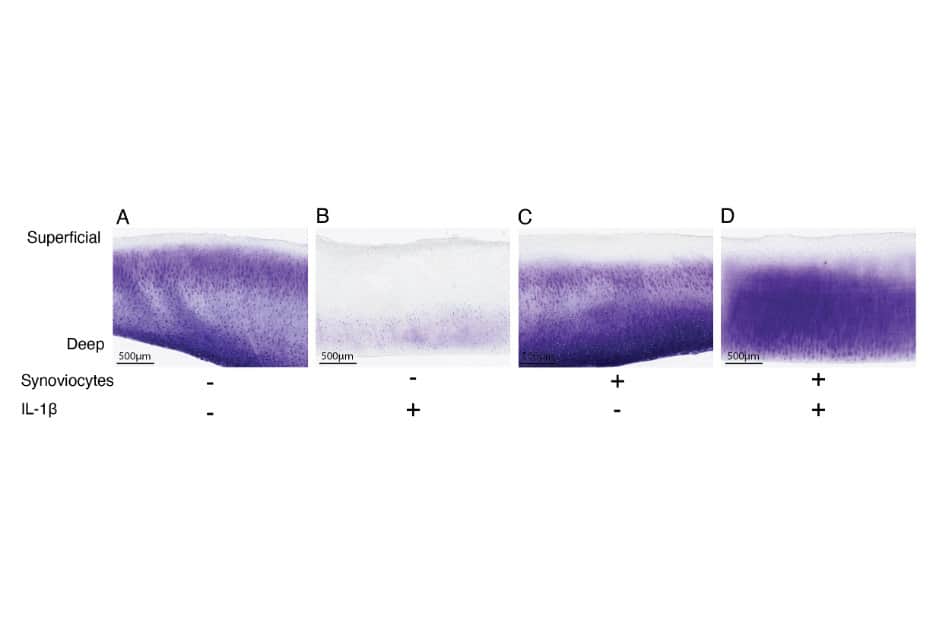 Osteoarthritis is a common cause of lameness in horses that, in severe cases, can lead to mortality. Treatment options include non-steroidal anti-inflammatory drugs (NSAIDs) and corticosteroids, but these therapies are all designed to be symptom-modifying, rather than disease-modifying. Researchers have suggested the secretome of synoviocytes (biofactors secreted by cells lining the joint) contains mediators that can protect cartilage from the degenerative effects of interleukin-1 beta (IL-1β), a highly potent inducer of cartilage degradation in horses with osteoarthritis.
Researchers from Cornell University, in Ithaca, New York, recently confirmed the efficacy of synovium (joint capsule) secretomes a potential treatment option for horses with osteoarthritis. In their study, they took tissue samples from four horses ranging from 7- months- to 7-years-old, with no history of lameness and with normal joints at necropsy. These horses were euthanized for other projects at the institution, and had not received medication in the two months prior to euthanasia.
The researchers, harvested cartilage and synovial membrane from the patellofemoral joints (horses' stifles) and cocultured synoviocytes and paired cartilage explants to allow interaction. At 24 hours, they exchanged the media and cocultures were stimulated (treatment) or not stimulated (control) using IL-1β stimulation (a common inflammatory mediator in osteoarthritis).
They exchanged the media again after 48 and 96 hours, collected the resultant medium and added a protease inhibitor to the samples (to avoid protein destruction). Cartilage explants were saved for toluidine blue histochemistry (to evaluate glycosaminoglycan content), the media was sent for proteomic analysis (to evaluate synoviocyte secretomes), and synoviocytes were lysed for gene expression analyses.
The researchers validated through histochemistry, proteomics, and gene expression the potential of synoviocyte secretome factors to protect cartilage against the catabolic (destructive) effects of IL-1β.
Santiago Mejia, DVM, a researcher on the study, encouraged veterinarians to target the synovium rather than the cartilage when treating horses with osteoarthritis. "We know based on previous in vitro (in the lab) experiments that synovial tissue or synoviocytes mitigate the catabolic effects of IL-1β on cartilage when the cell types are cultured together,"he said. "Therefore, we know that synoviocytes' secretome factors have the ability to be used as a disease-modifying drug."
This study could be the starting point for future studies in which researchers evaluate the synovium secretome factor in in-vitro and in-vivo (live horse) scenarios to validate its protective role as a disease-modifying product for osteoarthritis cases, he added.
Mejia stressed that for horse owners, the take-home message is orthobiologics such as mesenchymal stem cells (MSCs), platelet rich plasma (PRP), and interleukin-1 receptor antagonist protein (IRAP) are currently playing an important role in the treatment of osteoarthritis.
"We, as researchers, have learned that the appropriate use of these technologies can provide some of the anabolic proteins to help restore the cartilage defects and delay the osteoarthritis process, ultimately prolonging the career of some horses compared to more traditional corticosteroid treatments," he said. Although traditional treatments provide more immediate relief, the long-term side effects, such as cartilage deterioration, can be severe, and similar side effects have not been noted from the use of biologics.

Haylie Kerstetter, Digital Editor, holds a degree in equine studies with a concentration in communications and a minor in social media marketing. She is a Pennsylvania native and, as a horse owner herself, has a passion for helping owners provide the best care for their horses. When she is not writing or in the barn, she is spending time with her dog, Clementine.
Stay on top of the most recent Horse Health news with
FREE weekly newsletters from TheHorse.com