What Happened to an EIA-Free America?
Humans, not insects, are now the major source of equine infectious anemia (EIA) infections. Learn more in this article from the Spring 2023 issue of The Horse.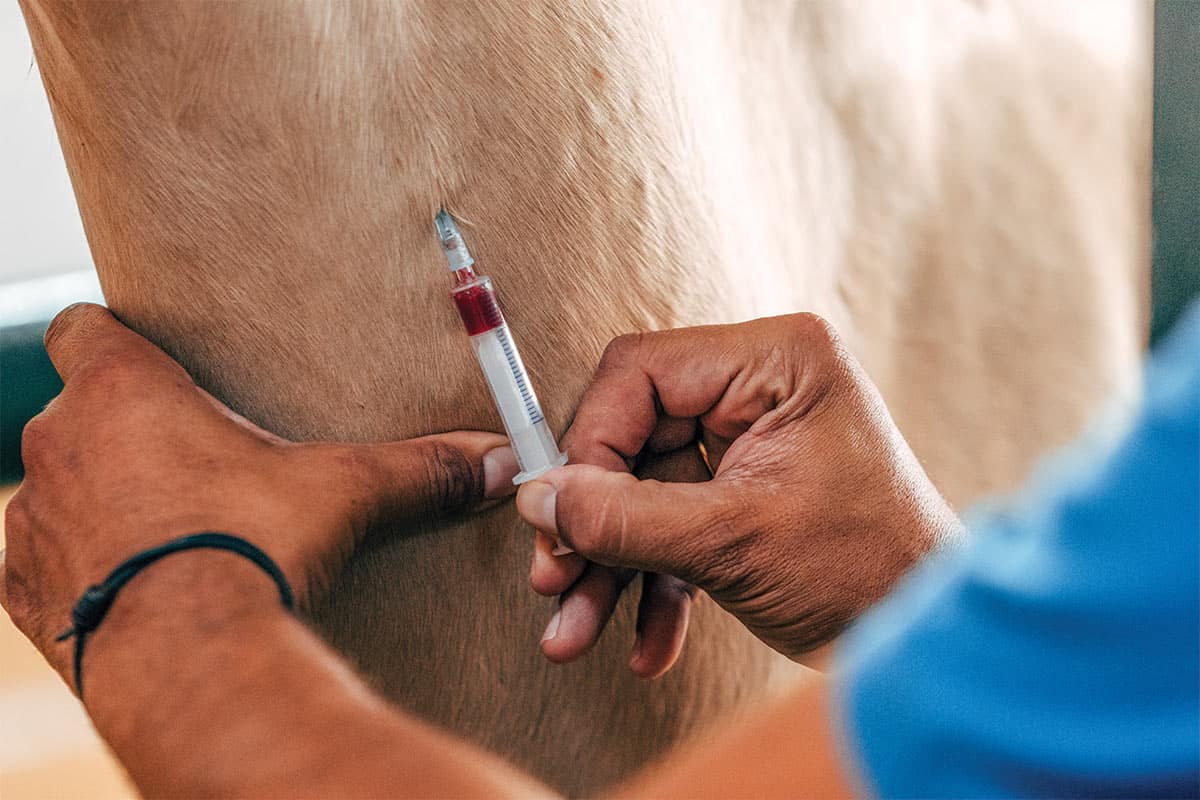 Humans, not insects, are now the major source of EIA infections
Many people likely believe all horses in the U.S. have Coggins tests performed routinely and, thanks to stringent Coggins testing rules, the country is therefore free from equine infectious anemia (EIA). In reality, the U.S., like the rest of the world, has many cases of EIA each and every year. While the current prevalence of EIA in the American equine population remains very low, around 0.004%, this serious disease still poses a risk not only to our resident horses but also those visiting from other countries.
Where We Are With EIA
While we would like to be free from EIA, here are some statistics from the USDA's Animal and Plant Health Inspection Service (APHIS) showing just how far from it we truly are:
In 2022, 96 horses were confirmed EIA-positive in 16 states.
In 2021, about 1.4 million tests were conducted, identifying 103 positive cases.
In 2020, about 1.3 million tests were conducted, identifying 29 positive cases.
As we can see from Figure 1, APHIS data show these case numbers are fairly consistent dating back to the early 2000s.
If these numbers surprise you, it might be a relief to know we're in a much better position now than 50 years ago. A report published by the American Association of Equine Practitioners showed EIA cases peaked in the 1960s and '70s, with 10,371 horses diagnosed with EIA in 1975 alone.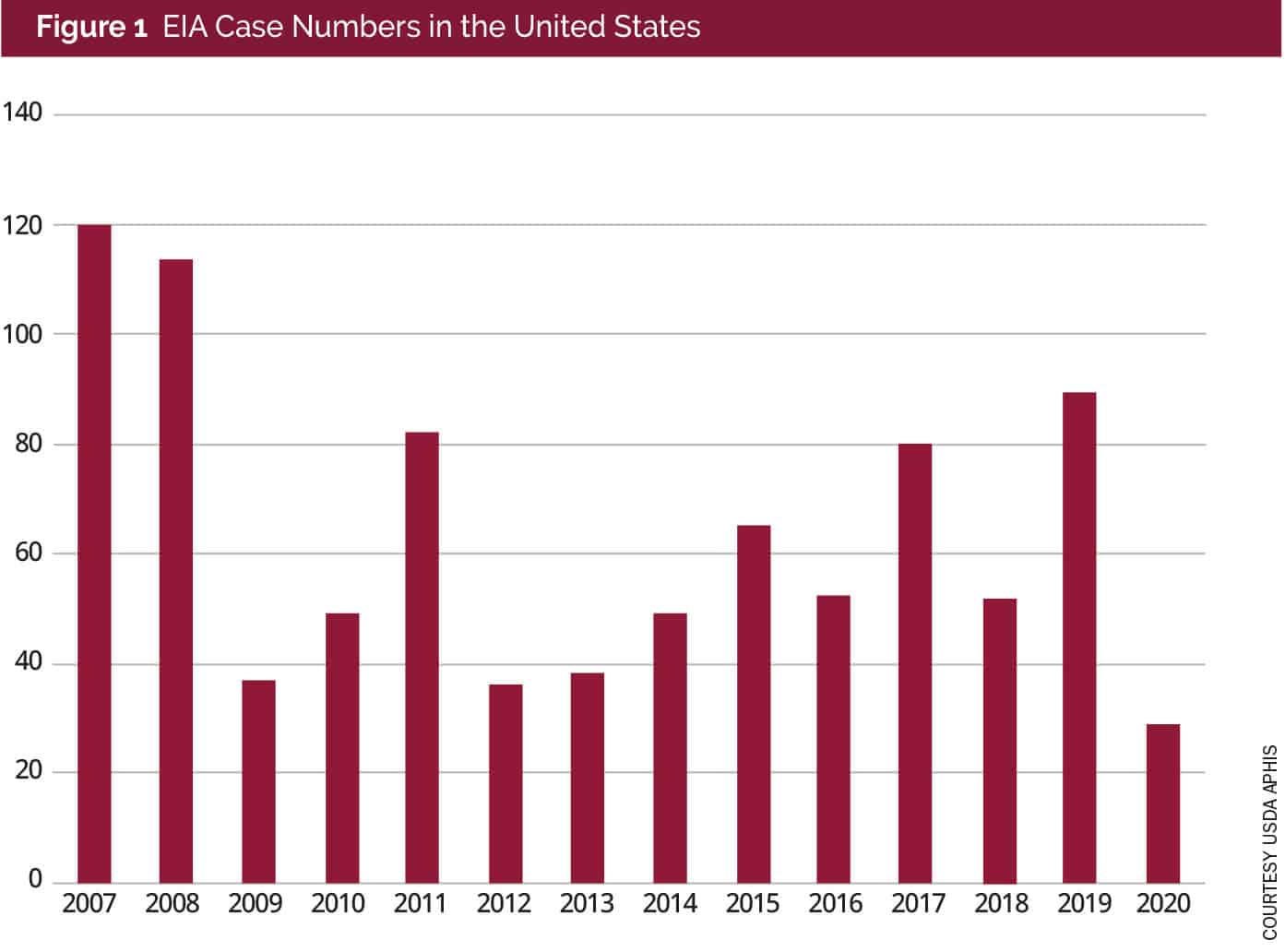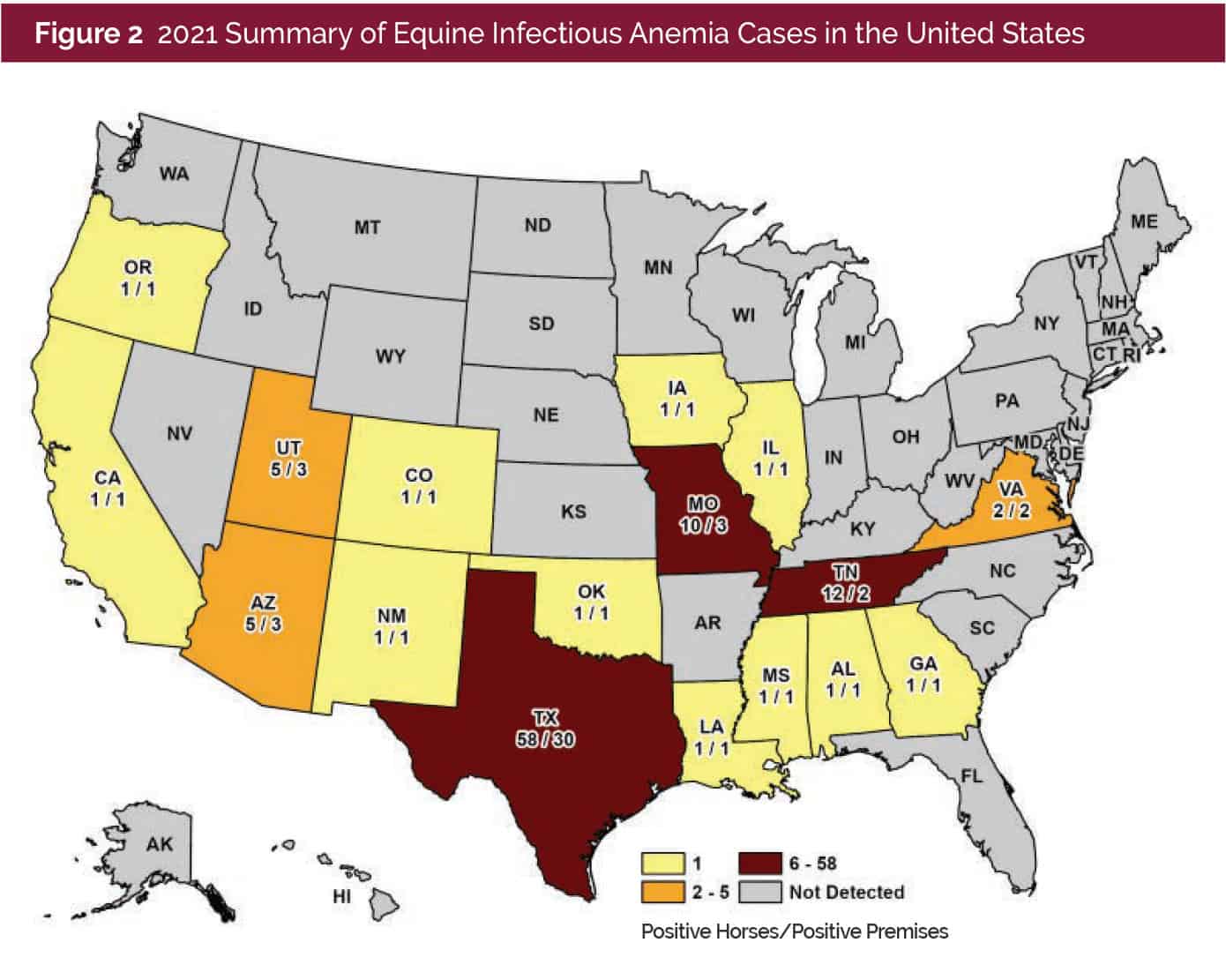 How EIA Virus Causes Anemia
To briefly review, the retrovirus that causes EIA consists of a single strand of genetic material (RNA). Once that virus enters the horse's bloodstream, it infects white blood cells called macrophages as well as endothelial cells lining the walls of blood vessels throughout the body. The virus integrates its own genetic material into the horse's DNA inside these cells, inciting an immune response that involves both arms of the immune system—humoral (concerning production of antibodies) and cellular (attacking invading antigens). This zealous response results in an immune-mediated destruction of red blood cells, causing anemia. The immune system's excessive activity can also damage several other tissues.
Clinical signs of disease might occur at the time of initial infection, or the original infection might be so mild it goes unnoticed. Such signs include fever, depression, and petechial hemorrhages (small red or purple spots) on the mucous membranes inside the mouth, for example. After recovering from acute infection, horses remain infected for life. During the subacute/chronic infectious stages, horses can suffer intermittent bouts of fever, depression, petechial hemorrhage, weight loss, anemia, enlarged lymph nodes (lymphadenopathy), and icterus, or jaundice. Some horses become inapparent carriers, never showing any outward clinical
This story requires a subscription to The Horse magazine.
Current magazine subscribers can click here to and continue reading.
Subscribe now and gain unlimited access to premium content.
Subscribe Now
We at The Horse work to provide you with the latest and most reliable news and information on equine health, care, management, and welfare through our magazine and TheHorse.com. Our explanatory journalism provides an understandable resource on important and sometimes complex health issues. Your subscription will help The Horse continue to offer this vital resource to horse owners of all breeds, disciplines, and experience levels.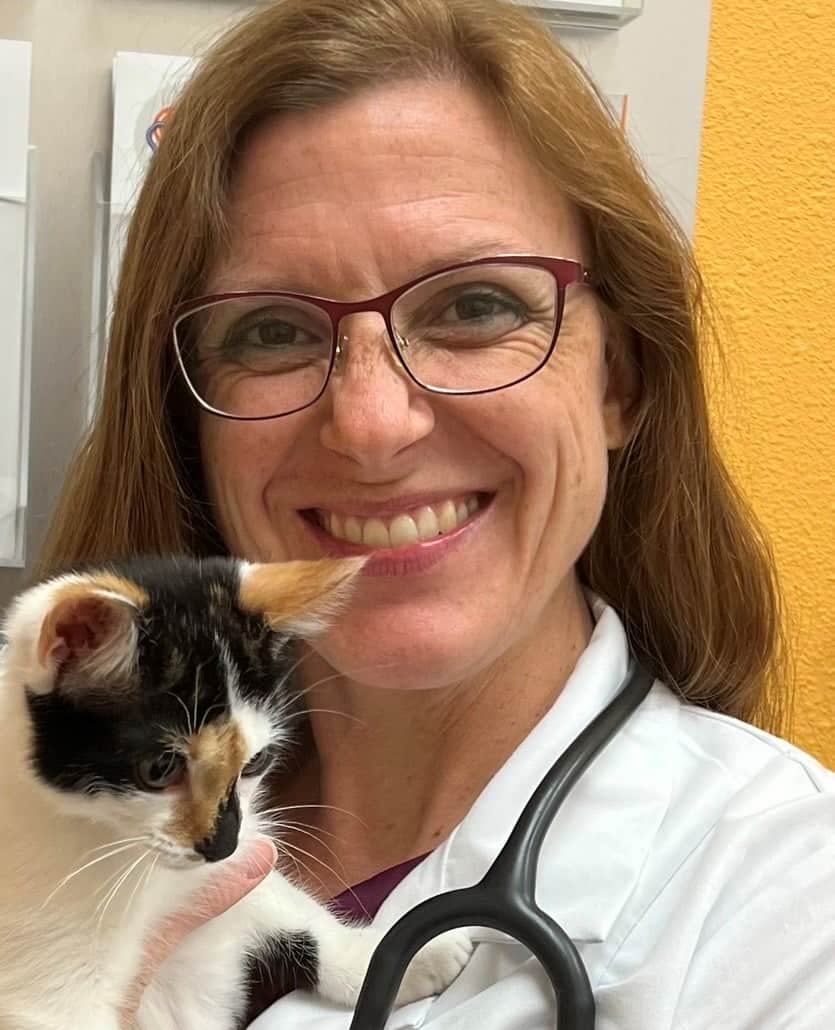 Stacey Oke, MSc, DVM, is a practicing veterinarian and freelance medical writer and editor. She is interested in both large and small animals, as well as complementary and alternative medicine. Since 2005, she's worked as a research consultant for nutritional supplement companies, assisted physicians and veterinarians in publishing research articles and textbooks, and written for a number of educational magazines and websites.
Stay on top of the most recent Horse Health news with
FREE weekly newsletters from TheHorse.com