11 Tips for Improving Your Horse's Indoor Air Quality
Improving the air quality in your barn can protect horses and humans against respiratory dysfunction.
Q: Recently my friend's horse was diagnosed with equine asthma, and the vet told her a contributing factor was the poor ventilation and air quality in her barn. How can I improve the air quality in my barn to help keep my horses healthy?
A:  Respiratory-related health issues are prevalent in horses of all ages and activity levels. The horse's respiratory system evolved to breathe the clean, dry air of semiarid grasslands. Many horse facilities, especially older ones, are poorly ventilated, with an airtight construction designed to trap in and hold heat. This practice also traps dust, mold, ammonia fumes, and other particles, along with moisture, creating optimal conditions for respiratory disease.
Consider these 11 tips to improve the air quality in your barn:
Ideally, horses should spend as much time turned out as possible—a basic premise to equid welfare that also benefits respiratory health.
If your horses spend time in the barn, you need to be each stall is properly ventilated to refresh the air and prevent condensation. An occasional breeze down the aisle might not be enough, so having stall walls that are open at the top can provide additional air circulation. Cupolas in the roof can help with this as well.
Prevent buildup of excess moisture in your barn by fixing drainage issues and leaks. Excess moisture can encourage mold growth and condensation, which can diminish the air quality in the barn.
In hot weather allow warm air to escape. Warm air rises naturally, taking moisture, ammonia vapor, dust, and other particles with it. Encourage warm air to flow out of your barn at its highest point, typically at the ceiling ridge. This could be in the form of a cupola at the roof, outside vents along the top of barn walls, or large openings like doors or windows. You can also install an exhaust fan at ceiling height to help remove warm air.
During hotter months create a way for ample cool air to enter the barn around the perimeter. The simplest way to do this is usually through cross-ventilation via end doors and windows that can be opened fully, as well as v If possible, also allow air to circulate this way during the winter to allow fresh air in the barn.
While you're cleaning stalls and sweeping the aisle, reduce the amount of dust the horses breathe by keeping horses outside, perhaps giving them turnout or pasture time. Wait at least a half-hour to an hour for dust to settle once stall cleaning is complete before moving horses back inside.
Hay is a major source of dust and mold. Store hay away from stables in another building to reduce dust. Overhead hay storage can make the barn especially dusty for horses.
Choose a less-dusty bedding option such as pelleted bedding. You might even be able to eliminate the need for bedding if horses have constant access to paddocks with shelters or walkout stalls with stall mats.
Avoid stabling horses where stalls are attached to an indoor arena. Dust kicked up in the shared airspace can create poor air quality for both horses and humans.
Consider installing an all-weather surface in your paddocks or confinement areas, such as crushed rock or a similar gravel product that will keep them mud-free in the winter and reduce dust in the summer. Regular manure management in paddocks also reduces mud and dust.
A large industrial fan might be useful to pull dusty air out of a barn, especially in hot summer months. Place fans strategically so they don't blow settled dust back into the air.
Air quality in your barn is important for the health of the horses and people living and working there. You can make many simple management changes to improve air flow and quality. It's much easier to prevent poor air quality than to improve it after a problem arises, and these changes might help prevent respiratory dysfunction in your horses.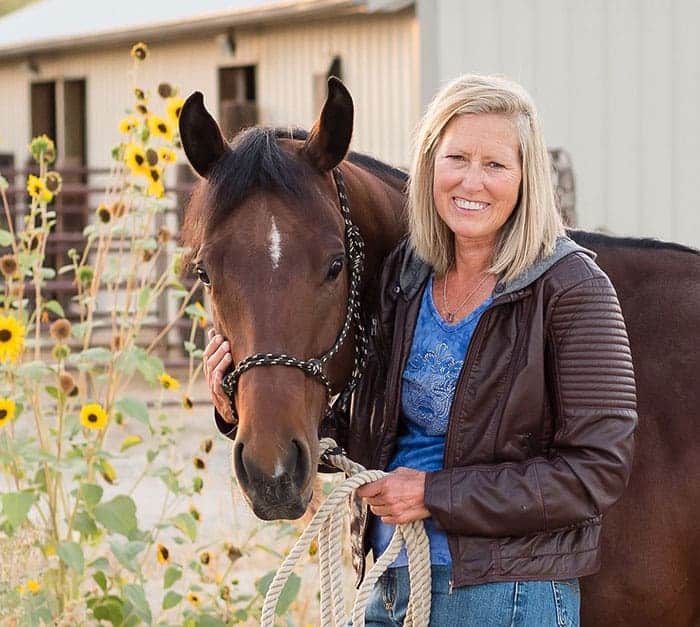 Alayne Blickle, a lifelong equestrian and ranch riding competitor, is the creator/director of Horses for Clean Water, an award-winning, internationally acclaimed environmental education program for horse owners. Well-known for her enthusiastic, down-to-earth approach, Blickle is an educator and photojournalist who has worked with horse and livestock owners since 1990 teaching manure composting, pasture management, mud and dust control, water conservation, chemical use reduction, firewise, and wildlife enhancement. She teaches and travels North America and writes for horse publications. Blickle and her husband raise and train their mustangs and quarter horses at their eco-sensitive guest ranch, Sweet Pepper Ranch, in sunny Nampa, Idaho.
Stay on top of the most recent Horse Health news with
FREE weekly newsletters from TheHorse.com