Tips for Keeping Shoes on Horses' Feet
Learn how to prevent shoe loss caused by farrier error, rider issues, management style, or horseplay in this article from the Riding Horse 2023 issue of The Horse.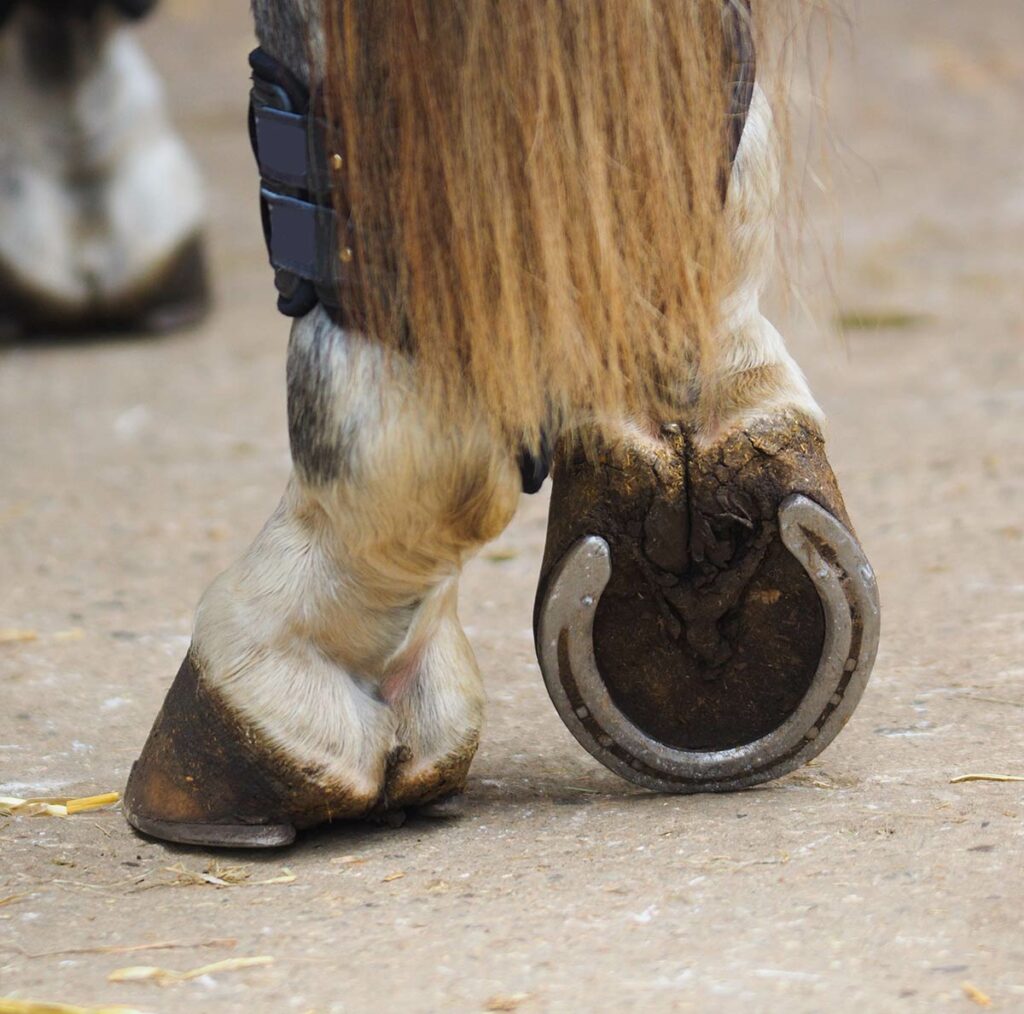 How to prevent shoe loss caused by farrier error, rider issues, management style, or horseplay
The environmental conditions might be wet, dry, slick, or muddy. The horse might be working, playing, stomping, or standing. Under any circumstance, a loose or lost horseshoe can be an inconvenient nuisance. Steve Kraus, CJF, a professional farrier of 55 years and head of farrier services at Cornell University Equine and Farm Animal Hospital, in Ithaca, New York, says horseshoe loss typically has one of three causes:
Farrier error.
Rider or management issues.
The horse.
A clear understanding of how or why a shoe came off is the key to keeping future shoes on your horses' feet.
Farrier Error
When a horse loses a shoe, some owners might instinctively blame the farrier for subpar work, says Eric Wilt, a professional farrier of more than 30 years and the farrier science manager at Hocking College, in Southeast Ohio. In certain instances they're right. Kraus and Wilt explain that a multitude of farrier errors can cause shoe loss, including:
Performing a poor trim job prior to nailing on the shoe.
Also in that vein, fitting the shoe to the wings (the flares on the horse's feet that should be removed before placing the shoe), causing the hoof to work unevenly and, thus, loosening the nails.
Placing a shoe that is too large for the foot such that the horse can easily step on it and rip it off.
Driving nails too low into the hoof wall to hold the shoe on securely.
Fitting the shoe too tightly, resulting in the hoof wall spreading over the shoe and the nails shearing.
Any shod horse's shoe will loosen over time. Horses move, and hooves grow, expand, and contract. These factors come into play in determining a shoe's life span on the hoof. Wilt says when he is getting ready to shoe a horse, he considers hoof health and conformation as well as the horse's way of going.
Tips to Reduce Farrier Error
Aside from skill, experience, and a good eye for balance, being able to shoe horses properly with little to no error requires a few basic elements to help the farrier work more efficiently, says Wilt:
A competent handler or a horse that ties well.
Good lighting so the farrier can see the entire hoof.
Level ground to work on so the farrier can properly evaluate horse stance and hoof placement.
Clean hooves to ensure proper hoof balance and shoe placement.
Rider or Management Issues
A horse's job, where he spends most of his time, and what he does daily play huge roles in potential shoe loss. When evaluating rider issues causing shoe loss, Kraus points out three issues he sees:
Riders that work horses excessively on the forehand, causing them to become unbalanced. The horse's front feet cannot get out of the way of the hind, and he steps on a front shoe with the hind foot.

Riders that move the horse forward, then check the horse abruptly, resulting in the same.

Riders that turn the horse at a canter on the wrong lead, so he steps on the outside heel of the front shoe with a hind foot.
Kraus estimates 80-90% of shoe loss due to rider error consists of front shoes being stepped on by hind
This story requires a subscription to The Horse magazine.
Current magazine subscribers can click here to and continue reading.
Subscribe now and gain unlimited access to premium content.
Subscribe Now
We at The Horse work to provide you with the latest and most reliable news and information on equine health, care, management, and welfare through our magazine and TheHorse.com. Our explanatory journalism provides an understandable resource on important and sometimes complex health issues. Your subscription will help The Horse continue to offer this vital resource to horse owners of all breeds, disciplines, and experience levels.

Debra Powell, PhD, PAS, is the head of the equine program at Hocking College, in Nelsonville, Ohio. She also owns and operates a mobile business that specializes in noninvasive therapies and nutritional consulting for dogs and horses.
Stay on top of the most recent Horse Health news with
FREE weekly newsletters from TheHorse.com