How Effective Is PEMF Therapy for Performance Horses?
New research suggests low PEMF treatment settings might not have many physical effects on performance horses.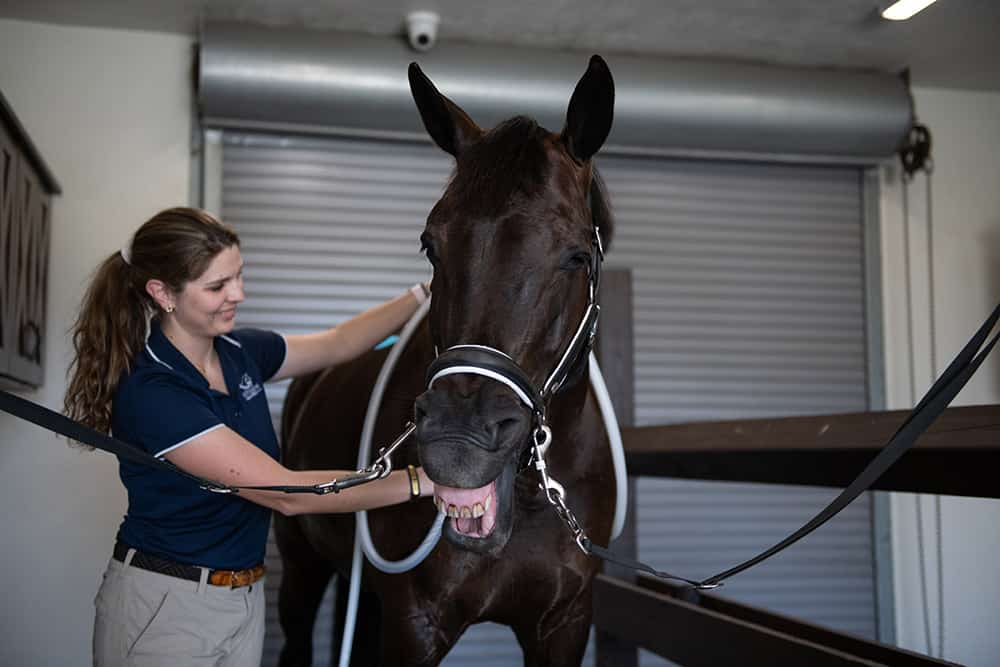 Horse owners pursue an increasing variety of alternative therapies to support their equine athletes' performance, but discrepancies in treatment protocols and a lack of supporting research have made newer therapies controversial in the eyes of professionals. University of Tennessee (UT) researchers recently examined the application of one modality—pulsed electromagnetic field therapy (PEMF)—in a group of Quarter Horses.
"Pulsed electromagnetic field therapy can be administered in blanket or hose form and used to promote circulation and decrease inflammation but is overall lacking in clear protocols," said Delaney Rostad, MS, a recent master's student graduate of UT Knoxville in her presentation at the 2023 Equine Science Society Symposium, held June 6-9 in Grapevine, Texas.
Existing research surrounding PEMF therapy is limited and does not give definitive information on how treatment affects performance in horses, she added. Therefore, Rostad and her fellow researchers created a study to help determine whether a single PEMF treatment had stress-relieving effects and improved quality of movement in a group of 14 Quarter Horses. These horses were all housed at a partnering farm near the UT Knoxville campus, kept in a moderate exercise program, were free of non-steroidal anti-inflammatory drugs (NSAIDs), and vetted sound. They split the horses into two groups of seven, one treatment and one control, and switched groups after the first round of treatment and evaluation.
The researchers applied PEMF therapy to the treatment group through hoses placed on the neck, shoulders, back, and hindquarters at 5 hertz (Hz) on each part of the body, while the control group had hoses placed with no treatment applied. PEMF providers typically base their setting on what the horse can tolerate (determined by signs of relaxation such as licking and chewing); therefore, the researchers selected a level they felt all horses in the study would accept.
The researchers took pretreatment salivary cortisol samples and retook samples immediately following treatment at 2, 4, 8, 24, 48, and 72 hours to measure stress levels. "A Polar equine heart monitor was also used to help measure stress and heart rate changes," said Rostad.
The researchers enlisted a group of blinded judges to evaluate the horses' quality of movement to determine if changes were seen after treatment. "The three carded judges rated the horses' walk and trot on a scale of 1 to 10, with 10 being the highest quality," explained Rostad. Researchers also used the Equinosis EQ diagnostic system to measure stride symmetry on crushed gravel and loose sand footing.
Immediately after treatment the horses had lower heart rates; however, there was no effect on forelimb or hind-limb symmetry, and the judges gave the horses lower movement scores 4 hours after treatment, said Rostad.
This therapy option might be beneficial in reducing stress in performance horses, but at a single treatment of 5 Hz, PEMF might not improve horse performance, she explained, understanding that this is lower than what many providers would use. Further studies are needed to examine its effects when various treatment protocols are applied.
Haylie Kerstetter, Digital Editor, holds a degree in equine studies with a concentration in communications and a minor in social media marketing. She is a Pennsylvania native and, as a horse owner herself, has a passion for helping owners provide the best care for their horses. When she is not writing or in the barn, she is spending time with her dog, Clementine.
Stay on top of the most recent Horse Health news with
FREE weekly newsletters from TheHorse.com