Psyllium for Horses in Sandy Areas
Horses living in areas with sandy soil are at a greater risk of sand colic and impactions. An equine nutritionist offers advice on mitigating this risk.
Q: What is the latest research or protocol for managing and feeding horses in sandy areas? Does psyllium work when used seven days a month? If so, how much, what form should I use, and what is the best way to feed it? Does psyllium interfere with other supplement absorption?
A: As a Florida resident and horse owner, this topic comes up frequently for me because Florida soil is typically quite sandy. The risk of excessive sand ingestion by horses is a real concern because it can lead to some very serious problems. Most people are aware that sand accumulation in the gastrointestinal (GI) tract can lead to sand colic and impactions, but excessive sand ingestion over time also causes chronic GI irritation that can cause discomfort, loose manure, and weight loss. Owners who keep their horses on pastures with sandy soil should be aware of the risks associated with excessive sand ingestion and take measures to prevent it from occurring.
Feeding psyllium has long been thought of as the first line of defense against sand colic, and intermittent feeding protocols are typically recommended. Theoretically, a seven-day psyllium feeding protocol would prevent the acclimatization of the hindgut microbes to psyllium fiber, but there are no studies that show a seven-day "purge protocol" is more effective than daily psyllium supplementation for sand clearance.
However, several studies have demonstrated that psyllium supplementation in general is not a very effective strategy to reply upon for sand clearance. The most effective sand clearance strategy for horse owners turns out to be feeding free-choice hay, or at least 2.5% of the horse's body weight per day.
Psyllium husk is rich in fermentable fiber that promotes butyrate (a short-chain fatty acid) production in the hindgut via microbial fermentation. This is good thing for intestinal health because intestinal cells utilize butyrate as an energy source, but the concept of psyllium "pushing" sand through the horse's GI tract has not been clearly demonstrated. In other words, psyllium supplementation can be beneficial for horses as it relates to intestinal health and possibly supporting a hindgut that is "angry" from chronic GI irritation caused by sand, but to rely on psyllium supplementation as the only sand colic preventative strategy would be misguided.
Besides feeding free-choice hay, the most effective strategy to mitigate sand accumulation is to prevent sand ingestion from occurring in the first place. When feeding hay in an area with sandy soil, simply using a hay feeder that is raised or otherwise has a barrier between the hay and the ground goes a long way to prevent sand ingestion. Using rubber mats under the feeder, so that the horse does not ingest soil when picking up any dropped or spilled hay, is another effective strategy. Always feed concentrate meals in buckets, pans, or feeders, and use mats under feeders so the horse doesn't ingest sand when picking up dropped feed. In addition, keeping pastures from becoming overgrazed so horses aren't grazing on short grass and preventing horses from grazing in areas where they pull grass up with the roots can limit excessive sand ingestion.
In conclusion, while there are some benefits to feeding psyllium, those benefits are not necessarily related to sand clearance. Horse owners should not rely on the ability of psyllium to remove sand from the horse's GI tract but, rather, aim to provide free-choice access to hay and implement management strategies to minimize sand ingestion. It's also important to remember that each horse is unique, and horse owners should work with their veterinarians for more specific recommendations tailored to their horses' individual needs.
Hammock PD, Freeman DE, Baker GJ. Failure of psyllium mucilloid to hasten evacuation of sand from the equine large intestine. Vet Surg. 1998; 27:547.
Kaikkonen R, Niinisto K, Lindholm T, Raekallio M. Comparison of psyllium feeding at home and nasogastric intubation of psyllium and magnesium sulfate in the hospital as a treatment for naturally occurring colonic sand (geosediment) accumulations in horses: a retrospective study. Acta Vet Scand. 2016; 58(1):73.
Lieb S, Weise J. A group experiment on the management of sand intake and removal in equine. In Proceedings of the 16th Equine Nutrition Physiology Symposium; 1999. p. 257.
Mienaltowski MJ, Belt A, Henderson JD, Boyd TN, Marter N, Maga EA, DePeters EJ. Psyllium supplementation is associated with changes in the fecal microbiota of horses. BMC Res Notes. 2020 Sep 29; 13(1):459.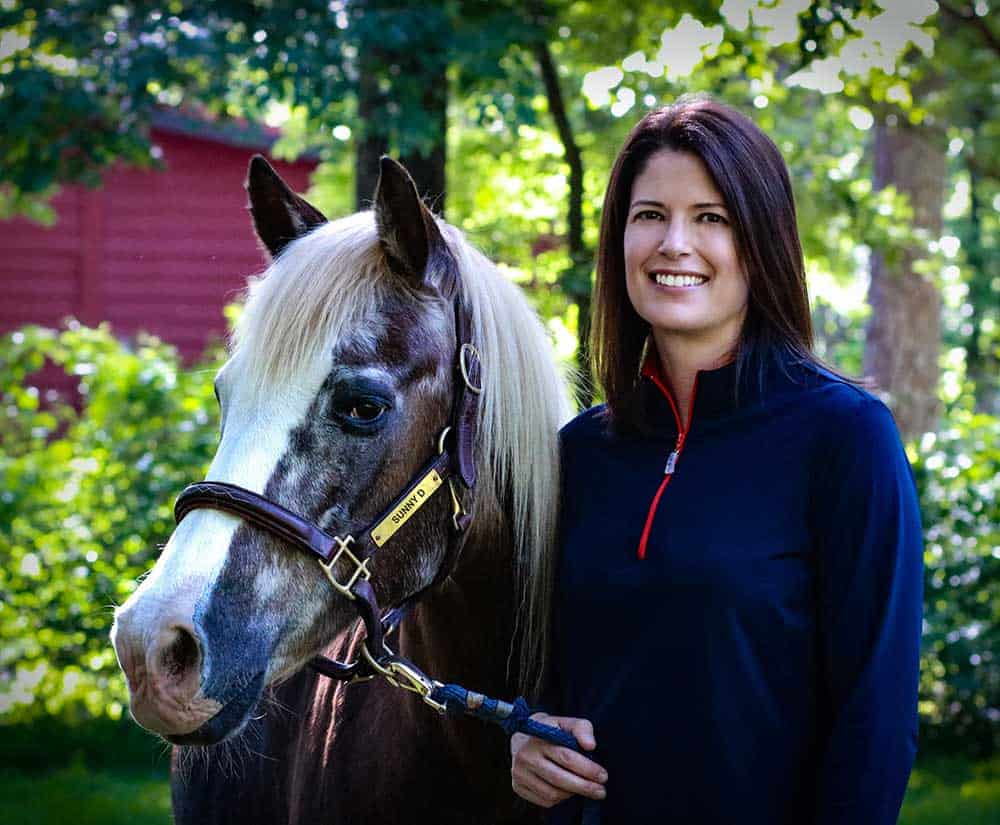 Kelly Vineyard, MS, PhD, is a senior nutritionist in equine technical solutions with Purina Animal Nutrition. She consults with veterinarians, professional riders, and horse owners across the United States and is directly involved with new product innovation, research, and technical support at Purina. Vineyard earned her BS in animal and dairy sciences from Auburn University and her MS and PhD in animal sciences from the University of Florida. Her doctorate research focused on the effects of omega-3 fatty acid supplementation on immune function in horses. Vineyard is a frequent lecturer on equine nutrition topics, with expertise in omega-3 fatty acids, immune function, and performance horse nutrition. She is an avid dressage rider and is proud to have earned her USDF bronze and silver medals on an off-track Thoroughbred.
Stay on top of the most recent Horse Health news with
FREE weekly newsletters from TheHorse.com