Finally! A Slow Feeder Option That Works for Me!
After a year of trial and error, I finally found a slow hay feeder solution for my horses. Maybe it'll work for yours!
We all know our horses should eat small amounts of forage frequently. Depending on your horse's size and nutritional requirements, that means
15 to 30 pounds of hay
divided into small meals throughout the day, which also means you could basically spend your whole day feeding horses at regular intervals. For most of us, that's just not practical.
Still, research studies, veterinarians, and equine nutritionists constantly recommend slow feeding for the management of everything from equine Cushing's disease to equine metabolic syndrome to behavioral issues. But I didn't fully understand the importance of slow feeding forage until my filly started exhibiting signs of equine gastric ulcer syndrome, which is exacerbated by infrequent feedings. Even my regular feeding program of three hay meals a day and limited concentrated feed left her with severe ulcer attacks. So, like any good, obsessive horse owner, I started searching for a solution that worked for my sweet filly's health, my small herd's idiosyncrasies (they're kind of a high-maintenance bunch), and my own time management and budget constraints. Over the next year I:
Investigated "pillow net feeders" (a neat idea) and full-bale nets, but these posed foot-entrapment risks for my one shod horse. I considered separating him from my two barefoot horses, but group housing is too important to my herd's happiness.
Tried hanging haynets with small holes, but fixing them high enough to eliminate hoof-entrapment issues left my dressage horse with a sore neck and my allergy-prone gelding with hay-dust-related respiratory distress.
Looked at ingenious but relatively expensive feeders made of PVC that spin and "grow" hay as the horse engages in natural grazing behaviors. However, our desert climate and is extremely hard on vinyl, and I couldn't bear the cost for what could possibly be a short-term solution.
Tried a feeder with a "slow" grate on the top. While openings are small enough my horses can't get their feet in them; they're too large to slow down my vacuum-like herd.
Considered another type of feeder featuring a grate with smaller holes, but I'm convinced the wooden box wouldn't survive my horses, who might share DNA with beavers.
Finally, eureka! Nearly at my wits' end (and several hundred dollars into my slow-feeder experimentation) I stuffed one of my haynets full of hay, tied back the fastener strings in a series of knots that my horses can't untie or get caught in, and placed it in the grate feeder and locked it up. Within minutes, my horses were nibbling through both the grate and the net. If you watch the video, you can see my filly is using her lips and teeth in a natural way as she nibbles and "grazes" from the bag. You'll also note she seems relaxed and content (if I posted a video of her eating from a hanging haynet, you'd see her biting the swinging bag in frustration).
Create a free account with TheHorse.com to view this content.
TheHorse.com is home to thousands of free articles about horse health care. In order to access some of our exclusive free content, you must be signed into TheHorse.com.
Start your free account today!
Already have an account?
and continue reading.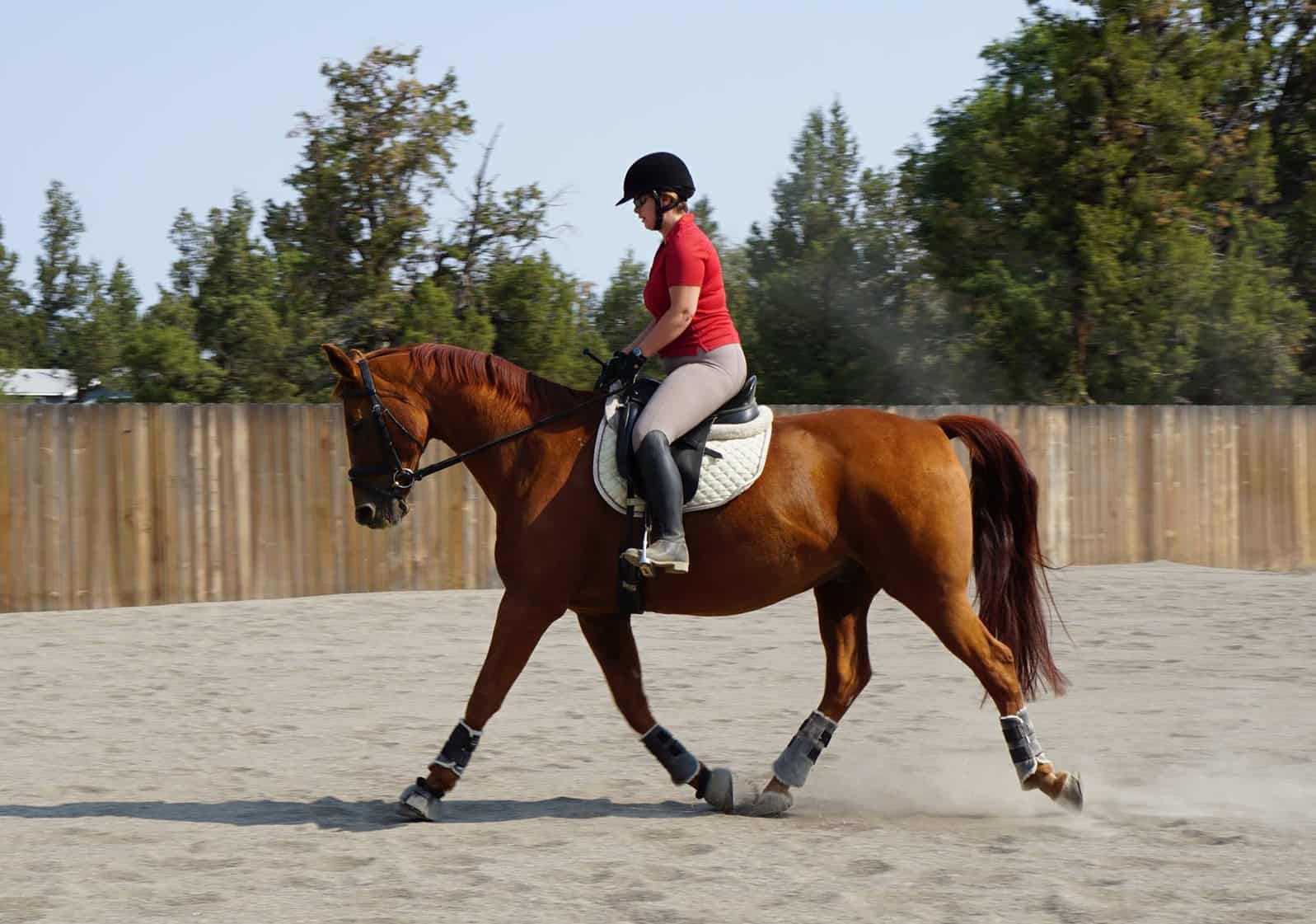 Michelle Anderson is the former digital managing editor at The Horse. A lifelong horse owner, Anderson competes in dressage and enjoys trail riding. She's a Washington State University graduate and holds a bachelor's degree in communications with a minor in business administration and extensive coursework in animal sciences. She has worked in equine publishing since 1998. She currently lives with her husband on a small horse property in Central Oregon.
Stay on top of the most recent Horse Health news with
FREE weekly newsletters from TheHorse.com