14 More Considerations for Preventing Horse Barn Fires
What steps have you taken to prevent fires in your barn? What challenges do you need to overcome to help your barn be more fireproof?
Several stables have burned the past few weeks. I'm shaken to the core each time I read about a barn fire, especially now that I once again have my own horse. This fear takes me back to the presentation Rebecca Gimenez, PhD, our "
The Horse 911: What's Your Emergency
" blogger, gave at the 2014 American Association of Equine Practitioners Convention, held in December in Salt Lake City, Utah, in which she provided practical tips for configuring equine facilities to prevent and better respond to barn fires.
Rebecca did a great job of summarizing the top six take-homes from her presentation in a blog post a few weeks ago. Several other things she mentioned in her talk really jumped out at me as a horse owner, though, and I wanted to make sure I summarized them for you. Here are a few more things to think about:
1. When selecting stall hardware: Select latches that a firefighter can easily figure out how to open and can open with gloves on. Also, make sure stalls are both intuitive to open and easily opened (doors don't stick/go off runners easily). Some barn owners have attached reflective tape to the latch to make it more obvious.
2. When picking your hay storage location: Firefighters actually use hay in training as fuel for the fire "because it creates the perfect black smoke." Think about that when considering your hay storage location–preferably keep it away from the horse barn.
3. When selecting and placing your fire extinguishers: The average 5-pound fire extinguisher has "3.9 seconds worth of stuff in it," Rebecca said. "You will not put a barn fire out with a 5-pound fire extinguisher." In fact, once upon a fire training experiment, Rebecca said it took 80 gallons of water to put out a fire in a 75-pound hay bale. Get several 10 pounders, and learn how to use them.
4. When considering your cleaning frequency: Remember that all it takes is a spark of static electricity to light up cobweb-lined barn rafters.
5. When designing your barn: (You lucky dog, you!) Keep in mind that tall roofs with good ventilation allow heat to leave in a larger fire, slowing the buildup of heat and smoke inside the barn. Good ventilation helps your horse's lungs, too.
6. When selecting building materials: Ideally, use concrete block construction, encase all electrical wires in conduit, install a metal roof over wood, and have a sand floor beneath your structure. Rebecca acknowledged, however, that your ability to use these materials will depend on your climate and other geographical considerations.
7. When putting up barn signage: Mark all exits for horses and people and the locations of your 10-pound fire extinguishers (and check them by turning upside down a few times a year to keep the chemical loose inside).
8. When selecting smoke detection systems: The cheap $3.99 smoke detectors are not for barns. Call an electrical contractor who installs smoke detection systems, have them come to your facility and assess what type of detector that you need, and give you a quote.
9. When considering installing a sprinkler or other fire suppression system: (Again, you lucky dog, for getting to start from scratch!) Sprinkler systems have been known to be more than 90% reliable in residential and public structures. Those are pretty good odds for your structure and horses.
10. When putting up those fans this spring/summer: Remember that cheap, old box fans are prime accidental ignition sources. Invest in an agricultural rated fan.
11. When parking your equipment and storing your combustibles: Ideally, put them somewhere separate from the barn, but if you must keep them in the barn, have them in an area separated with a fire door (for those of you still in the design and/or renovation stages).
12. When picking stalls for horses: This sounds very each-for-himself, but Rebecca made a valid point in instructing people to put the most valuable horses closest to the exits, or to ensure you have alternate exit doors on the outside walls (something else she describes in her blog post ).
13. When establishing a parking lot at the barn: Park cars and horse trailers at least 25 feet away, and make sure people always leave their keys in them. You've seen the movies–cars can ignite, making an already big fire bigger–plus you will need lots of room for the responding fire trucks.
Finally, and this one is tough to hear/read:
14. When your barn is burning and the firefighters are working: Recognize that there's a strategy called a "passive defense attack." That means letting a too-big fire burn when firefighters deem that entering or re-entering the building would put human lives at stake. Realizing that this situation is a very real possibility in a barn fire makes fire prevention all the more pertinent.
Nobody likes to think about a barn fire. I know for sure I'll regret writing this sometime this week when I have a nightmare about one. But having these types of tips at the forefront of your mind—no matter how uncomfortable they make you—and discussing them with your architect and contractor, or farm owner or manager where you keep your horse, can mean better preparation or prevention of the unthinkable.
What steps have you taken to prevent fires in your barn? What challenges do you need to overcome to help your barn be more fireproof?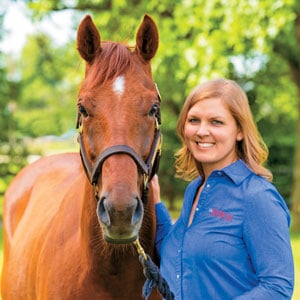 Stephanie L. Church, Editorial Director, grew up riding and caring for her family's horses in Central Virginia and received a B.A. in journalism and equestrian studies from Averett University. She joined The Horse in 1999 and has led the editorial team since 2010. A 4-H and Pony Club graduate, she enjoys dressage, eventing, and trail riding with her former graded-stakes-winning Thoroughbred gelding, It Happened Again ("Happy"). Stephanie and Happy are based in Lexington, Kentucky.
Stay on top of the most recent Horse Health news with
FREE weekly newsletters from TheHorse.com