New Topical Osteoarthritis Treatment Available
The FDA recently approved a new non-steroidal anti-inflammatory drug (NSAID) that can be applied to the skin over a horse's joint to relieve pain of osteoarthritis. The approval represents the first topical equine pharmaceutical formulation
The FDA recently approved a new non-steroidal anti-inflammatory drug (NSAID) that can be applied to the skin over a horse's joint to relieve pain of osteoarthritis. The approval represents the first topical equine pharmaceutical formulation of a compound called diclofenac that uses liposome technology–which allows medication to be absorbed straight to the site of the horse's joint problem. This provides a new option for practitioners treating with NSAIDs, since a disadvantage of systemic NSAID use is that it has been shown to increase risk of gastrointestinal or renal toxicity.
The product, developed by IDEXX pharmaceuticals, is called SURPASS, and it will be available by veterinary prescription only.
Diclofenac has been used in humans for relief of pain and inflammation, and it has been available for oral, intravenous, intramuscular, intracolon, rectal, and topical administration. The drug is designed to inhibit cyclooxygenase activity and prostaglandin biosynthesis. Cyclooxygenase is an enzyme that directs production of prostaglandins, which are chemical substances that cause inflammation by increasing blood flow to the damaged tissue, make blood vessels more "leaky," and produce pain in inflamed tissue. Therefore, the medication serves as a potent anti-inflammatory that acts as an analgesic (reduces pain) and antipyretic (reduces fever).
SURPASS is labeled for the treatment of equine osteoarthritis of the carpus (knee), tarsus (hock), fetlock, and
Create a free account with TheHorse.com to view this content.
TheHorse.com is home to thousands of free articles about horse health care. In order to access some of our exclusive free content, you must be signed into TheHorse.com.
Start your free account today!
Already have an account?
and continue reading.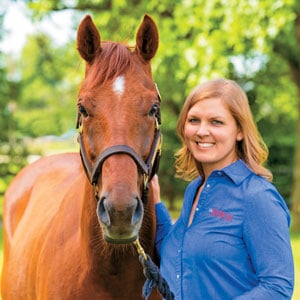 Stephanie L. Church, Editorial Director, grew up riding and caring for her family's horses in Central Virginia and received a B.A. in journalism and equestrian studies from Averett University. She joined The Horse in 1999 and has led the editorial team since 2010. A 4-H and Pony Club graduate, she enjoys dressage, eventing, and trail riding with her former graded-stakes-winning Thoroughbred gelding, It Happened Again ("Happy"). Stephanie and Happy are based in Lexington, Kentucky.
Stay on top of the most recent Horse Health news with
FREE weekly newsletters from TheHorse.com