Blakeley and LLC Pyros Choice Win the 2022 Tevis Cup
Gabriela Blakeley and her 13-year-old Arabian gelding won the Western States Trail Ride's 66th edition.
The Western States Trail Ride, commonly called the Tevis Cup, is the longest-running modern-day endurance ride. The 66
th
running of the 100-mile event took place on July 16.
Gabriela Blakeley and her 13-year-old Arabian gelding, LLC Pyros Choice, crossed the Tevis Cup finish line in Auburn, California, at 10:24 p.m, completing the race in 17 hours and nine minutes. This was Blakeley's first Tevis Cup win and eighth completion (her third on "Pyro"). The pair finished second in 2018 and sixth in 2017.
After a tight race over most of the last third of the course, Blakeley pulled away in the final 15 miles to finish 24 minutes ahead of Christoph Schork, a rider from Utah, aboard GE VA Blizzard of Ozz.
Blakeley, Schork, and Heather Reynolds (who won the race in 2018) arrived at Francisco's 85-mile vet check at the same time.
"I thought, either we were going to stay together the whole time, or I should make my move now," Blakeley said. "I knew that they would try to catch me, so I knew I had to go a little faster."
A Family Sport
Blakeley, of Terrebonne, Oregon, has competed in endurance for 19 years. Her husband, Wasch, finished the Tevis Cup five times. Her daughter, Sanoma, has finished twice, winning the race in 2019, and her son, Barrak, has finished four times.
The Blakeleys acquired Pyro as a 7-year-old. "We really liked the video of him," said Gabriela Blakeley, "and when we went to see him in Utah, we loved him. We like the tall leggy horses." Pyro has now competed in endurance for seven years and has had only one pull in 26 starts. He has won 11 times and earned "Best Condition" six times.
"I think a lot of our success comes from our training," said Blakeley. "Central Oregon is hilly. And a lot is the horse's ability. Everybody has their strengths, and it's just trying to bring out those strengths in each horse."
Challenging the Heat
Heat took center stage at Tevis this year, playing a part in the lower-than-average finish rate of 45%, with 131 starters and 59 finishers.
"This year's course was exceedingly challenging with the heat," said Mike Peralez, DVM, head veterinarian at Tevis. "We had a spike in temperatures, over 100 degrees on the course. It took a lot out of the riders. The horses, I think, fared better than some of the riders.
"The course was its usual challenging self, so this year we added a few rocks and a little bit of heat," he continued. "We did have a cool morning and a cool evening, so the horses were able to slow down when it was hot. The Top 10 horses looked wonderful at the finish."
Best Condition
The Haggin Cup is awarded to the Top 10 horse judged to be in the best condition the morning after the Tevis Cup. Barrak Blakeley received in Haggin Cup in 2014 as a junior rider. The 2022 award was given to runner-up Schork's "Ozzy," a 13-year-old gray Arabian gelding who has completed 51 of his 53 starts over six years, with 36 first-place finishes and 37 Best Condition awards. The pair also finished second in last year's Tevis Cup.
"Ozzy's biggest asset is his fast walk," Schork said. "And he just powers up those canyons, tailing me up. He's just an awesome trouper. I love working with him.
"I'm extremely happy for the Haggin Cup," he added. "It doesn't get any better than that."
Next year's Tevis Cup, sanctioned by the American Endurance Ride Conference, is slated to run on July 29.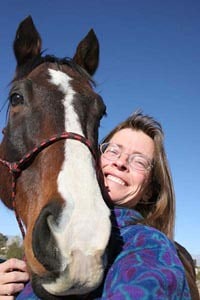 Merri Melde is an Idaho-based award-winning writer and photographer whose work has appeared in three books and more than two dozen national and international magazines. She's also an avid endurance rider and Tevis Cup finisher. She blogs about her equestrian travel adventures at theequestrianvagabond.blogspot.com.
Stay on top of the most recent Horse Health news with
FREE weekly newsletters from TheHorse.com