Demand is soaring for hay among horse owners due to the drought's effects.
Shopping for hay during another drought in the Western U.S. this summer is challenging many horse owners.
Daniel McEvoy, PhD, is an assistant research professor in climatology at the Western Regional Climate Center, in Reno, Nevada. He is working in partnership with the National Oceanic and Atmospheric Association providing climate data services at national, regional, and state levels.
"There's a lot of variation throughout the West," said McEvoy in June. "Overall, most of the West is in a drought." Except for portions of the coastal Pacific Northwest and a small part of northern Idaho, "the worst areas are eastern Oregon and the Four Corners area (Utah, Colorado, Arizona, New Mexico), including southern Nevada where the drought has been ongoing for the last 20 years.
"Lots of the West started out good over the winter with cold and snow, but then the faucet turned off, and things turned really dry," McEvoy explained. The western U.S. did get a colder-than-normal April (a record in some areas, like eastern Oregon, according to a National Weather Service (NWS) Climate Survey) and rain for April and May, which helped. But NWS meteorologists say to expect a drier and hotter than normal season ahead, which will exacerbate the ongoing drought.
"In the grand scheme of things, there wasn't enough precipitation to offset long-term drought conditions," McEvoy added. "We are still expecting (the rest of) this summer to be hotter than average, which will accelerate demand on water supply."
Supply and Demand
Aren Campbell, a hay producer and farmer in Fruitland, Idaho, has been growing hay since he was "old enough to walk." This year Campbell hopes to raise 6,000 tons of "little-bale hay," the 80- to 120-pound bales horse owners usually purchase.
"The rain we've gotten has just knocked the dust down," said Campbell. "The wind has been drying things out and, for the most part, it only rained enough to get things damp and not wet enough."
"It's a matter of supply and demand," he explains. "Demand is way up with more horse owners and more new people with horses moving into (rural) areas."
Many factors are affecting supply. Petroleum prices are up, Campbell said, which increases cost for fuel and necessary items such as fertilizers and tires. Supply chain disruptions for parts and equipment availability raise prices further.
"Even the cost of baling twine has taken a huge jump," he said.
Then there's the drought, which affects the irrigation water necessary for growing hay. "Eastern Oregon and the whole state are short of  water," said Campbell, and growers. "will only be able to water once, getting only one, maybe two cuttings."
Stock Up Now on Hay
Horse owners are also competing with other livestock owners for hay.. "Ranchers that run cattle in hills…have to feed hay earlier (in the year than is typical) because grass and water supply run out. Dairies are also hurting and are short on hay, corn, and feed."
Campbell's advice to horse owners needing hay? "Locate your hay early," he said.
Contact your hay supplier(s) and  get stocked up now, versus the end of summer, which he said horse owners often do. Check out this article for more tips and suggestions for sourcing hay.
"Figure out what you will need to get you through until next year at this time," he added. "(Hay growers) don't like to store hay so, if you can store it, get it as soon as possible" to ensure your animals will be set if a hay shortage occurs.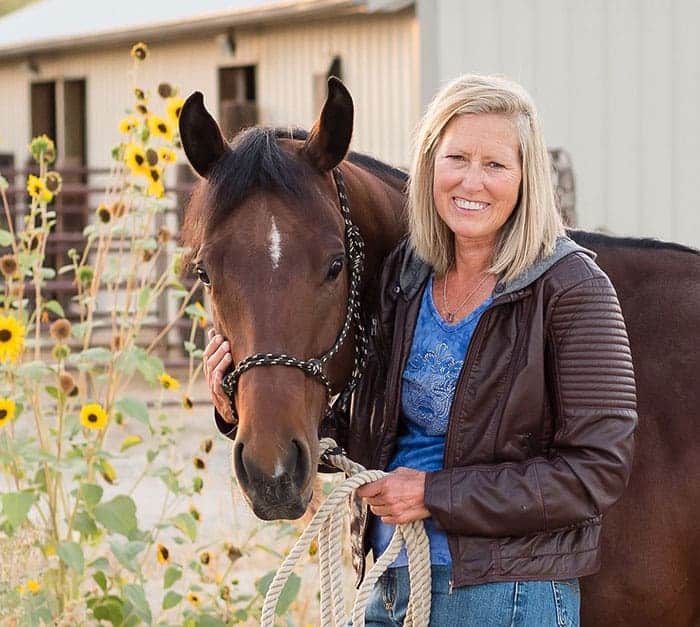 Alayne Blickle, a lifelong equestrian and ranch riding competitor, is the creator/director of Horses for Clean Water, an award-winning, internationally acclaimed environmental education program for horse owners. Well-known for her enthusiastic, down-to-earth approach, Blickle is an educator and photojournalist who has worked with horse and livestock owners since 1990 teaching manure composting, pasture management, mud and dust control, water conservation, chemical use reduction, firewise, and wildlife enhancement. She teaches and travels North America and writes for horse publications. Blickle and her husband raise and train their mustangs and quarter horses at their eco-sensitive guest ranch, Sweet Pepper Ranch, in sunny Nampa, Idaho.
Stay on top of the most recent Horse Health news with
FREE weekly newsletters from TheHorse.com