How Horse Vets Can Maximize Chances for Good PPE Results
Prepurchase exams are an important part of equine practice. A veterinarian recommends how to achieve the best outcomes.
Going into a prepurchase exam (PPE), an owner wants to sell a horse and a customer wants to buy the horse. The transaction sounds like it should be simple, said Lucy Grieve, MA, VetMB, MRCVS, but often it is not. Expectations versus reality, and a variety of other factors—among them, the inability to predict the future—play into whether a PPE leads to a good result or a bad one.
Grieve presented her recommendations for achieving good PPE outcomes at the 2022 British Equine Veterinary Association (BEVA) Congress, held Sept. 7-10, in Liverpool. She also described how veterinarians can respond and recover when there are bad results. Grieve was a practitioner at Rossdales, in Suffolk, U.K., at the time, but is now on staff at BEVA.
The Parties Involved in a Well-Run PPE
The business relationship is simple. "You've got the seller, the buyer, the vet. Those are the contracted individuals," said Grieve. "But there is also the horse involved, the coach, the farrier, often the buyer's vet, so it does get a bit more complicated. But it's worth remembering that you're really dealing purely with those contracted individuals."
She explained that the seller's objective with the PPE, of course, is clearly to sell the horse with minimal findings at a maximum price. "They probably know they have an imperfect horse, and they want an imperfect vet to do the vetting,' she said.
Likewise, the buyer seeks to purchase a horse with minimal PPE findings but at the lowest price. "They do want the perfect horse, and they do want the perfect vet," she said. "The vets, however, just want to not miss anything … and have a confident decision at the end of it all on the suitability."
Limitations and Challenges of PPEs
A PPE exam, like any investigation, has its limitations. First, while veterinarians can provide the information that helps the buyer decide if a horse is the right fit, they not there to predict and seal the partnership. "There's no such thing as a perfect horse, obviously, but there probably is a good match for every person out there trying to buy a horse," said Grieve. "But we are not the matchmaker."
Additionally, horse valuation is not part of the PPE, but the findings often impact it. "It's worth not getting involved in that aspect if you can," she said.
Another PPE constraint is veterinarians must decide on the significance of clinical findings and communicate it to the client, but that decision is often subjective.
Related to those findings, buyers inevitably ask about the risk and rate of deterioration, which are impossible to predict. "Clearly state your opinion and make sure you label it as that," said Grieve. "And make sure you're also clear that you do not have a crystal ball."
Then there's the variability that comes with new ownership. She said she reminds buyers repeatedly during PPEs that horses will change when they're moved to a different farm and managed, ridden, and trained differently: "It's very, very rare the horse will stay the same. Therefore, making that clear at the outset is often a helpful thing to do."
All said, a good PPE result for the seller is a sold horse, for the asking price. For the buyer it is finding the perfect horse, confirmed by the vet.
"What you need to try and do, I find, is to not overinterpret the findings, obviously, but … make sure you've carried out sufficient assessment and an appropriate interpretation and, therefore, (come to) an appropriate conclusion," said Grieve.
A bad PPE result for the seller, of course, typically results in the horse not selling. For the buyer it's finding out the horse isn't perfect or at least acceptable enough to proceed with the purchase. For the vet, said Grieve, it's an insufficient exam, missing a clinical finding that would've been reasonably detectable, or making an inappropriate conclusion on the horse's suitability for purchase.
How To Maximize a Good PPE Result
Grieve provided a list of steps veterinarians can take to optimize PPE results.
Devote ample time to the exam. "If we're trying to maximize this good result for everyone involved, I think the key thing … is that we have to devote time to the whole process," she said. "And I think that's often where people slip up, me included."
Check thoroughly for previous history and relationships involved. This can be easy to forget to do in a rush. "(Not researching the) clinical history of the horse, from the current owner or even a previous owner in the past is an easy hole to fall into where horse's name has changed, or passport details aren't available in advance to do a thorough check," Grieve told The Horse. "Ideally we'd all check microchip numbers at the time of booking the vetting to make sure it's not on our practice system, but it's never that simple or foolproof." As for relationships, practitioners need to check for potential conflicts of interest at the outset that would introduce bias.
Determine the buyer's expectations. Grieve speaks to buyers on the phone extensively prior to the PPE to understand their background and how and why they ended up trying a horse.
Discuss the limitations of a PPE, as noted previously.
Discuss the limitations of the VDS blood sample (or any sample used for drug testing). In the U.K., the Veterinary Defence Society Limited insurance company has an arrangement with a blood testing company whereby blood samples collected at a PPE and submitted using dedicated sample and submission packs are stored for six months. If a claim arises in connection with the PPE, the blood sample can be tested. At the time of the PPE, Grieve explains to the buyer what testing would cost and what it would reveal—classes of drugs, for instance, rather than specific drugs. It might only show certain drugs, depending on when they were given, she explained to The Horse, and there's the chance the horse might test for a drug like Bute, but the owner says the horse must've received the wrong feed that day.
Describe additional procedures offered at the PPE and their limitations. Radiographs are the most common, of course, but she might also conduct ultrasound, dental, and cardiology exams, depending on the buyer's preference, the horse's insured value, and her findings.
Discuss insurance implications. Anything found on the PPE becomes part of the horse's clinical history, subject to equine insurance company review if the horse is later insured. "Even if they've ticked on their request that they're not going to insure the horse, sometimes that can change, so I find it helpful to actually describe those implications, despite their answer," said Grieve.
Communicate any changes to the PPE protocol. For instance, if she cannot examine a horse's hind limbs because the animal is agitated, kicking, and unamenable to the exam, she'll explain that to the buyer and include it in her notes.
U.K. practitioners: Use BEVA's PPE Worksheet. "This provides a checklist, basically, for everything and includes the (buyer's initial) request form at the beginning, which I like to refer to quite often," she said. Following the steps on this worksheet and thoroughly documenting observations on it provides the contemporaneous notes necessary if any legal claim arises after the sale, she explained to The Horse.
Grieve described the types of notes she takes during the PPE, which include:
Changes to exam protocol
Variations of normal (observations to discuss but not necessarily put on the PPE certificate)
Clinically relevant findings (which will be on the certificate)
Insurance implications (she stars these in her notes)
Resale implications
Potential for progression of detected problems (and ways to minimize—e.g., the horse needs better farriery—again noting to discuss them with the buyer later)
Percentages/odds versus balance of probability in how the findings might affect the horse in the future.
She is also very thorough about explaining, discussing, and confirming the buyers' understanding of the findings with them after the PPE.
"It's obviously communication—that's the key to maximizing a good result, we all know that," said Grieve. "I find that speaking to the client whenever something crops up in the exam is my style. I know lots of people don't do that, but they prefer to call the client at the end. But I like to think there is often sometimes a deal-breaker finding, and it's worth talking to the client at that point."
In these cases she asks buyers if they want to proceed with the exam or stop.
Reaching Conclusions in a PPE
Veterinarians reach their PPE conclusions based on their own knowledge, evidence-based medicine, and experience. Grieve encouraged veterinarians to be very clear with the client about which of those they're relying on at the time.
"Your opinion is obviously what you're being paid to give," she said. "But I make it clear where I've got direct experience with something, or where there's an evidence base (to back up the opinion). I also make it very clear when I'm asking people for second opinions; I don't hide that fact at all. And I prefer to talk about objective and subjective things because I really want to reiterate the fact that I don't have a crystal ball and, so, I might get it wrong.
"I don't rush any element, particularly the conclusion-reaching bit," said Grieve. "I try and discuss it with the client … make it a joint experience, but obviously stick to my guns where I know I've got findings that are going to be very clear (for) deciding the conclusion."
She also takes her time interpreting diagnostic images, never giving any of her assessments during the exam itself. Then she reviews the horse's history again to see if there's anything she'd consider differently or take more seriously after having conducted the PPE.
Grieve re-emphasized the importance of communicating with the buyer, explaining the findings thoroughly, discussing their potential impact, and re-confirming the individual's understanding. "I try to cover everything at least twice in the discussion," she said.
Documenting the PPE results comprehensively, whether it's on a certificate, as is done in the U.K., or another form, is crucial, she said, checking and checking again to be sure the information is accurate. At Rossdales she would have colleagues in the veterinary practice office proofread the certificate, as well, as an extra safeguard. Then, she or a representative of the clinic would send the results promptly to the buyer and welcome further communications.
How to Tell if a PPE was Successful
Grieve said a happy buyer is one who has found the PPE results within acceptable risk; one who has negotiated price based on moderate risk findings; or who has decided the increased risk is not acceptable, deciding against the purchase.
An angry seller, she added, is one who had to negotiate price based on PPE findings or whose potential customer walked away altogether due to the increased risk. "They are very frustrated with us finding these things, but we ultimately just have to ignore that and continue on with our process with the buyer."
Grieve noted that while there's no obligation, sometimes it helps to discuss the PPE reasoning with the seller if the buyer consents to discussing clinical findings (it's good to ask this at the start of the exam, she said). She concludes the discussion with an unhappy seller with the reiteration that it wasn't a good match, noting that another, hopefully more suitable, buyer will come along.
What To Do When There's a Complaint
Sometimes buyers are unhappy with horses they've purchased, whether it's because of lameness, poor performance, changed behavior, discovery of pathology that wasn't seen on the PPE, and/or due to known pathology deteriorating at a rate they weren't expecting. "And it's just sometimes not the horse they bought, for reasons I mentioned early on," she said.
If a buyer files a complaint, Grieve recommends collating all history and details of the PPE, from notes and other paperwork to timestamped messages and call histories in her phone, and then (if in the U.K.) calling the VDS. She says to respond promptly to buyers after having gathered all the information to review, and to seek clarification as to why they're unhappy, striving to understand and empathize.
"I always try and explore the alternative causes and explanations for what might have gone wrong and discuss investigation of those things," said Grieve. If something has gone wrong with the horse, a neutral-party veterinarian needs to come to a diagnosis to determine next steps.
She said to note that third parties, such as the buyer's veterinarian, farrier, or trainer, are typically responsible for starting PPE complaints.
When things have gone awry, Grieve said she's reflected on how, typically, the writing was on the wall: The buyer might have been "over-horsed," the horse was already struggling at the current level, had some breaks in his competition record, or there have been changes in rider, management, surface, training, and other factors. Horses that have gone from a high level of training and competition down to a lower level often get bored, she added, or "medication may have worn off."
In cases where it is wise to test the stored blood sample for drugs, she pointed out the importance of communicating the sensitivity and specificity (ability to correctly identify positives and negatives, respectively) of these tests, and the possibility a delay between the buyer's last trial ride and vetting has allowed time for a drug, such as a sedative, to clear the horse's system. Accidental administration will always be the excuse, she said, in the case of positive result.
What does a good recovery look like after a bad PPE result? "Genuine oversight, if it's realized, admitted, and apologized for, and that's a lesson learned, and something we're all going to have done," said Grieve. She went on to note that pathological recurrence and deterioration is always a possibility, and it's often impossible to determine when a new diagnosis would have been detectable.
Finally, she reminds buyers, in all situations, that physical and psychological shifts are inevitable when horses change hands.
"Often, horses do change regardless of what's going on at the vetting, and I try to make that really clear," she said. "I tell the person, 'Expect it to happen.'"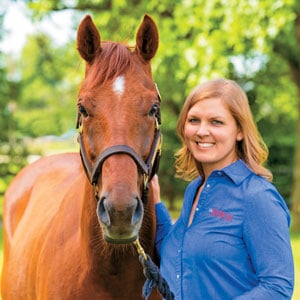 Stephanie L. Church, Editorial Director, grew up riding and caring for her family's horses in Central Virginia and received a B.A. in journalism and equestrian studies from Averett University. She joined The Horse in 1999 and has led the editorial team since 2010. A 4-H and Pony Club graduate, she enjoys dressage, eventing, and trail riding with her former graded-stakes-winning Thoroughbred gelding, It Happened Again ("Happy"). Stephanie and Happy are based in Lexington, Kentucky.
Stay on top of the most recent Horse Health news with
FREE weekly newsletters from TheHorse.com