Effects of Hay Feeders on Horse Behavior and Time Budget
Researchers have determined that limiting horses' access to hay might make them more likely to engage in abnormal and aggressive behaviors.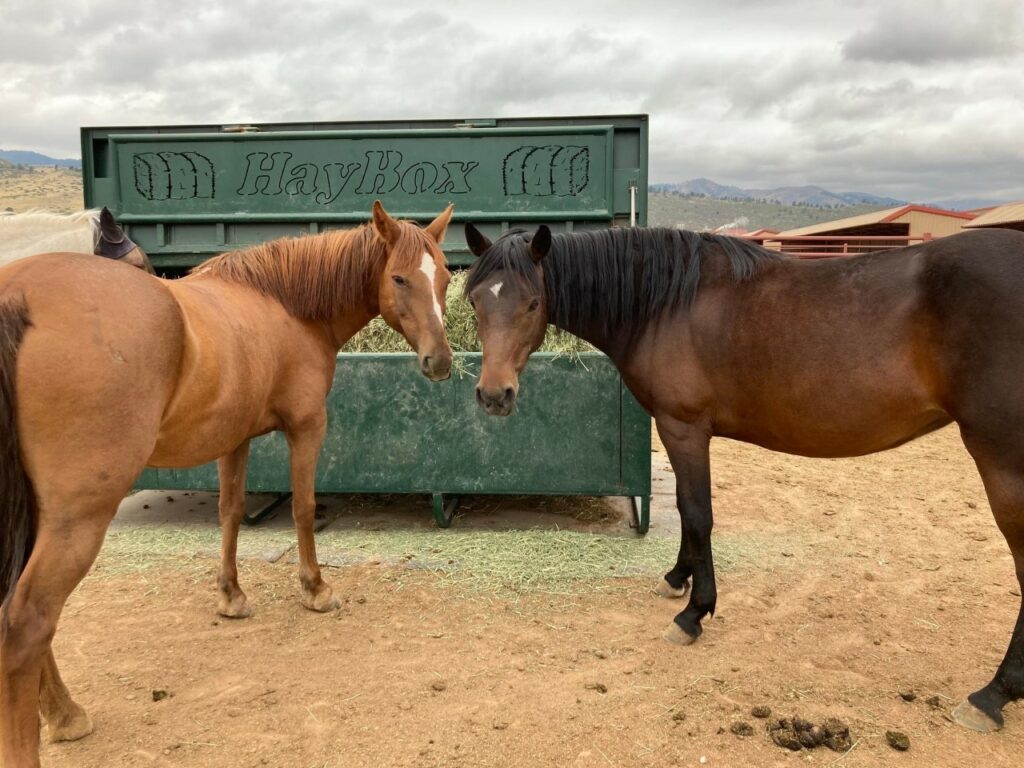 Researchers have shown that limited hay availability is often the main factor in the development of abnormal behaviors in horses. Currently, owners have three common hay feeding options available to them—feeding free choice hay, using a slow feeder, or employing automatic hay feeders that can be preset to open and close at various times throughout the day.
Horses, also have what is referred to as a time budget, which accounts for the time they spend engaging in different activities throughout the day. In previous studies, researchers reported that improving the welfare of domesticated horses involves allowing them to have a similar time budget to feral populations, said Jéssica Seabra, a student at the Federal University of Parana in Brazil in her presentation at the 2023 Equine Science Society Symposium held June 6-9 in Grapevine, Texas.
Seabra and her team sought to compare the effects of feeding free choice hay to using slow feeders and automatic feeders on the behavior and time budgets of horses in dry lots. They studied 15 polo horses who were already living together and kept them under continuous video surveillance to monitor various behaviors and each horse's time budget.
The researchers placed the horses into three groups; the groups spent 15 days in each treatment—free choice hay in an elevated feeder, hay in a large slow feeder net inside of a hay-hut, and hay in a raised automatic feeder. The free choice and slow feeder group had hay constantly available to them, while the automatic feeder was set to open six times each day for 45 minutes each time. Before the start of the study and after each treatment period, the researchers weighed each horse and calculated its body condition score.
"We found that, as expected, the free choice hay groups always consumed and wasted more hay compared to the slow feeder and automatic feeder groups," said Seabra. "The automatic and slow feeder groups had similar hay intake and little wasted hay."
The treatments caused weight gain in the free choice hay group; therefore, it is likely not the best feeding method for overweight horses. The horses in both the free choice and slow feeder treatment groups spent more than 50% of their time budget foraging, which is similar to that of feral horses in their natural environment. Each horse in the free choice group consumed an average of 16.58Kg of hay per day, while the slow feeder group ate an average of 10.39Kg each, and each horse in the automatic feeder group consumed 9.3Kg daily.
Incidentally, Seabra and her team found that the automatic feeder had a negative effect on the horses' behavior because horses in that treatment group engaged in biting and kicking behaviors more frequently—presumably because they were competing over a limited resource—than the other two groups. These horses spent an average of 25.81% of their time budget eating, and were observed eating their own feces, which is considered an abnormal behavior. When in this treatment group, the horses also spent more time standing still, but were alert, likely because they were waiting for the feeder to open again, she added.
"More research is needed to better understand how horses fed with an automatic hay feeder fulfill their behavioral needs to reduce aggression."
Haylie Kerstetter, Digital Editor, holds a degree in equine studies with a concentration in communications and a minor in social media marketing. She is a Pennsylvania native and, as a horse owner herself, has a passion for helping owners provide the best care for their horses. When she is not writing or in the barn, she is spending time with her dog, Clementine.
Stay on top of the most recent Horse Health news with
FREE weekly newsletters from TheHorse.com