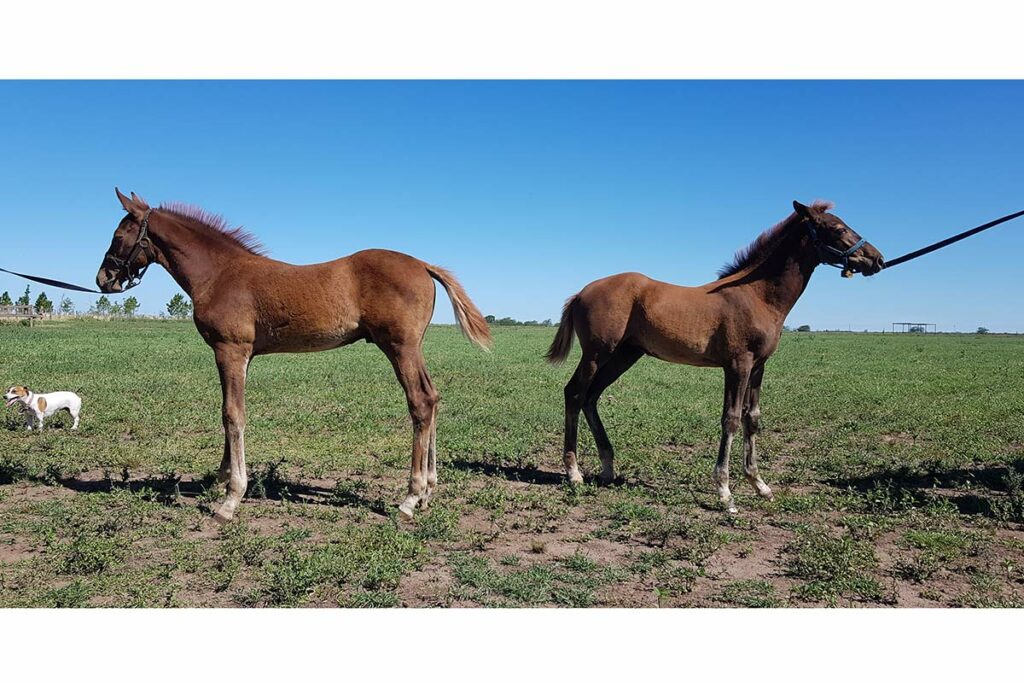 For the first time in known history, a female horse has been born from a cloned male donor.
The filly, which lacks a Y chromosome and has normal female external genitals, is otherwise a healthy, exact DNA clone of a confirmed XY male, said researchers in Argentina. She is also a twin sister to an XY clone from the same donor, born at approximately the same time from a different surrogate mare.
"The first thing we thought was we had made some kind of mistake," said Gabriel Damian Vichera, chief scientific officer at Kheiron Biotech S.A., in Buenos Aires, Argentina. "But as soon as we checked every little step performed during that cloning and embryo transfer procedure and confirmed the born animal had indeed originated from the intended nuclear donor, we knew we were facing something unusual."
In November 2019 Vichera and his fellow researchers performed somatic cell nuclear transfer (SCNT) using mesenchymal stem cells (MSCs) derived from an adult male horse whose identity has been kept confidential. They obtained 16 viable embryos at the blastocyst phase, which they transferred to eight recipient mares. This resulted in the live birth of two clones—one male and one female—in November 2020. Genetic testing confirmed both foals were "indeed clones derived from the same donor," the researchers recently reported.
Now, two years later, the filly still has a normally sized and shaped vulva and clitoris, along with an apparently normal uterus, he said. The only noticeable abnormality is the underdevelopment of her ovaries.
The phenomenon appears to have occurred due to the spontaneous loss of the entire Y chromosome, the researchers revealed in their PLOS ONE publication. Therefore, the animal is not a standard "XX" female but, rather, an "X0" female.
"It's like a Turner syndrome in humans," Vichera said. X0 females might not be able to reproduce naturally—although biotechnological procedures such as intracytoplasmic sperm injection (ICSI) might make reproduction possible, he explained. "Regarding other physical features, many X0 mares cannot be distinguished from XX animals," Vichera said. "Our born female is not different from any other female so far."
More than 10 years ago Japanese researchers stumbled across a similar surprise when one of their 27 newborn mice cloned from an adult male was born an X0 female. She grew into a healthy adult female capable of natural reproduction without assistance, the researchers reported in the Journal of Reproduction and Development. Clones of male dogs and wolves have also been born with female genitalia, but those animals were nonetheless genetically XY males.
The loss of the Y chromosome might have occurred in the cell culture or during early embryo development, said Vichera. "What drove the change is unknown, although there are several possibilities, including temperature-induced stress and an oxidative stress response in the cultures," he said. "Indeed, it could simply have been a spontaneous chromosome loss during the early embryonic stages."
Different genome alterations naturally occur as mutations in high frequency, he explained. But other kinds of genomic alterations—such as the loss of an entire chromosome, as in this case—are very infrequent. "But in vitro handling of gametes and embryos can induce aneuploidies (cells with an abnormal number of chromosomes) and other modifications. It is just a matter of getting a viable modification—meaning that the modification is not lethal—combined with having a number of born animals high enough to reveal it. We already have over 300 animals born, so it is not surprising that we have sporadically started observing random events like this."
Whether that means the filly in this case represents a true clone of her donor remains a question of semantics, said Vichera. "The DNA is identical to the nuclear donor but not complete," he said.
Based on this surprising finding, said Vichera, scientists could intentionally modify the sex of the equine clones they produce by instigating chromosome instability, for example, to promote spontaneous chromosome loss. Further research might lead to even more targeted approaches, which could be especially attractive for breeders in the equine sports industry.
"Polo, for example, is a sport practiced worldwide for which female horses are preferred over males," he said. "So obtaining a female clone from an exceptional male player may be of interest.
"I think that one day it will be possible," he continued. "We will recommend this procedure once it is properly evaluated and proves to be safe."
The study, "First sex modification case in equine cloning," appeared in PLoS ONE in January 2023.