Separate Shedders for Safety
Scientists examined the effects of Salmonella shedding on previously hospitalized horses and their stablemates.
Nobody likes a Salmonella outbreak. That's especially the case when it's caused by a multi-drug-resistant (MDR) strain of the bacterium, which could cause not only deadly gastrointestinal illness but also significant expense to the affected hospital or farm.
Such outbreaks are what Brandy A. Burgess, DVM, MSc, PhD, Dipl. ACVIM, ACVPM, assistant professor in Epidemiology & Infection Control at Virginia-Maryland College of Veterinary Medicine, spends her days determining how to avoid. She and colleagues at Colorado State University, where she recently earned her PhD, and a hospital in Kentucky recently studied the factors associated with shedding MDR Salmonella enterica and what effect it might have on health outcomes of previously hospitalized horses and their stablemates.
Burgess, now in Blacksburg, Virginia, presented the results of their work at the 2015 American College of Veterinary Internal Medicine Forum, held June 3-6 in Indianapolis. The research team scoured medical records of horses having fecal cultures for S. enterica as part of a surveillance program from Jan. 2011-Dec. 2012, along with contacting owners by phone for long-term outcomes of those cases. The study horses included 94 culture-positive and 279 culture-negative (on at least three fecal samples) animals from 199 farms. Here are a few things she and her colleagues found:
Not surprisingly, she said, horses with diarrhea during hospitalization were more likely to shed Salmonella compared to those without diarrhea.
Horses with reduced feed intake during hospitalization were more likely to shed MDR strains than their counterparts with normal feed intake.
"A culture-positive hospitalized horse going back home did not affect whether stablemates had abnormal feces that year," Burgess said.
Salmonella shedding was not associated with risk of death or diarrhea one year post-hospital-discharge in the affected horse and was also not associated with hospitalization in stablemates.
However, horses that received a higher level of care (indicative of increased disease severity) were more likely to die during the one-year follow-up period as compared to horses that were at a lower level of care, irrespective of culture status.
This is good news for the owners of horses that have tested positive or been hospitalized for Salmonella, but Burgess—whose goal had also been to provide some guidelines for on-farm infection control measures–emphasizes it is not a hall pass for relaxing biosecurity measures on the
Create a free account with TheHorse.com to view this content.
TheHorse.com is home to thousands of free articles about horse health care. In order to access some of our exclusive free content, you must be signed into TheHorse.com.
Start your free account today!
Already have an account?
and continue reading.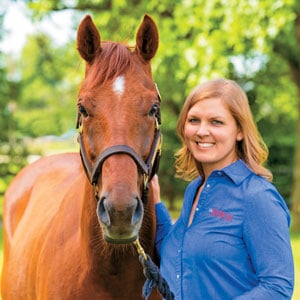 Stephanie L. Church, Editorial Director, grew up riding and caring for her family's horses in Central Virginia and received a B.A. in journalism and equestrian studies from Averett University. She joined The Horse in 1999 and has led the editorial team since 2010. A 4-H and Pony Club graduate, she enjoys dressage, eventing, and trail riding with her former graded-stakes-winning Thoroughbred gelding, It Happened Again ("Happy"). Stephanie and Happy are based in Lexington, Kentucky.
Stay on top of the most recent Horse Health news with
FREE weekly newsletters from TheHorse.com