Yes, Your Horse is Neurologic (Or No, He Isn't)
Equine veterinarians confirm motion capture could be useful for objective measurements of ataxia, or incoordination.
Sometimes you see it, sometimes you don't. Subjectivity during a neurologic examination of a questionably ataxic, or incoordinated, horse is inevitable, because every veterinarian comes to the table with a different set of diagnostic experiences, skills, and perspective. But a veterinarian from Cornell University, in Ithaca, New York, says objective measurement of gait could become a useful tool for the large animal neurologist, much like objective lameness detectors have become useful for orthopedic surgeons.
"Unfortunately, agreement amongst experienced clinicians can be poor when assessing presence and severity of ataxia, especially when signs are mild," said Emil Olsen, DVM, PhD, a resident in large animal internal medicine in Cornell's Department of Clinical Sciences. He and collaborators at the Royal Veterinary College, in the U.K., and Bern University, in Switzerland, examined whether kinematics, or motion capture, would offer an objective way to characterize neurologic horses' gaits. Olsen presented their results at the 2015 American College of Veterinary Internal Medicine Forum, held June 3-16, in Indianapolis, Indiana.
"The marked lack of agreement on assessment of horses with mild gait deficits often means they are detected quite late in the disease process," Olsen explained. Objective tools would allow practitioners to identify ataxia sooner in the disease course, he said.
Olsen also said objective ataxia measures could help veterinarians more accurately assess treatment efficacy. "We don't truly know how effective the current treatments—from surgery of the wobbler horse to acupuncture, chiropractics, and physiotherapy—are," he said. "Today we often euthanize horses if they are moderately ataxic. Perhaps if we can better document the effect of treatments horses with ataxia could have longer lives or be ridden
Create a free account with TheHorse.com to view this content.
TheHorse.com is home to thousands of free articles about horse health care. In order to access some of our exclusive free content, you must be signed into TheHorse.com.
Start your free account today!
Already have an account?
and continue reading.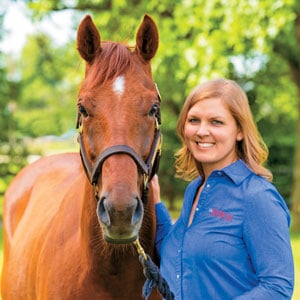 Stephanie L. Church, Editorial Director, grew up riding and caring for her family's horses in Central Virginia and received a B.A. in journalism and equestrian studies from Averett University. She joined The Horse in 1999 and has led the editorial team since 2010. A 4-H and Pony Club graduate, she enjoys dressage, eventing, and trail riding with her former graded-stakes-winning Thoroughbred gelding, It Happened Again ("Happy"). Stephanie and Happy are based in Lexington, Kentucky.
Stay on top of the most recent Horse Health news with
FREE weekly newsletters from TheHorse.com