Scientists Compare Insulin Resistance Test Options
Researchers ran four tests on the same group of horses to compare results and determine sensitivity and specificity.
Pick an acronym, any acronym. Veterinarians seeking to confirm whether a horse has insulin resistance (IR) have several tests from which to select—generally identified by a lineup of letters—though one particular approach is currently the most common for IR testing. While researchers have evaluated several of the tests for quantifying systemic IR, until recently no one had compared the tests for agreement, or consistency of results.
"We don't know how these tests compare in the same group of horses," said Laura Dunbar, DVM, an internal medicine resident at The Ohio State University's College of Veterinary Medicine, in Columbus, referring to the variety of horse populations in previous research. She and her colleagues evaluated four tests in 12 healthy adult light-breed horses, and she presented their results at the 2015 American College of Veterinary Internal Medicine Forum, held in Indianapolis in June.
At its simplest, IR is a reduction in insulin sensitivity that makes it more difficult for cells to take up blood sugar for metabolism or storage. Insulin resistance is important because aside from being harmful to the horse's body—the condition is often likened to "pre-diabetes" in humans, a condition that precedes the onset of Type II diabetes—researchers have linked it to the development of laminitis. Dunbar and team compared four common methods of insulin sensitivity testing: basal serum insulin and glucose concentration, the oral sugar test (OST), the combined glucose-insulin test (CGIT), and the insulin-modified frequently sampled intravenous glucose test (FSIGTT). The veterinary community often employs a combination of basal insulin/glucose and the OST—the most practical evaluations.
Tests for Insulin Resistance
Basal serum insulin and glucose concentration Just like it sounds, this is simply a blood test that measures both glucose and insulin levels in the blood after a period of fasting. Everything from stress and time of day (hormone levels naturally fluctuate) to time of year/season and the horse's diet/most recent meal can impact these levels, so veterinarians don't generally use them to definitively diagnose the
Create a free account with TheHorse.com to view this content.
TheHorse.com is home to thousands of free articles about horse health care. In order to access some of our exclusive free content, you must be signed into TheHorse.com.
Start your free account today!
Already have an account?
and continue reading.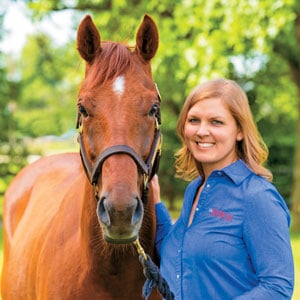 Stephanie L. Church, Editorial Director, grew up riding and caring for her family's horses in Central Virginia and received a B.A. in journalism and equestrian studies from Averett University. She joined The Horse in 1999 and has led the editorial team since 2010. A 4-H and Pony Club graduate, she enjoys dressage, eventing, and trail riding with her former graded-stakes-winning Thoroughbred gelding, It Happened Again ("Happy"). Stephanie and Happy are based in Lexington, Kentucky.
Stay on top of the most recent Horse Health news with
FREE weekly newsletters from TheHorse.com