Progress in Predicting Joint Problems
Someday veterinarians might be able to take a horse's blood sample, analyze its makeup to predict his future bone and joint health, and simply prevent the problems that are likely to arise. In late 2005, 20 leading joint researchers that are likely
Someday veterinarians might be able to take a horse's blood sample, analyze its makeup to predict his future bone and joint health, and simply prevent the problems that are likely to arise. In late 2005, 20 leading joint researchers that are pursuing this goal convened for a first-of-a-kind Dorothy Russell Havemeyer Foundation workshop on this topic–equine joint biomarkers.
Scientists covered some of the latest findings on potential new biomarkers to monitor the health of joint tissues, particularly cartilage, tendon, and bone. According to workshop organizer Wayne McIlwraith, BVSc, PhD, DSc, FRCVS, Dipl. ACVS, director of orthopaedic research at Colorado State University's College of Veterinary Medicine, biomarkers are "indicators of abnormal skeletal tissue turnover, and often consist of molecules that are the normal products and byproducts of the metabolic processes occurring within skeletal tissues.
"One of the more recent works (in orthopedic research) is to develop a number of biomarkers to predict changes in bone," McIlwraith said. "That would allow a veterinarian to take a blood sample and predict chronic bone disease." In addition to developing better cartilage repair techniques, he and other researchers would like to prevent joint damage altogether by using gene therapy. This would involve inserting specific gene segments into a horse to correct genes that were programmed for damage.
Havemeyer workshops are designed to encourage frank and open discussion between scientists, and the workshops usually include comparative studies with other species, in this case humans. Chris Little, BVMS, PhD, Dipl. ACVS, is associate professor and director of the Raymond Purves Bone and Joint Research Laboratories at the University of Sydney in Australia. Initially he practiced veterinary medicine, but he now runs a lab at a human hospital (The Royal North Shore Hospital). Little said, "While the (Havemeyer) conference was focused on biomarkers of musculoskeletal diseases in the horse, the principles are the same for all species, including humans. I am a believer that we can learn a great deal from the similarities and differences in disease mechanisms between
Create a free account with TheHorse.com to view this content.
TheHorse.com is home to thousands of free articles about horse health care. In order to access some of our exclusive free content, you must be signed into TheHorse.com.
Start your free account today!
Already have an account?
and continue reading.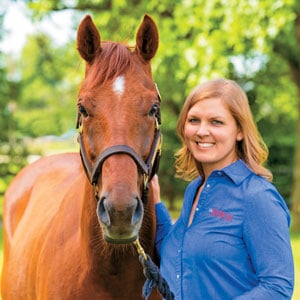 Stephanie L. Church, Editorial Director, grew up riding and caring for her family's horses in Central Virginia and received a B.A. in journalism and equestrian studies from Averett University. She joined The Horse in 1999 and has led the editorial team since 2010. A 4-H and Pony Club graduate, she enjoys dressage, eventing, and trail riding with her former graded-stakes-winning Thoroughbred gelding, It Happened Again ("Happy"). Stephanie and Happy are based in Lexington, Kentucky.
Stay on top of the most recent Horse Health news with
FREE weekly newsletters from TheHorse.com