ACVIM 2006: Thyroid Function and Dysfunction in Equine Neonates
A foal's thyroid sets it apart from many other youngsters–the sky-high levels of hormone it secretes allow the foal to be darting around the stall within hours of birth, rather than it remaining immobile and nursing with its eyes shut for weeks
A foal's thyroid sets it apart from many other youngsters–the sky-high levels of hormone it secretes allow the foal to be darting around the stall within hours of birth, rather than it remaining immobile and nursing with its eyes shut for weeks like other mammalian neonates. Researchers are striving to better understand the neonatal thyroid's function and dysfunction, said Babetta A. Breuhaus, DVM, PhD, an associate professor of equine medicine at North Carolina State University, in her June 2 presentation at the American College of Veterinary Internal Medicine Forum in Louisville, Ky.
Thyroid hormones are important for growth, maturation of organ systems, and regulation of metabolism, said Breuhaus. This maturation of organ systems results in increased mental activity and neural development in the fetus and neonate, lung maturation, increased gastrointestinal function, and increased cardiovascular function. Thyroid hormones can be detected in the fetus by mid-gestation, and the levels increase gradually as the delivery date approaches.
Equine neonates have much higher serum thyroid hormone concentrations at birth than other species that have been studied. "This rise in hormone has been shown in a number of species, most before birth" said Breuhaus. "In the foal, it's a little delayed, but the higher levels seem to be exaggerated. The high levels at birth could explain why they (foals) are born so developmentally mature compared to a puppy or kitten.
"Thyroid hormones in the foal are in the neighborhood of 10 times the normal amount in an adult horse," Breuhaus continued. This could be due to placental stimulation, a link to the mare's milk, or a different receptor activity that down-regulates the hormones as the horse gets
Create a free account with TheHorse.com to view this content.
TheHorse.com is home to thousands of free articles about horse health care. In order to access some of our exclusive free content, you must be signed into TheHorse.com.
Start your free account today!
Already have an account?
and continue reading.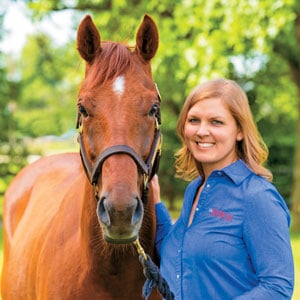 Stephanie L. Church, Editorial Director, grew up riding and caring for her family's horses in Central Virginia and received a B.A. in journalism and equestrian studies from Averett University. She joined The Horse in 1999 and has led the editorial team since 2010. A 4-H and Pony Club graduate, she enjoys dressage, eventing, and trail riding with her former graded-stakes-winning Thoroughbred gelding, It Happened Again ("Happy"). Stephanie and Happy are based in Lexington, Kentucky.
Stay on top of the most recent Horse Health news with
FREE weekly newsletters from TheHorse.com