How the AAEP President Strikes Work-Life Balance
Dr. Margo Macpherson calls herself "a bona fide stress monster," but has found success in striking a work-life balance by strategically planning out her days.
Margo Macpherson, DVM, MS, Dipl. ACT, is a professor in Large Animal Clinical Science at the University of Florida (UF) College of Veterinary Medicine, working with students, residents, and clinical cases. She is also current president of the American Association of Equine Practitioners (AAEP), a member organization serving nearly 9,300 veterinarians and vet students, mostly in the United States but also in 60 other countries.
Macpherson calls herself "a bona fide stress monster," admitting she doesn't manage it well on a lot of days, leading to regret about yelling at her kids, opting for a glass of wine or an unhealthy meal, or not exercising. She feels the only way she has been successful is in being introspective about how she operates and lays out her days.
Here are some of Macpherson's approaches to keeping a healthy work-life balance:
She stopped working nights and weekends on anything besides clinical work (as a veterinarian focused an equine reproduction, her job is 24/7 for a portion of the year, but she doesn't write manuscripts or grants on nights/weekends unless there's the odd looming great deadline). "At the end of the day I'm just tired, and I feel it's important that whomever is at my house, we're going to have dinner together, and we'll spend some time together," says Macpherson. "I personally feel that the message that I send to both my children and my colleagues by doing those things is one that I would like them to remember."
This year is an especially phone-call-heavy year, due to her AAEP presidential responsibilities, but she tries not to take calls in the car when her kids are with her. "That (20-25-minute drive) happens to be a really good sort of debriefing time for us. I learn a lot during that time frame, but I also have occasions where I've just had to say, you know, 'Hey guys, I need to take one more work phone call.'"
She plans out her month and week carefully and strategizes about how each day will go before it begins.
She is an early morning exerciser and has found a gym with a workout group she enjoys. "It is my happy place," she says. "I am hugely sporadic, and I get teased about that endlessly, but I don't care, and it's part of the fun. It's like 'Cheers.' When I come in the door, they're like 'Yay! Margo's back!'"
"I try to remind myself that every bit of exercise I do is important, and it doesn't matter if it's walking the dog or riding the bike around the 5-mile loop outside our house or getting in the pool and just … doing handstands with my son," she says.
She avoids looking at email during her downtime. "I find even just a little bit of a scorching email can really throw me off, so I guess to that point, I've learned to not look at my email at night … it's cost me (as far as coming in late on important discussions), but I won't. There are spoken and unspoken expectations on everybody today to be immediately responsive."
She spends time with her kids, her husband, UF's teaching herd, and her cats.
"I'm lucky I'm in a work environment where I can do those things, but that's why I also feel like in practice those models can be built," says Macpherson, reflecting on how veterinary practices are changing to promote work-life balance.

Create a free account with TheHorse.com to view this content.
TheHorse.com is home to thousands of free articles about horse health care. In order to access some of our exclusive free content, you must be signed into TheHorse.com.
Start your free account today!
Already have an account?
and continue reading.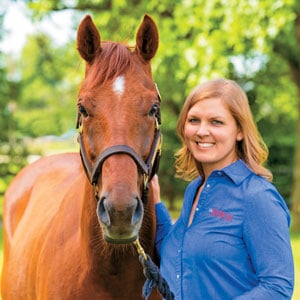 Stephanie L. Church, Editorial Director, grew up riding and caring for her family's horses in Central Virginia and received a B.A. in journalism and equestrian studies from Averett University. She joined The Horse in 1999 and has led the editorial team since 2010. A 4-H and Pony Club graduate, she enjoys dressage, eventing, and trail riding with her former graded-stakes-winning Thoroughbred gelding, It Happened Again ("Happy"). Stephanie and Happy are based in Lexington, Kentucky.
Stay on top of the most recent Horse Health news with
FREE weekly newsletters from TheHorse.com