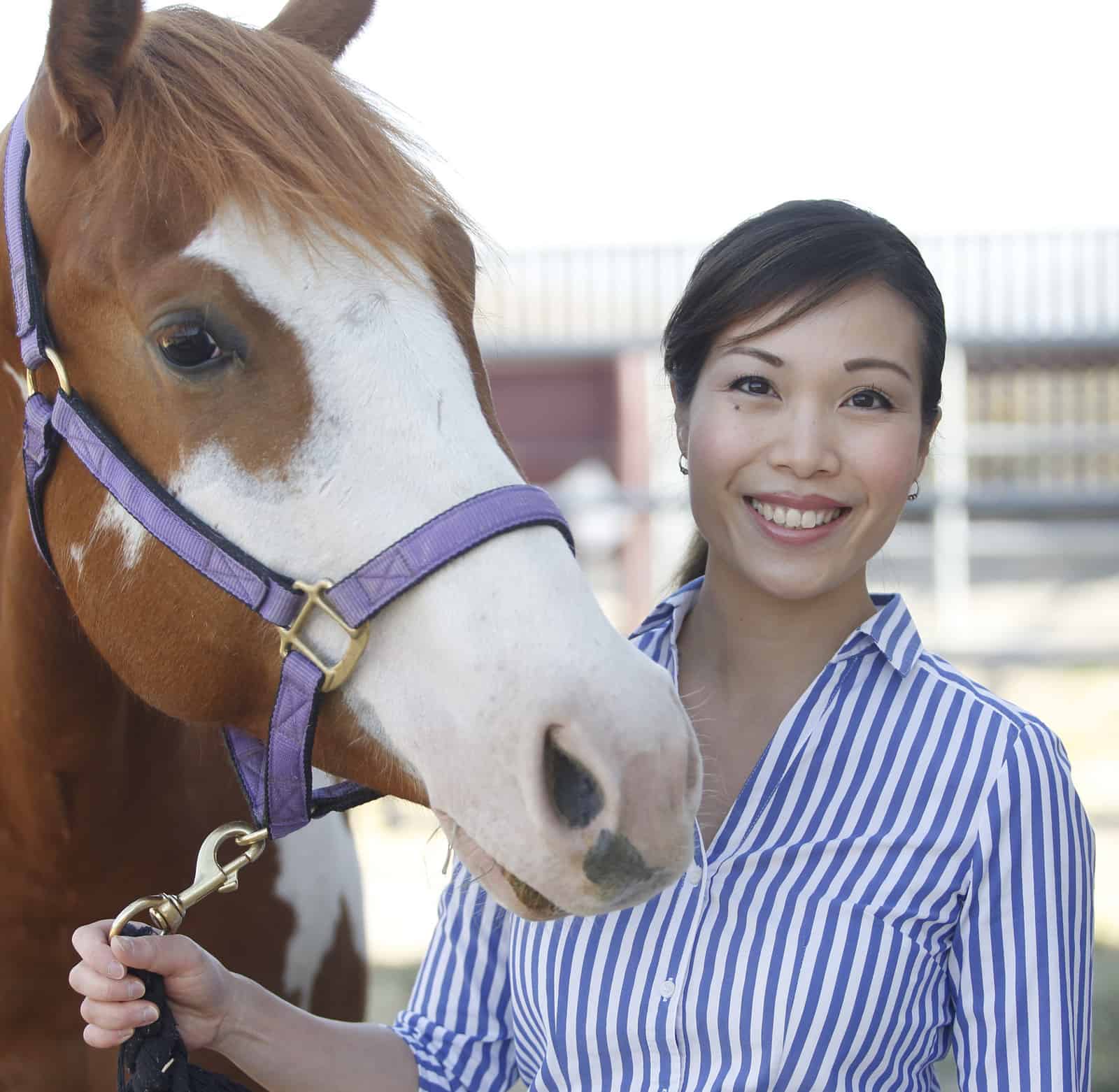 A veterinarian's professional identity is often centered around empathy, compassion, kindness, and the ability to relate to both animal owners and animals to achieve the best results for the health of the animal patient. Consequently, these veterinarians may feel discomfort reconciling that compassionate self-identity with the need to engage in uncomfortable reflective introspection on how they relate to other humans in terms of race and ethnicity. As the Black Lives Matter movement gained momentum in June 2020, I was moved to see that the few veterinarians of color I know began feeling comfortable voicing race-related concerns that have plagued them for years. What has been missing is a conversation about equine veterinary medicine and racial diversity, the barriers in the profession, and how they affect horse health.
Barriers to Entering the Profession
Significant roadblocks exist that prevent minorities from entering the equine veterinary profession. One is a lack of visible minorities in the profession. In my 15-year career as an equine veterinarian who has practiced in four states and two provinces, I have only encountered less than a handful of equine professionals that were people of color, and none of them looked like me.
Amanda Chang, DVM, CVA, veterinarian and owner of Myrtle Beach Equine Clinic, in North Myrtle Beach, South Carolina, says people have pointed out to her that they have previously "never met an Asian large animal veterinarian." Indeed, the veterinary population is extremely homogenous and even more so the equine profession. Surveys show that nonwhite individuals represent 5.5% of equine veterinary respondents whereas they make up 10.8% of general veterinary respondents (American Association of Equine Practitioners, 2019). Compared to the U.S. population, where 24% identify as nonwhite (U.S. Census Bureau, 2019), the equine veterinary profession has a long way to go in terms of representation.
Although horses were the driving force for me to go to vet school, I initially tried to steer away from that career trajectory due to the invisible barriers I knew I would face. I am not alone in this. Studies have shown that job seekers self-select into career opportunities as a strategy to avoid discrimination (Pager & Pedulla, 2015 Jan). When selecting a career, even if racial and ethnic minorities believe they have the skill level to be competitive, they believe they have little control over whether they will be accepted in the workforce, and they see barriers when there is a paucity of visible minorities in that occupation (Gloria & Hird, 1999).
I've experienced this lack of control over acceptance in the workplace throughout my career, starting when I was still in veterinary school. ­­I received laudatory reviews during my first equine rotation. During my second, extenuating circumstances made it necessary to take on the workload of two students, which I did. Even still, when I asked for a recommendation from a white professor, he looked me in the eye and told me I would never make it in the equine profession, but he could not verbalize why I "would never make it." 
Nadia Saklou, DVM, a PhD and ACVIM candidate at Virginia-Maryland College of Veterinary Medicine, in Blacksburg, Virginia, who has a Middle Eastern and American background, credits strong mentors with helping guide her so she was "able to overcome those barriers." She acknowledges that as a person of color, she deals with these issues daily, so "to deal with additional barriers to get into (her) career path" was not insurmountable.
Barriers Within the Profession
Saklou believes it takes a "little extra to shine" to achieve success as a person of color and woman in the profession. My familiarity with this notion is deep-rooted in the experiences throughout my career. The first barrier is in the job search. Having a racialized Asian name, I am 40% less likely to receive a callback from a small business, a statistic similar to hiring discrimination against African Americans (Banerjee et al., 2018 and Quillian et al., 2017). Since the equine profession is 95% white, the lack of racial diversity tends to be a self-fulfilling prophecy due to a similarity-attraction paradigm where demographic similarity creates positive impressions and interactions (Hu, 2008). I adapted to this by limiting my job search by geography and by casting a large net. Job-seeking minorities tend to adapt to market discrimination through self-selection to target or avoid sectors based on historical discrimination, or by broadening the job search to consider a wide range of options, thus overcoming racial barriers to employment (Pager & Pedulla, 2015).
I must admit that a part of the reason I chose to specialize was the feeling that I, in particular, needed advanced qualifications to succeed in my profession. Besides "access discrimination" forming barriers to entry into the profession, "treatment discrimination" also exists where minority subgroups are not treated in line with their merit or achievements, which affects both tangible rewards, such as favorable job performance evaluations and career progression, and intangible ones, such as acceptance and support from others leading to career satisfaction (Greenhaus, 1990).
Despite the breadth of experience in my resume, four years of extra training beyond veterinary school, and board-certification, I still encounter microaggressions from both colleagues and horse owners. Individuals are always curious about how I got involved with horses and ask me questions that don't get asked of my white co-workers. Especially earlier in my career, people often expressed doubt about my professional opinion as compared to less-qualified colleagues. I can't count how many times I've been told that I "look exactly like" or am I "related to (insert Asian person's name)" or that I "don't look Canadian/American." Saklou receives daily comments about her skin tone ("You don't need sunblock do you?"), surprise from a client ("I wasn't expecting you …"), cultural judgments (when declining bacon for cultural reasons) and assumptions about her descent. Although Chang does not feel she has been treated differently by her clients, she has been told that she "doesn't sound how (a client) expected," and her name has been substituted with other iterations of Asian surnames.
Even in a senior role, to this day I most commonly experience name-based microaggressions, where an unwanted abbreviation is assigned over my racialized name without permission, or I'm asked for an "Americanized" nickname to use in its stead. I've had people with whom I'm well-acquainted both spell and pronounce my name entirely wrong, including when introducing me in a leadership role at international venues and despite accurately depicting difficult European names in the same context. The hidden message from these microaggressions is inevitably that my belonging is contingent, that I should assimilate as much as possible, and that my name is an inconvenience that I should westernize to make others feel more comfortable (Torres-Mackie, 2019). Inevitably, even when many microaggressions are not malicious in intent, a phenomenon called relative deprivation (where an individual compares their own experience to how fairly another social group is treated by society, leading to feelings of discontent [Crosby, 1984]) often simmers just below my conscience.
Breaking Down Barriers: Steps We Can Take to Be Allies
In the end, what is the significance of these barriers and unwelcoming environment in the equine veterinary profession? Saklou acknowledges that if a veterinarian is uncomfortable due to an unwelcoming or unsafe environment, this detracts from the singular focus they wish to be putting into your animal. A plethora of evidence shows that increased diversity leads to better innovation, higher revenues, improved company culture, and better leadership (Eswaran, 2019; Lorenzo, 2018; Portes, 2018; The Hamilton Project, 2018). Imagine if this led to innovation that solved huge issues in horse health such as colic or laminitis. Imagine if improved business culture, leadership, and revenues led to more surgical referral centers so your horse could be treated at a facility 30 minutes away rather than four hours away.
What can horse owners do to help effect change? We can advocate for cultural competency training, affirmative action in veterinary schools for students and faculty alike, and further research on this topic. We can engage in introspection, identify and improve on our implicit biases, recognize the similarity-attraction paradigm in ourselves, and work to be allies. We can change the "insular" and "unwelcoming" community of equestrian sport (Barnes, 2020) by raising awareness of the issue and "opening lines of communication in a tactful and thought-provoking manner" (Dr. Chang). Saklou hopes horse owners can understand that veterinary medicine is a "skill and base of knowledge and has nothing to do with what someone looks like or sounds like."
The Association of American Veterinary Medical Colleges (AAVMC) is showing leadership in this arena and has committed to increasing enrollment of ethnically underrepresented veterinary students with its DiVersity Matters initiative. The organization has recruited a BIPOC senior director for institutional research and diversity, provides a scholarship for students who have contributed to the cause, and hosts an annual diversity symposium. I believe other organizations should strive to contribute in an equally purposeful and accountable manner.
I love my profession. I would love it more if just once, someone spoke up on my behalf when an equine veterinarian colleague has pulled up the corners of their eyes or vocalized a stereotype when referring to me or other racialized individuals. What a difference it would have made to have an ally. Chang believes "when you find the right fit where you belong and flourish, it's 100% worth it." She states "even though I'm an ethnic minority working in what is considered an area with high racial tension, I love my clients. My community has welcomed me with open arms, and that's why I chose to stay and buy (my) practice."
The numbers show that equine veterinary medicine has a diversity problem. As hard as it is to challenge the empathetic and kind professional self-identity equine veterinarians have, it is time to take a critical look at how we can improve in our interactions within our profession.
---
References
American Association of Equine Practitioners. (2019 Apr 1). American Association of Equine Practitioners economic report. Retrieved from https://aaep.org/sites/default/files/Documents/2019%20FINAL_AMVA_AAEP_Equine_Report.pdf
Banerjee, R., Reitz, J.G., & Oreopoulos, P. (2018 Feb 23). Do large employers treat racial minorities more fairly? An analysis of Canadian field experiment data. University of Toronto Press Journals, 44(1)1-12. https://doi.org/10.3138/cpp.2017-033
Barnes, J. (2020, Jun 22). The limits of diversity: Horsemanship, race and inclusion. The Chronicle of the Horse. Retrieved from https://www.chronofhorse.com/article/the-limits-of-diversity-horsemanship-race-and-inclusion
Eswaran, V. (2019 Apr 29). The business case for diversity in the workplace is now overwhelming. World Economic Forum. Retrieved from https://www.weforum.org/agenda/2019/04/business-case-for-diversity-in-the-workplace/
Gloria, A.M. & Hird, J.S. (1999 Dec). Influences of ethnic and nonethnic variables on the career decision-making self-efficacy of college students. The Career Development Quarterly, 48(2)157-174.
Greenhaus, J.H., Parasuraman, S., & Wormley, W.M. (1990). Effects of race on organizational experiences, job performance evaluations, and career outcomes. Academy of Management Journal, 33(1) 64-86.
Hu, C., Thomas, K.M., Lance, C.E. (2008). Intentions to initiate mentoring relationships: understanding the impact of race, proactivity, feelings of deprivation, and relationship roles. The Journal of Social Psychology, 145(6), 727-744. doi.org/10.3200/SOCP.148.6.727-744
Lorenzo, R., Voigt, N., Tsusaka, M., Krentz, M., & Abouzahr, K. (2018, Jan 23). How diverse leadership teams boost innovation. Retrieved from https://www.bcg.com/en-us/publications/2018/how-diverse-leadership-teams-boost-innovation.aspx
Pager, D. & Pedulla, D. (2015 Jan). Race, self-selection, and the job search process.American Journal of Sociology. Retrieved from https://www.ncbi.nlm.nih.gov/pmc/articles/PMC4651212/#FN7
Portes, J. (2018 Sept 18). Immigration has made the UK more productive and prosperous – and will again in the future. Independent. Retrieved from https://www.independent.co.uk/news/business/analysis-and-features/immigration-migration-advisory-committee-productivity-skill-gdp-brexit-a8542841.html
Quillian, L., Pager, D., Hexel, O., & Midtboen, A.H. (2017 Sept 12). Meta-analysis of field experiments shows no change in racial discrimination in hiring over time. Proceedings of the National Academy of Sciences of the United States of America. doi.org/10.1073/pnas.1706255114
The Hamilton Project. (2018, Oct 9). High-skilled immigration increases innovation. Retrieved from https://www.hamiltonproject.org/charts/high_skilled_immigration_increases_innovation
Torres-Mackie, N. (2019 Sept 29). Understanding name-based microaggressions. Psychology Today. Retrieved from https://www.psychologytoday.com/ca/blog/underdog-psychology/201909/understanding-name-based-microaggressions
United States Census Bureau. (2019). QuickFacts United States. Retrieved from https://www.census.gov/quickfacts/fact/table/US/IPE120218