Class 4 Laser Improves Equine Suspensory Lesion Healing
In a standardized-lesion-induced model, veterinarians found high-powered laser significantly reduced enlargement of lesions on ultrasound and increased signs of healing on Doppler and MRI.
As veterinarians find empirical success treating horses' soft tissue injuries with complementary approaches, the common refrain heard is, "Great—now show us the science," requesting peer-reviewed research to validate the modality's use. A research group based in Germany and Belgium did just that when they recently tested high-powered laser therapy in a standardized control study and found it significantly improved lesion healing in the suspensory ligament branch, a common cause of lameness in equine athletes.
"A lot of therapy modalities are being used before they're actually tested in a standardized control study," said Mathilde Pluim, DVM, MSc, an equine veterinarian at Tierklinik Lüsche, an equine hospital in Bakum, Germany, who performed the trial along with Prof. Catherine Delesalle's Research Group of Comparative Physiology at Ghent University, in Belgium. She presented the results on the team's behalf at the 2020 American Association of Equine Practitioners Convention, which is currently underway online.
The veterinarians assessed a Class 4 laser, which emits four different wavelengths simultaneously. "It penetrates up to 7.2 centimeters, and there are preset treatment protocols available in the device," she explained. "So, depending on the depth of penetration and effect you want to achieve, you can pick a preset protocol suiting to the type of lesion and the lesion size."
In a previous study, the team had retrospectively—in this case looking back at records and surveying horse owners—evaluated the short- and long-term results of treating 150 sport horses diagnosed with tendinopathy or desmopathy with this laser. Researchers saw significant improvement directly after laser therapy and four weeks later. The horses started controlled exercise after five to seven weeks and were back at their previous performance levels after 4.7-6.1 months, "much sooner than what has been described in other studies on tendon and ligament injuries in horses," she said. Reinjury rate after two years was just
Create a free account with TheHorse.com to view this content.
TheHorse.com is home to thousands of free articles about horse health care. In order to access some of our exclusive free content, you must be signed into TheHorse.com.
Start your free account today!
Already have an account?
and continue reading.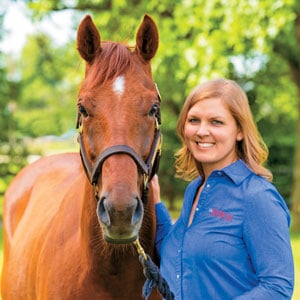 Stephanie L. Church, Editorial Director, grew up riding and caring for her family's horses in Central Virginia and received a B.A. in journalism and equestrian studies from Averett University. She joined The Horse in 1999 and has led the editorial team since 2010. A 4-H and Pony Club graduate, she enjoys dressage, eventing, and trail riding with her former graded-stakes-winning Thoroughbred gelding, It Happened Again ("Happy"). Stephanie and Happy are based in Lexington, Kentucky.
Stay on top of the most recent Horse Health news with
FREE weekly newsletters from TheHorse.com