Create a Horse Property Pollinator Hedgerow
Improve the aesthetics of your horse farm while contributing to the health and well-being of bees, butterflies, and other beneficial members of our planet.
Celebrating Earth Day on a horse property doesn't have to be boring and unrelated to your passion. Make it fun for yourself and favorable for your farm, as well as to the planet, by creating a beautiful pollinator hedgerow. A pollinator hedgerow is a line or grouping of plants that attracts beneficial, pollinating insects.
Everyone and everything is about bees these days—but what are pollinators and why would we want them on a horse property?
Pollinators include helpful insects that pollinate flowers and crops. They can be anything from birds (such as hummingbirds) and bats to moths and butterflies—as well as more than 4,000 species of native bees that call North America home. Yet these mostly solitary and tiny bees are declining in number as they lose habitat and food sources.
These native insects support most of the world's flowering plants and crop species—including alfalfa! If these "keystone" beneficial insects are removed, our food systems would collapse. Conserving pollinating insects is critical for preserving both wider plant and animal biodiversity, as well as a healthy agricultural system. Research shows that using native bees can increase crop quality and quantity while reducing costs. Providing pollinator hedgerows on horse properties is an easy way to help protect our Earth's natural resources.
How To Create a Pollinator Hedgerow
Here are the steps:
Designate and prep your hedgerow area. It can be any size or shape; maybe choose that unused strip along the driveway or the forgotten area next to your parking spot. Remove existing grass and plants either chemically or mechanically. Mechanical plant removal options include hand-digging, sod-cutting, or sheet-mulching. The latter method involves covering the area and its vegetation with cardboard or black plastic, which might take up to a year to completely kill plants.
Amend the soil with compost (think composted horse manure).
Plant seeds or seedlings (more on this in a minute). Seeds usually need to be scattered in the fall and allowed to overwinter to germinate. Seedlings (small plants) can be planted in early spring in clumps or groups to create a more natural look.
Watch, water, and weed. It might take a couple of years for your pollinator garden to become fully established, but don't give up because then they will be big and beautiful and require less attention.
In the fall, leave the leaves! Many insects depend on leaf litter and dead stems to overwinter. Clean up in the spring after a week or two of warm weather.
Management Tips
Creating a pollinator garden is more than just planting seeds or seedlings and seeing what happens.
Talk with your local plant nursery, Audubon chapter, or native plant club to get advice on which species to choose for your area. Look for flowering plants with overlapping bloom times so bees can forage from early spring through late fall.
Choose flowering plant species in various sizes, shapes, and colors. Native bees come in different shapes and sizes, so planting a variety of plants will help attract a wider array of species.
Select native plants. Ask your landscape nursery for bee-friendly native plants; native insects have adapted to them.
Provide a nonstagnant water source. This could be a bird bath, a damp patch of ground, shallow dishes filled with small rocks and water, or even your horse's water trough. However, the slippery plastic or metal sides of many stock tanks are impossible for insects to grab onto. Consider floating a stick or creating some sort of "insect ladder" to help bugs safely escape the water. Note: to reduce the risk of creating stagnant water and potential mosquito breeding habitat (mosquitoes can spread diseases such as West Nile virus and Eastern equine encephalomyelitis), be sure to dump and change any standing water every seven to 10 days.
Offer shelter. Native bees need places to nest, but they are solitary and don't build the waxy or paper structures we associate with honeybees and wasps. Most solitary bees nest in small tunnels or cells they construct underground or holes left behind by other insects or rodents. Some prefer the soft pith in canes such as with berry plants. Bare, sandy soil, hollow canes, and brush piles can all provide habitat. These can be incorporated into pasture corners or along edges and ditch banks.
Protect bees and beneficial insects from pesticides and fungicides. One way to reduce the effects of chemicals is to apply them at night, after insects have "gone to bed." Or, consider trying organic methods of managing pests. Avoid neonicotinoid pesticides. Studies show plants treated with these insecticides can remain toxic to pollinators for up to two years.
A pollinator hedgerow can become an attractive part of your landscaping that you and others can enjoy and appreciate on your horse property for years to come. Creating a pollinator hedgerow will give you the satisfaction that you are contributing to the heath and well-being of some of the smallest members of our planet, which in turn are out there working for us.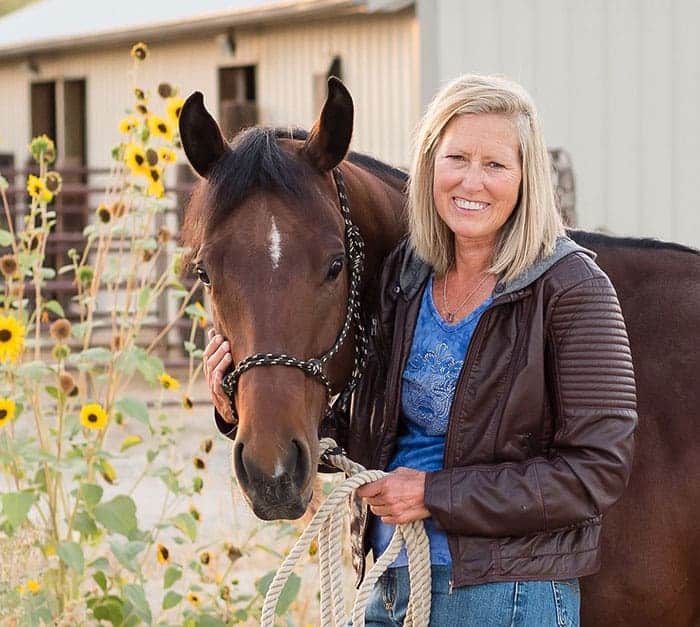 Alayne Blickle, a lifelong equestrian and ranch riding competitor, is the creator/director of Horses for Clean Water, an award-winning, internationally acclaimed environmental education program for horse owners. Well-known for her enthusiastic, down-to-earth approach, Blickle is an educator and photojournalist who has worked with horse and livestock owners since 1990 teaching manure composting, pasture management, mud and dust control, water conservation, chemical use reduction, firewise, and wildlife enhancement. She teaches and travels North America and writes for horse publications. Blickle and her husband raise and train their mustangs and quarter horses at their eco-sensitive guest ranch, Sweet Pepper Ranch, in sunny Nampa, Idaho.
Stay on top of the most recent Horse Health news with
FREE weekly newsletters from TheHorse.com