Concurrent Wobbler Syndrome and EPM in Horses
Cervical vertebral malformation and EPM can cause neurologic disease in horses at the same time.
Though rare, some horses with neurologic disease contend with
equine protozoal myeloencephalitis (EPM)
and
cervical vertebral malformation (CVM)
at the same time. The protozoan-parasite-caused disease and the vertebral narrowing, colloquially referred to as wobbler syndrome, can both cause debilitating incoordination known as ataxia. Researchers recently retrospectively examined cases of confirmed or suspected concurrent EPM and CVM to help veterinarians better understand this combination in horses.
Kindra Orr, DVM, Dipl. ACVIM, of Rood & Riddle Equine Hospital in Lexington, Kentucky, and her co-authors examined records and samples from 12 horses submitted to the University of Kentucky Veterinary Diagnostic Lab, also in Lexington, from 2011 to 2021. She presented the group's results at the Dorothy Russell Havemeyer Foundation's EPM Advances in the Field Symposium, held in October 2022 in Asheville, North Carolina.
They found:
The horses' average age was 44 months (ages ranged from 6 months to 156 months).
Seven horses were male, four female, and one unreported.
66% were Thoroughbred, reflecting Lexington's primary horse breed.
Duration of clinical signs ranged from acute to one year.
All horses had histories of ataxia.
Eight had undergone advanced diagnostic imaging—radiographs and/or myelograms of the cervical, or neck, vertebrae—with veterinarians identifying vertebral canal narrowing or spinal cord compression.
Four had been previously treated for EPM.
One horse was positive on the Sarcocystis neurona (the primary causative protozoan organism of EPM) SAG 2,3,4 ELISA test, while veterinarians' written clinical histories on two horses reported positive EPM test results (but with no specifics on test type).
All 12 of the horses had microscopic evidence of compressive lesions in the cervical spinal cord on postmortem examination, said Orr, along with mild to moderate nonsuppurative inflammation in the brain or spinal cord consistent with EPM.
In eight horses the type and distribution of lesions supported a diagnosis of EPM, caused by either S. neurona or Neospora hughesi (another EPM-causing protozoan parasite). In the remaining four horses EPM was confirmed by either polymerase chain reaction (PCR) testing, which looks for protozoal DNA, on affected formalin-fixed paraffin-embedded tissue, or by identification of the organism in tissues.
"These cases demonstrate that concurrent CVM and EPM occurs in a small number of horses," Orr told TheHorse.com. "While rare, failure to respond to treatment for EPM should prompt cervical imaging, even if the horse has tested positive for EPM.
"Conversely, horses diagnosed with CVM should also be tested for EPM to ensure that medical treatment is instituted, particularly if surgical correction is going to be pursued," she said.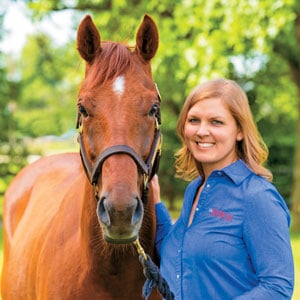 Stephanie L. Church, Editorial Director, grew up riding and caring for her family's horses in Central Virginia and received a B.A. in journalism and equestrian studies from Averett University. She joined The Horse in 1999 and has led the editorial team since 2010. A 4-H and Pony Club graduate, she enjoys dressage, eventing, and trail riding with her former graded-stakes-winning Thoroughbred gelding, It Happened Again ("Happy"). Stephanie and Happy are based in Lexington, Kentucky.
Stay on top of the most recent Horse Health news with
FREE weekly newsletters from TheHorse.com