Upper Eyelids Hold Upper Hand in Subpalpebral Lavage Study
Lavage systems placed in the upper and lower eyelids developed complications 12.8% and 22.2% of the time, respectively.
Veterinarians got it right in the 1990s, when they developed an alternative to toppled stepstools, dropped eye ointment tubes, and the reduced compliance (read: epic struggles) that can come with medicating horses' eyes for days or even weeks on end. A subpalpebral lavage (SPL) allowed them to administer drugs to the surface of a horse's eye with the simple push of a plunger at a distant catheter port on his neck. But even with this handy tool complications can arise, so researchers in the U.K. recently took a closer look—pun intended—at which factors lead to failure of this eye treatment approach.
Gayle Hallowell, MA, VetMB, PhD, CertVA, Dipl. ACVIM, ACVECC, PFHEA, MRCVS, of the University of Nottingham, and colleagues studied 14 years of SPL records from the University of London's Royal Veterinary College (2000-2013). They examined a variety of data points in each horse, ranging from age and ophthalmic condition to catheter position and clinician experience.
The team collated data from 138 SPL catheters in 135 horses aged 6 days to 30 years old. The most common conditions among these horses were corneal ulcers (37%), squamous cell carcinoma (18%), and uveitis (aka moon blindness, 16%).
The overall mean SPL complication rate among these animals was 15.9%. "These mostly were palpebral cellulitis (a diffuse bacterial infection of the skin and associated tissues) and corneal ulcers," said Hallowell, who noted that clinician complication rate was lowest for medicine residents (10%), when compared with interns (42%), medicine clinicians (27%), and surgeons
Create a free account with TheHorse.com to view this content.
TheHorse.com is home to thousands of free articles about horse health care. In order to access some of our exclusive free content, you must be signed into TheHorse.com.
Start your free account today!
Already have an account?
and continue reading.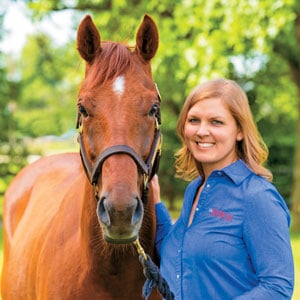 Stephanie L. Church, Editorial Director, grew up riding and caring for her family's horses in Central Virginia and received a B.A. in journalism and equestrian studies from Averett University. She joined The Horse in 1999 and has led the editorial team since 2010. A 4-H and Pony Club graduate, she enjoys dressage, eventing, and trail riding with her former graded-stakes-winning Thoroughbred gelding, It Happened Again ("Happy"). Stephanie and Happy are based in Lexington, Kentucky.
Stay on top of the most recent Horse Health news with
FREE weekly newsletters from TheHorse.com