Researchers Identify Link between Insulin Resistance, Iron Overload
Researchers speculate that elevated iron (ferritin) levels are a significant risk factor for IR onset.
Insulin resistance (IR), in which cells fail to respond normally to the hormone insulin, is becoming increasingly recognized in horses. Although several factors have been linked with IR onset in horses, researchers now speculate that elevated iron (ferritin) levels could be a significant risk factor.
Researchers from Michigan State University (MSU) recently performed a study to explore the link between IR and iron overload in captive rhinoceroses; however, the team used horses, which have a similar digestive tract to rhinos, as a model for practical reasons (rhinos aren't the easiest animals to work with). They aimed to determine if an association between high ferritin concentrations (indicative of iron stores in the body) and insulin resistance exists in horses.
The team employed 15 healthy horses and one IR horse and fed them a grass hay diet with no concentrates. All horses were administered two treatments after a 12-hour fast:
Dextrose, a form of glucose, administered at 0.25 g/ kg of body weight; and
Pelleted corn at 1.5 g/kg of body weight.
The team analyzed blood insulin levels just before and every 30 minutes (up to two hours) after treatments. They also evaluated ferritin levels and found concentrations ranging from 130-882 ng/mL. Lead researcher and professor at MSU's Department of Animal Science, Brian Nielsen, MS, PhD, PAS, Dipl. ACAN, said previous research suggests that normal adult serum ferritin is 180-210
Create a free account with TheHorse.com to view this content.
TheHorse.com is home to thousands of free articles about horse health care. In order to access some of our exclusive free content, you must be signed into TheHorse.com.
Start your free account today!
Already have an account?
and continue reading.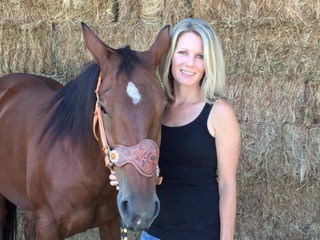 Casie Bazay is a freelance and young adult writer, as well as a certified equine acupressure practitioner. She also hosts a blog, The Naturally Healthy Horse. Once an avid barrel racer, she now enjoys giving back to the horses who have given her so much.
Stay on top of the most recent Horse Health news with
FREE weekly newsletters from TheHorse.com