A Valid Veterinarian-Client-Patient Relationship
How have you seen the veterinarian-client-patient relationship (VCPR) at work in your barn?
Every month I hear from at least a reader or two who are gravely disappointed that we wont tell them exactly how much of what type of treatment or supplement to use for a specific horse. They'll say that we simply cover topics too broadly to be useful. My response to these readers: Are you looking for treatment advice individual to your horse? If so, please, please call your veterinarian.
Similarly to humans, each equine patient is different. Their health, as well as ours, is the sum of our genetics, health history, environmental exposures and experiences, and a host of other influences. And just as a physician isn't necessarily going to prescribe the same treatment for me as he would another 39-year-old female, he certainly isn't going to do it sight unseen. It would put him in danger of violating the 'do no harm' tenet. The patients health could diminish or worse could happen.
In the February issue you'll see the first of a two-part series on first-aid supplies and techniques. Our editorial board advised against running a list of prescription drugs to keep on hand because a lot can go wrong with these meds if given without a diagnosis and especially without an established veterinarian-client-patient relationship (VCPR). A classic example that comes to mind is clostridial myositis following intramuscular administration of Banamine (I've seen several of these painful cases of muscle infection caused by anaerobic clostridial bacteria). Similarly, using the wrong kind of medication (even an over-the-counter one!) can cause a corneal ulcer to deteriorate.
Practitioners have years of training and experience and can weigh treatment benefits with potential dangers, such as antibiotic
Create a free account with TheHorse.com to view this content.
TheHorse.com is home to thousands of free articles about horse health care. In order to access some of our exclusive free content, you must be signed into TheHorse.com.
Start your free account today!
Already have an account?
and continue reading.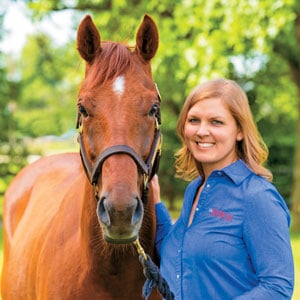 Stephanie L. Church, Editorial Director, grew up riding and caring for her family's horses in Central Virginia and received a B.A. in journalism and equestrian studies from Averett University. She joined The Horse in 1999 and has led the editorial team since 2010. A 4-H and Pony Club graduate, she enjoys dressage, eventing, and trail riding with her former graded-stakes-winning Thoroughbred gelding, It Happened Again ("Happy"). Stephanie and Happy are based in Lexington, Kentucky.
Stay on top of the most recent Horse Health news with
FREE weekly newsletters from TheHorse.com