Bugs are beyond annoying for our horses. Insects spread diseases—some of them deadly—and can cause irritating and performance-limiting allergic reactions. We'll spend the hour answering your questions about protecting horses from mosquitoes, gnats, biting flies, ticks, and more. Join us and send in your questions!
Don't miss a special offer for Ask TheHorse Live listeners below!
Erika Machtinger
PhD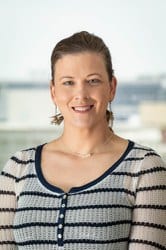 Erika Machtinger, PhD, is an assistant professor of entomology (the study of insects) at Pennsylvania State University's College of Agricultural Sciences, in University Park. Her research focuses on filth fly control in livestock, poultry, and equine facilities; transmission of zoonotic disease via arthropod vectors; and integrated tick management. Her work is an interdisciplinary combination of population and chemical ecology, behavior studies, parasitoid-host interactions, biological control, molecular biology, toxicology, and wildlife biology. She believes integrated research is necessary to develop novel control methods for disease-spreading insects and agricultural pests as health risks increase from population growth, climate change, and increased pesticide resistance.
Did you know that The Horse publishes a monthly magazine? You can count on accurate, up-to-date, and understandable equine health care information each month. Ask TheHorse Live listeners can take advantage of a special discounted offer. Subscribe now for over 75% off the cover price at TheHorse.com/AskTheHorseOffer. That's just $15 for a one-year subscription! Don't miss your chance and sign up today!