How Stress Affects Your Horse
Many situations horses encounter cause them to endure chronic stress with associated changes to health and behavior. Learn more in this article from the Spring 2023 issue of The Horse!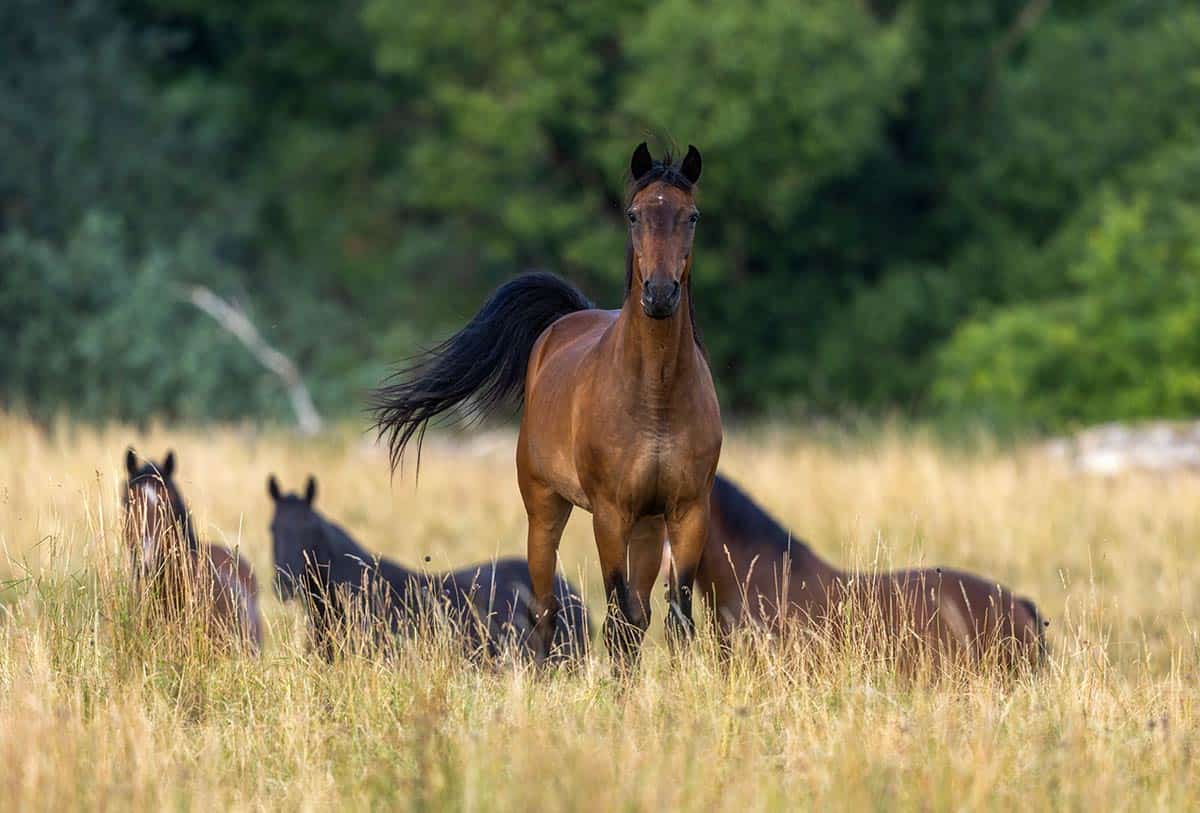 Stress in inevitable in horses' lives, with associated changes to their health and behavior
We've all seen the horse that enters into a new situation, whole body on alert, each muscle taut with intense focus on his surroundings. He might poop frequently in nervous anticipation. He might swish his tail or toss his head. Other horses might vocalize repeatedly or move constantly, reluctant to stand still.
Such signs of acute stress are often transitory, with the horse settling down after investigating and accepting new environmental information. But what happens in a horse that is continually stressed? Many situations horses encounter cause them to endure chronic stress with associated changes to health and behavior, which we'll describe in this article.
Physiological Response to Stress
First, let's review what happens when a horse (or any animal or person) is under stress. Initially, the sympathetic nervous system activates to release catecholamines (e.g., epinephrine, norepinephrine) that are instrumental in fight-or-flight survival responses. The horse's respiration, heart rate, and blood pressure increase, readying him for action.
"A horse's body subconsciously or consciously readies itself for fight or flight from real or perceived threats," says Katrina Merkies, PhD, an associate professor at the University of Guelph, in Ontario. "While heart rate increases, it is important to determine if this is from a positive or negative scenario. For example, heart rate can increase from a pleasant experience like reuniting with a beloved equine friend after a long separation or related to a negative experience such as separation from a friend."
Therefore, she advises assessing a horse's heart rate variability (variation in heartbeat regularity) versus heart rate alone. "A negative situation/stress experience results in a decrease in heart rate variability," she explains. "A horse's spontaneous eye blink rate also decreases with short-term stress. And, in both positive and negative situations, circulating hormones … increase.
"Chronic stress is stress over the long term due to changes in environment or lifestyle—this can be a continuous effect or present as a cumulative effect of short-term stress that occurs regularly or often," Merkies
This story requires a subscription to The Horse magazine.
Current magazine subscribers can click here to and continue reading.
Subscribe now and gain unlimited access to premium content.
Subscribe Now
We at The Horse work to provide you with the latest and most reliable news and information on equine health, care, management, and welfare through our magazine and TheHorse.com. Our explanatory journalism provides an understandable resource on important and sometimes complex health issues. Your subscription will help The Horse continue to offer this vital resource to horse owners of all breeds, disciplines, and experience levels.

Nancy S. Loving, DVM, owns Loving Equine Clinic in Boulder, Colorado, and has a special interest in managing the care of sport horses. Her book, All Horse Systems Go, is a comprehensive veterinary care and conditioning resource in full color that covers all facets of horse care. She has also authored the books Go the Distance as a resource for endurance horse owners, Conformation and Performance, and First Aid for Horse and Rider in addition to many veterinary articles for both horse owner and professional audiences.
Stay on top of the most recent Horse Health news with
FREE weekly newsletters from TheHorse.com