Three New York Veterinary Practices Organize Future Equine Practitioners Weekend
The Future Equine Practitioners Weekend is set to return in 2023 for an educational experience for equine veterinary students.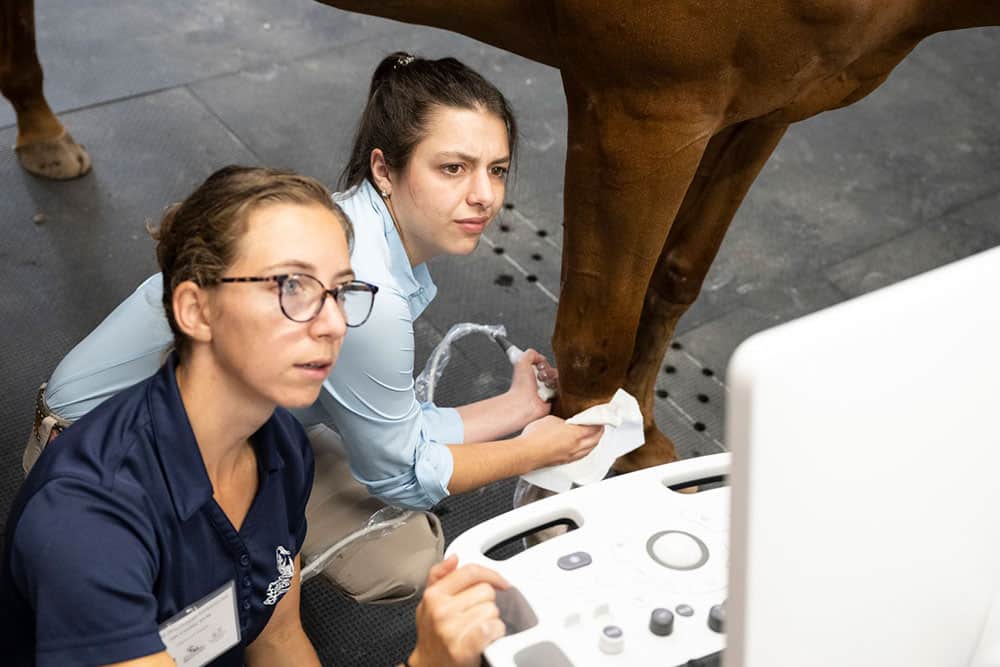 Cavalcade Management Group, co-founded by the independently-owned practices Millbrook Equine, the Equine Clinic at OakenCroft, and Rhinebeck Equine is pleased to announce the return of the Future Equine Practitioners Weekend in 2023. Equine Veterinary students in all years of study from Guelph University, University of Pennsylvania, Tufts University, Cornell University, Montreal University, Ohio State University, Long Island University, and the Atlantic Veterinary College will convene for an educational experience September 9-10, 2023.
Following a return to successful in-person programming in 2022, Cavalcade Management Group's founding practices look forward to further expanding opportunities for equine veterinary students in 2023. The Future Equine Practitioners Weekend (FEPW) has the distinct goal of exposing veterinary students to a variety of hands-on experiences and discussions with current veterinarians. 
The multi-day program will feature clinic tours, hands-on wet labs covering a variety of topics, and business panel discussions with industry leaders. Additionally, this year's itinerary will feature an expanded Intern Fair which will conclude the weekend. This year's Intern Fair invites veterinary practices from around the country to participate alongside industry vendors for a unique networking experience. 
"The ability to develop a network amongst peers, receive direct mentoring by experienced practitioners and engage in focused practical education lays the groundwork for a successful career in equine medicine. We've been able to do that through The Future Equine Practitioners Weekend which has proven to be an invaluable experience for our upcoming equine colleagues," says Ryan Penno, DVM, founder of the Future Equine Practitioners Weekend and owner of The Equine Clinic at OakenCroft.  
The Future Equine Practitioners Weekend is pleased to have the early collaborative support of Boehringer Ingelheim, Merck Animal Health, Hilltop BioSciences, and the New York Racing Association to help make this happen. To learn more about this event visit Events — Cavalcade Education.  
About Cavalcade Management Group
Established in 2019, the Cavalcade Management Group is a joint venture management company created by the partners of Millbrook Equine, Rhinebeck Equine, and The Equine Clinic at OakenCroft.The company aims to create a novel structure that offers the scale and support of a larger entity, while retaining the independence of the individual practices. 
About Millbrook Equine:
Millbrook Equine Veterinary Clinic is committed to providing personalized care and accessible service to horses and their owners in the Hudson Valley and surrounding region.  Our exclusively equine practice includes ten doctors with varying interests and areas of expertise.  With our team oriented, common-sense approach, we invest in the dreams of every client and their horse.  Contact millbrookequine.com or visit us on Facebook or Instagram  for more information. 
About Rhinebeck Equine:
Rhinebeck Equine LLP is dedicated to improving the health and welfare of the horse, while exceeding our clients' expectations for compassionate care. The Rhinebeck Equine team offers a full spectrum of services providing comprehensive equine health care at the farm and in our full service referral hospital. Services include surgery, internal medicine, sport horse care, lameness evaluations, pre-purchase exams, reproduction, neonatal care, ophthalmology, dentistry and wellness care. For more information, visit www.rhinebeckequine.com or visit us on Facebook or Instagram.  
About The Equine Clinic at OakenCroft:
The Equine Clinic at OakenCroft is a ten veterinarian equine exclusive practice serving the capital region of New York and western Massachusetts.  Our veterinarians are available to take care of all your equine health needs, all day every day.  We offer up-to-date techniques and technology for the benefit of our patients.  Please visit our website at www.oakencroftequine.com and on Facebook and Instagram. 


Stay on top of the most recent Horse Health news with
FREE weekly newsletters from TheHorse.com