Product Review: Pala-Tech F.A./Plus Granules for Horses
This omega fatty acid supplement helped two horses with different pain points maintain healthy skin and hair coats.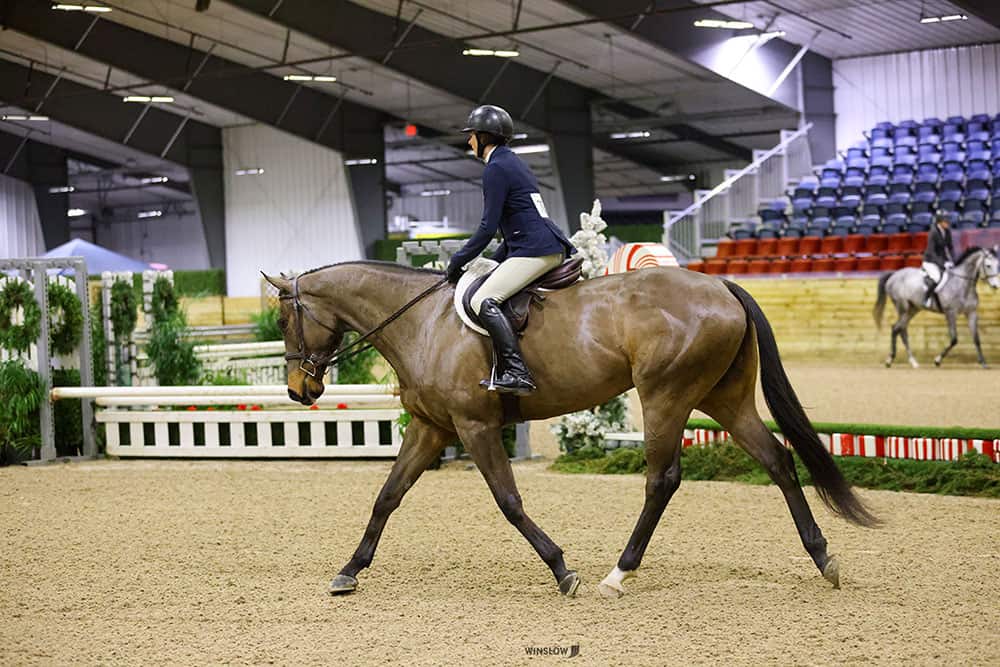 Editor's note: We at The Horse are horse owners like you. Certain equine-care products have impacted how we manage our own animals, and we want to share our experiences with you. These select products are ones we use and love every day.
As a competitive equestrian, I'm always trying to keep my horse looking and feeling fabulous. That includes maintaining good body condition and muscle mass, scheduling monthly farrier visits, and grooming and bathing regularly to ensure a lustrous coat. With my horse, Zion, and his sensitive but dry skin, the latter is often easier said than done.
This winter I decided to add an omega fatty acid supplement to Zion's diet to combat his seasonal flaky skin and have him looking show-ring-ready come spring. While he sometimes develops mild hives and/or pastern dermatitis (aka scratches), particularly when turned out on rainy days, his skin was in pretty good shape at the time. I simply wanted to get ahead of potential issues and try to clear up the dander in his poll, ear, elbow, and girth areas. It seems like no amount of currying can clear up his winter crusties.
So I started Zion on Pala-Tech Laboratories' Equine F.A./Plus Granules at the beginning of February.
What Is Equine F.A./Plus?
Equine F.A./Plus is a flaxseed oil formulated as granules and supplemented with essential vitamins and minerals such as vitamins A and E, zinc, and selenium. I chose this product because it's flavored like apples and molasses, and I figured Zion would be less likely to turn his nose up at it. It certainly smells good! Plus, it's easy to top-dress on his daily rations of performance feed—simply add one dose with the included scoop. I board Zion at a 25-horse facility with rotating barn staff throughout the week, so making mealtime as easy as possible helps ensure nothing gets overlooked. The initial dose is two scoops a day for two weeks, then one scoop a day going forward for maintenance.
Fast Results
Pala-Tech's product label claims you can see visible results in your horse's coat and skin after just two weeks of feeding Equine F.A./Plus Granules. I was a bit dubious about this statement because I know it can take months for many supplements to truly take effect. However, within two weeks—whether by chance or design—the dander trouble areas around Zion's girth and behind his ears were already clearing up. They've remained flake-free since.
Zion does, as I'd hoped, consume all the tasty Equine F.A./Plus Granules with his feed, leaving nothing behind. I know he's getting the full dose and nothing's going to waste. His spring coat is coming in a rich, shiny bay, and I look forward to getting back in the show ring with my handsome hunter.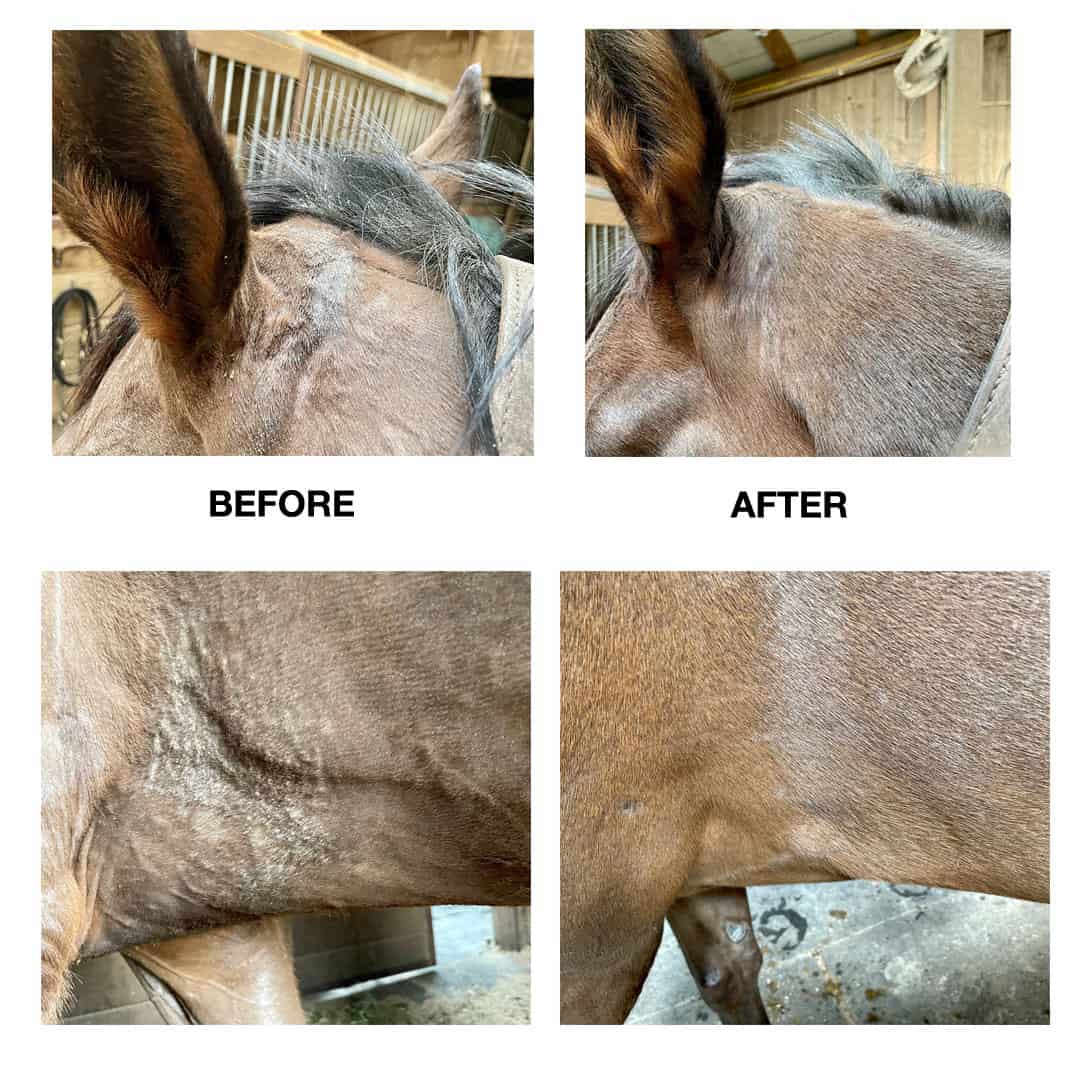 Sharing the Love With Luigi
The same week I started Zion on Equine F.A./Plus Granules, my trainer's 5-year-old Warmblood, Luigi, developed an unusual coat issue. A poorly timed hives outbreak after body-clipping had caused his coat to grow in darker where the bumps and welts had been. Plus, the clip job revealed he had awful winter dander all over his body. My trainer was prepping for their 2023 show debut and was despondent over the state of his hivey skin and dull, faded coat.
I offered to share my omega fatty acid supplement with her to see if it could help Luigi's skin and coat turn around quickly. While I wasn't grooming and handling him daily to monitor its effects, within just a few weeks I noticed his coat was looking much better. My trainer showed him in the Young Hunters without embarrassment! Luigi has remained on Equine F.A./Plus Granules, and his beautiful black coat is gleaming.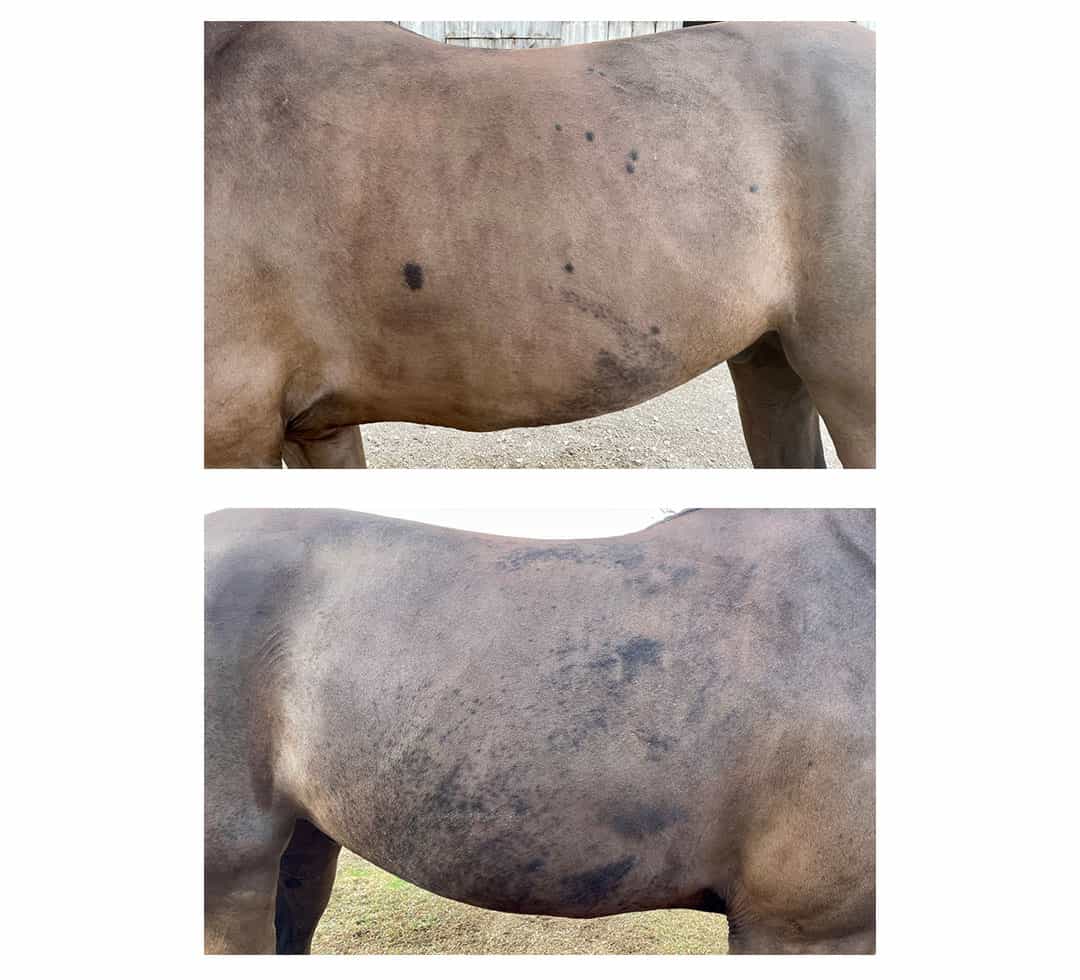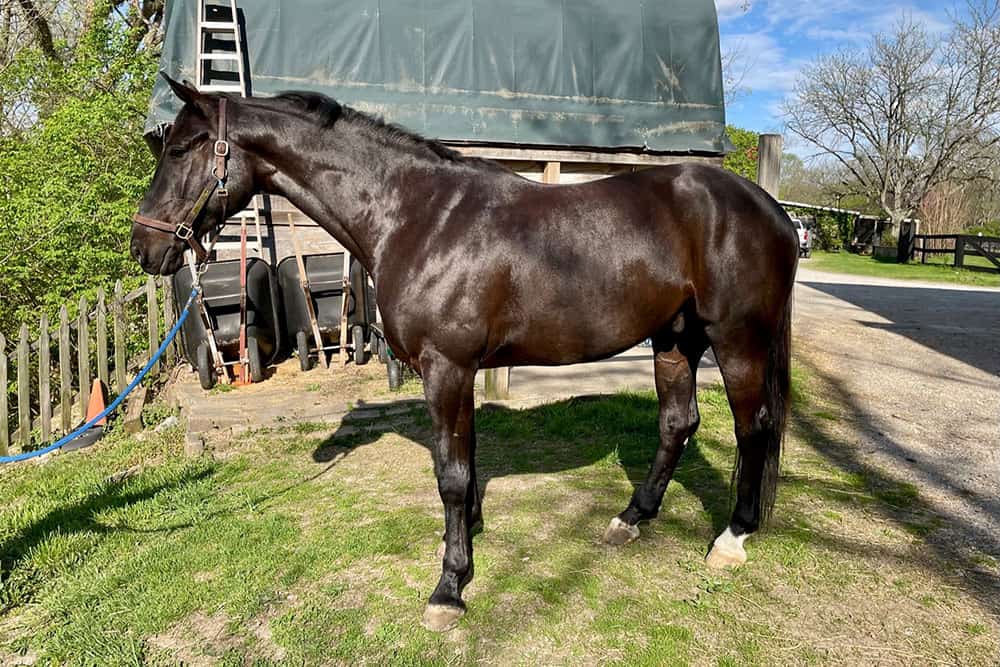 In Summary
In my opinion, Equine F.A./Plus Granules is a beneficial addition to the diets of horses with existing or chronic skin and coat issues, as well as show horses in need of a little extra gleam. While Zion's coat typically makes the winter-to-spring transition gradually over a few months, this omega fatty acid supplement seemed to fast-track the process and make the difference more pronounced.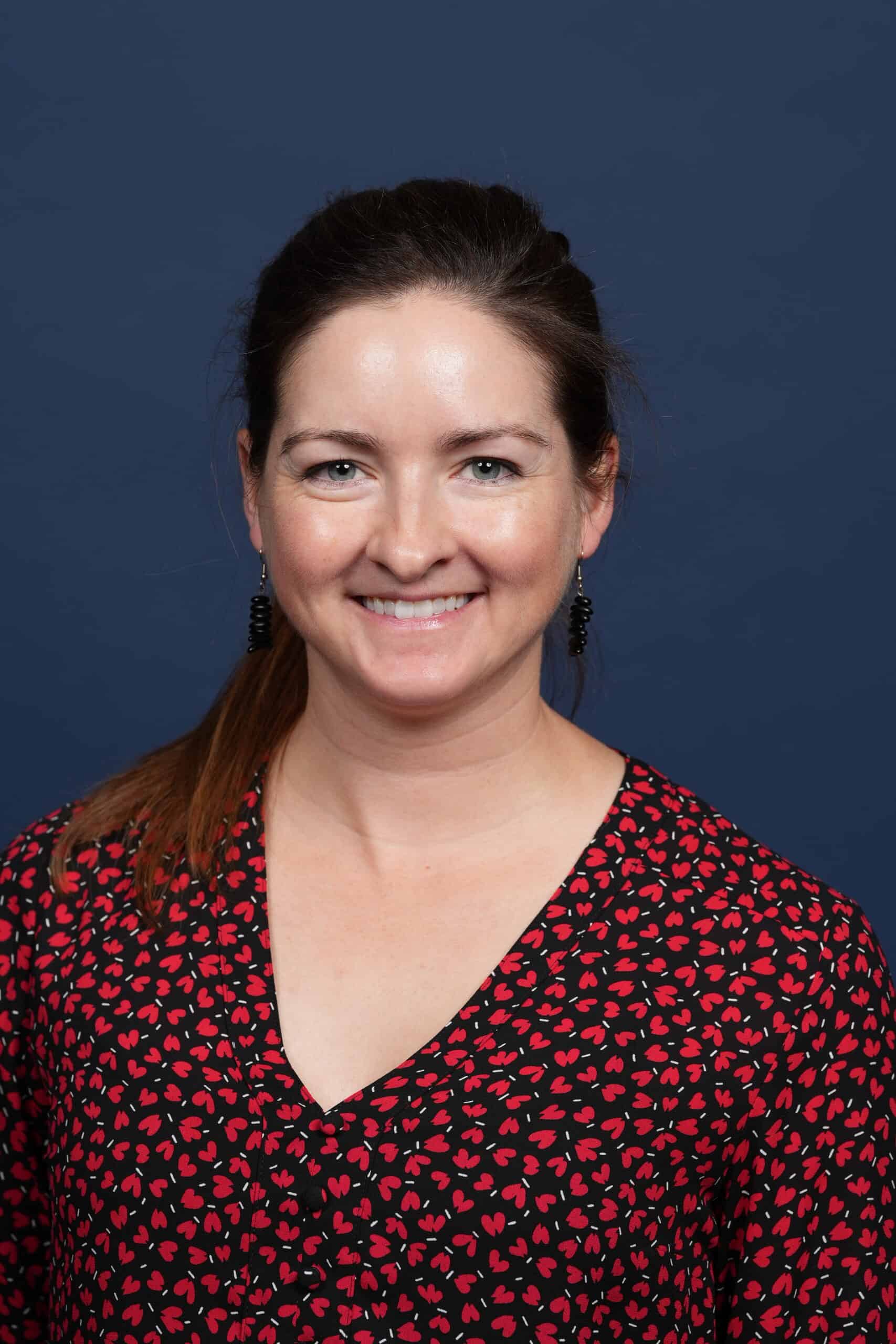 Alexandra Beckstett, Managing Editor of The Horse and a native of Houston, Texas, is a lifelong horse owner who has shown successfully on the national hunter/jumper circuit and dabbled in hunter breeding. After graduating from Duke University, she joined Blood-Horse Publications as Assistant Editor of its book division, Eclipse Press, before joining The Horse.
Stay on top of the most recent Horse Health news with
FREE weekly newsletters from TheHorse.com