CEM Screening Techniques Tested
Researchers sought to find the optimal test method and swab sites for CEM screenings in South Africa.
Researchers have confirmed the importance of including exposed mares when conducting surveillance for contagious equine metritis (CEM) in the recent South African outbreak, along with specific stallion sampling and screening methods in that country for the venereal disease.
Catherine May, BVSc, and colleagues at the Veterinary Faculty of the University of Pretoria, recently completed two studies in the wake of a CEM outbreak in South Africa. They determined the carrier status of Taylorella equigenitalis—CEM's causative bacterium—among stallions and exposed mares and assessed the distribution of the agent on the stallions' external genitalia. May presented the team's results at the American College of Theriogenology conference, held Aug. 7-10 in Louisville, Ky.
Screening for CEM cases and preventing its spread are important because the disease can cause temporary infertility in mares, said May, resulting in breeding losses and negatively impacting the economy when CEM-free countries ban imports from countries that have reported an outbreak. Though exposure to CEM doesn't impact a stallion pathologically, if his external genitalia are contaminated by T. equigenitalis, he can pass it to mares via natural cover breeding or through semen in assisted reproductive techniques. Mares that become infected, on the other hand, can show physical signs of infection, usually developing a vaginal discharge after breeding to a carrier stallion and/or returning to estrus quickly after breeding due to early embryonic death. Other mares might only be subclinically infected, meaning they show no signs of infection but have the ability to spread the bacterium.
The good news about CEM is that affected mares and stallions respond very well to treatment, although it may take more than one course of therapy to complete a full recovery; it's just a matter of identifying active cases and, more importantly, subclinical
Create a free account with TheHorse.com to view this content.
TheHorse.com is home to thousands of free articles about horse health care. In order to access some of our exclusive free content, you must be signed into TheHorse.com.
Start your free account today!
Already have an account?
and continue reading.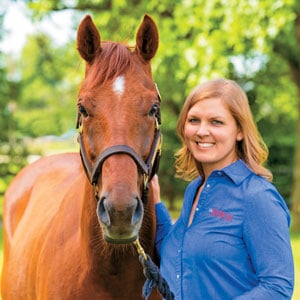 Stephanie L. Church, Editorial Director, grew up riding and caring for her family's horses in Central Virginia and received a B.A. in journalism and equestrian studies from Averett University. She joined The Horse in 1999 and has led the editorial team since 2010. A 4-H and Pony Club graduate, she enjoys dressage, eventing, and trail riding with her former graded-stakes-winning Thoroughbred gelding, It Happened Again ("Happy"). Stephanie and Happy are based in Lexington, Kentucky.
Stay on top of the most recent Horse Health news with
FREE weekly newsletters from TheHorse.com