USDA Proposes To Exempt Iceland From Horse Testing Regulations
The U.S. Department of Agriculture announced April 17 that it is proposing to exempt horses from Iceland from testing for dourine, glanders, equine piroplasmosis, and equine infectious anemia during the quarantine period
The U.S. Department of Agriculture announced April 17 that it is proposing to exempt horses from Iceland from testing for dourine, glanders, equine piroplasmosis, and equine infectious anemia during the quarantine period following importation. The USDA reports the action is warranted because Iceland has never had a reported case of dourine, glanders, equine piroplasmosis, or equine infectious anemia, and it appears that horses imported from Iceland would pose a negligible risk of introducing those diseases into the United States.
This proposed rule is scheduled for publication in the April 18 Federal Register. APHIS documents published in the Federal Register, and related information, including the names of organizations and individuals who have commented on APHIS dockets, are available at https://www.aphis.usda.gov/ppd/rad/webrepor.html.
Consideration will be given to comments received on or before June 18. Please send an original and three copies to Docket No. 00-010-1, Regulatory Analysis and Development, PPD, APHIS, Suite 3CO3, 4700 River Road, Unit 118, Riverdale, Md. 20737-1238. Comments received may be reviewed at USDA, Room 1141, South Building, 14th Street and Independence Avenue, S.W., Washington D.C., between 8 a.m. and 4:30 p.m., Monday through Friday, except holidays. Persons wishing to review comments are requested to call ahead on 202/690-2817 to facilitate entry into the comment reading
Create a free account with TheHorse.com to view this content.
TheHorse.com is home to thousands of free articles about horse health care. In order to access some of our exclusive free content, you must be signed into TheHorse.com.
Start your free account today!
Already have an account?
and continue reading.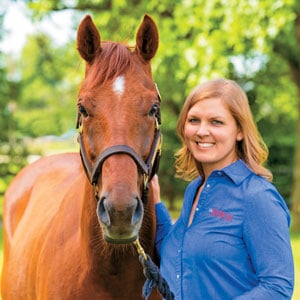 Stephanie L. Church, Editorial Director, grew up riding and caring for her family's horses in Central Virginia and received a B.A. in journalism and equestrian studies from Averett University. She joined The Horse in 1999 and has led the editorial team since 2010. A 4-H and Pony Club graduate, she enjoys dressage, eventing, and trail riding with her former graded-stakes-winning Thoroughbred gelding, It Happened Again ("Happy"). Stephanie and Happy are based in Lexington, Kentucky.
Stay on top of the most recent Horse Health news with
FREE weekly newsletters from TheHorse.com