Horses Can Be Sentinels of Health Risks in Fracking Areas
A Standardbred farm near a fracking site managed milk aspiration/subdued mentation in multiple foals over three years. Although treatment was costly, recovered foals were as athletic as unaffected foals when they went on to race.
Typically, newborn foals are rambunctious and alert except when snoozing at their dams' sides. So, when one breeding farm's managers and veterinarians found several new arrivals each year sluggish and aspirating milk (known as dysphagia), they began investigating. Researchers found high concentrations of certain chemicals in the well water on the farm, which is located near unconventional natural gas development (UNGD)—aka fracking—and sought to eliminate them. Then they went on to determine the long-term effects of dysphagia on the horses' racing careers.
"We investigated a clustering of neonatal dysphagia at a well-managed Standardbred broodmare farm located in northeastern Pennsylvania," said Kathleen R. Mullen, DVM, MS, Dipl. ACVIM. "In addition … the foals exhibited a subdued mentation but had good suckle reflexes."
Mullen, a practitioner at Littleton Equine Medical Center, in Colorado, completed the research when she was an equine internal medicine resident at Cornell University, in Ithaca, New York. She presented her findings as part of the 2020 American Association of Equine Practitioners Convention, which is being held virtually.
Over a three-year period (2012-2014), Mullen said the farm saw two of eight, two of six, and five of 10 foals born from nine mares—and bred to seven stallions—had been dysphagic. "These problems combined with the farm's proximity to unconventional natural gas development sites led us to seek environmental chemical exposures as the cause of
Create a free account with TheHorse.com to view this content.
TheHorse.com is home to thousands of free articles about horse health care. In order to access some of our exclusive free content, you must be signed into TheHorse.com.
Start your free account today!
Already have an account?
and continue reading.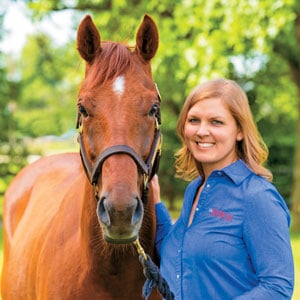 Stephanie L. Church, Editorial Director, grew up riding and caring for her family's horses in Central Virginia and received a B.A. in journalism and equestrian studies from Averett University. She joined The Horse in 1999 and has led the editorial team since 2010. A 4-H and Pony Club graduate, she enjoys dressage, eventing, and trail riding with her former graded-stakes-winning Thoroughbred gelding, It Happened Again ("Happy"). Stephanie and Happy are based in Lexington, Kentucky.
Stay on top of the most recent Horse Health news with
FREE weekly newsletters from TheHorse.com