Endotoxemia and Gastrointestinal Disease
Endotoxemia is one of the most commonly encountered life-threatening conditions in horses with gastrointestinal disease. It is, by nature, a very disappointing and frustrating disease to encounter, and is the leading cause of death in adult horses
Milne Lecture
Hundreds of veterinarians waited patiently in line in San Diego, Calif., on the afternoon of Nov. 26–and not at the airport. They were waiting in the AAEP trade show to purchase a copy of "The Glass Horse," a digital, three-dimensional electronic horse model developed by James N. Moore, DVM, PhD, and two of his colleagues at the University of Georgia. That morning, Moore had delivered the Frank J. Milne State of the Art lecture, including a review of the capabilities of the Glass Horse program that has been in development for more than four years at the university.
"The equine gastrointestinal (GI) tract was probably designed by a committee," Moore said with a chuckle. "You have to have a good topographical appreciation for the anatomy and the ability to visualize within the abdomen" in order to effectively understand many GI diseases and displacements.
When Moore was in veterinary school, he had difficulty developing this ability to visualize the abdominal structures. "I found myself staring at black and white images a lot, re-reading passages in the anatomy textbooks, and trying to make as much sense of what I could find. Then the first thing that would happen is we'd have a colic case, and the horse would end up on its back (for surgery) and my orientation would be shot." Even in the textbooks that included cross sections of the GI tract, Moore pointed out, most of the intestine is depicted as being distended and open. "If the horse has 70 feet of small intestine and it all has the diameter of two to three inches, there's no way you're going to fit all of those feet of distended intestine into the abdomen," he explained. With the combined talent of a computer graphics illustrator, an instructional technologist, and Moore's idea and desire to help students improve their understanding of the GI tract, multiple animations showing normal and abnormal structures of the abdomen were
Create a free account with TheHorse.com to view this content.
TheHorse.com is home to thousands of free articles about horse health care. In order to access some of our exclusive free content, you must be signed into TheHorse.com.
Start your free account today!
Already have an account?
and continue reading.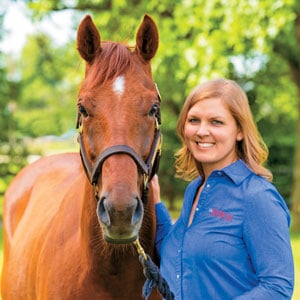 Stephanie L. Church, Editorial Director, grew up riding and caring for her family's horses in Central Virginia and received a B.A. in journalism and equestrian studies from Averett University. She joined The Horse in 1999 and has led the editorial team since 2010. A 4-H and Pony Club graduate, she enjoys dressage, eventing, and trail riding with her former graded-stakes-winning Thoroughbred gelding, It Happened Again ("Happy"). Stephanie and Happy are based in Lexington, Kentucky.
Stay on top of the most recent Horse Health news with
FREE weekly newsletters from TheHorse.com