Mud Management 102: Paddock Footing
Mud = yuck! At this time of the year mud becomes a common occurrence in many horse paddocks until summer when things dry out.
Mud = yuck! At this time of the year mud becomes a common occurrence in many horse paddocks until summer when things dry out. If mud is an issue on your horse property you may be under the impression that it is an unavoidable part of having horses. But it doesn't have to be! There are simple changes you can make to reduce or even eliminate mud on your property.
In a previous post, Mud Management 101, I talked about gutters and downspouts as your first line of attack in reducing mud Ð keeping clean rainwater clean and not allowing it to mix with manure and dirt in the confinement areas. The next step for getting a handle on mud issues is to use some sort of footing in paddocks and other high traffic areas such as watering points and gates. The purpose for the footing is to build up the area to keep horses up out of dirt and allow rainwater to drain through. Less mud equals less chance of nutrients and sediments running off and polluting surface waters, too. Footings, such as hogfuel (chipped or shredded wood products), gravel (crushed rock) or coarse sand can go a long way in reducing mud. Gravel and coarse washed sand are probably the most useful and most available.
Gravel (crushed rock, no larger than 3/4″) anything larger will be uncomfortable for horses to stand on) is a good footing to consider. It won't break down like wood products do so you don't have to replace in yearly, plus it drains well. You can get it with the fines (often called the "minus") which will help it bind together and lock in place. Coarse washed sand also works well. It drains better and is less dusty than finer varieties. Be careful to avoid feeding horses on any type of sand as ingesting sand or dirt particles with hay can result in sand colic, a serious digestive disorder.
Use at least three inches of footing but more is better when it comes to footing. If you already have a lot of mud you may want to either remove some of the existing mud or plan to put footing in at least a 1:1 ratio (for example, if you have about six inches of mud each year you'll need at least six inches of
Create a free account with TheHorse.com to view this content.
TheHorse.com is home to thousands of free articles about horse health care. In order to access some of our exclusive free content, you must be signed into TheHorse.com.
Start your free account today!
Already have an account?
and continue reading.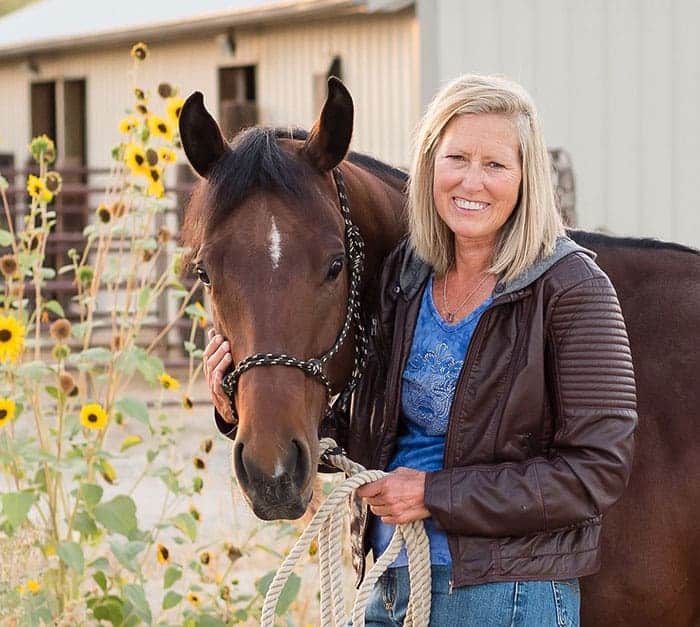 Alayne Blickle, a lifelong equestrian and ranch riding competitor, is the creator/director of Horses for Clean Water, an award-winning, internationally acclaimed environmental education program for horse owners. Well-known for her enthusiastic, down-to-earth approach, Blickle is an educator and photojournalist who has worked with horse and livestock owners since 1990 teaching manure composting, pasture management, mud and dust control, water conservation, chemical use reduction, firewise, and wildlife enhancement. She teaches and travels North America and writes for horse publications. Blickle and her husband raise and train their mustangs and quarter horses at their eco-sensitive guest ranch, Sweet Pepper Ranch, in sunny Nampa, Idaho.
Stay on top of the most recent Horse Health news with
FREE weekly newsletters from TheHorse.com